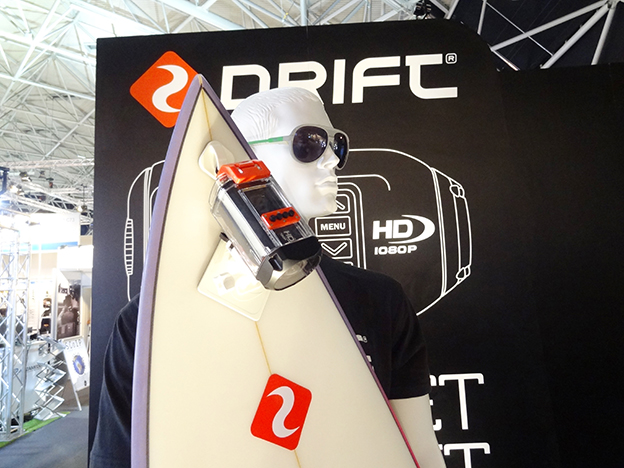 Drift Eye GoPro Market
Posted on Sep 13, 2012 by Alex Fice
At IBC Once you think you're in a sports clothing store, you're either at Drift's or GoPro's stand.
Newcomer to the thrill seeker market ticks the boxes that GoPro doesn't.
GoPro cameras are everywhere even though the form factor isn't exactly the best and once set you can't change the settings – this last draw back was so frustrating for a user that he went away and invented the Lytro camera so he could focus after the event. But while GoPro evolves, competitors spy their achievements and sales with jealous eyes. Companies like Drift. IBC 2012 is their first proper show and they have a nice camera with remote to try and tempt the thrill seekers or even the broadcasters in Amsterdam.
The Drift certainly looks different and has more of a streamlined design to it for mounting on helmets and anywhere with air flow, where you shouldn't mount is on your chest. The main difference between it and a GoPro is Drift has a rotational lens (like the Contour camera which is number 2 in the market), you can turn the lens 300 degrees so if you wanted to you could angle your camera on the side of something like a motorcycle's petrol tank and have the footage the right way up as the sensor is now upright. This also helps with simpler mounting as you're not trying to straighten your camera in a complex way to keep it upright.
It also has a built-in screen which GoPro does not. So you can look at what you have recorded and also access menus. You can also delete without having to go back to the office to look at what you have or haven't got.
GoPro didn't have a wireless remote until recently but Drift ships theirs with one (GoPro's is sold separately). Pretty crazy not to have one of these as those long motorbike journeys are not as exciting as you thought they would be. Now you can stop them when you like. You can also pair the remote with up to 50 cameras so synch your ride with others or use in a production environment.
The unit has also been tested to be water resistant down to one metre but they do recommend you get a waterproof case. You record to MicroSD cards and will recognise up to a 32GB size. You have about 2-2.5 hours on the rechargeable battery and last but not least you are recording 1080P with 720P up to 50fps.
The basic unit is EURO 270 which comes with a mount and the remote. The equivalent GoPro is EURO 350.