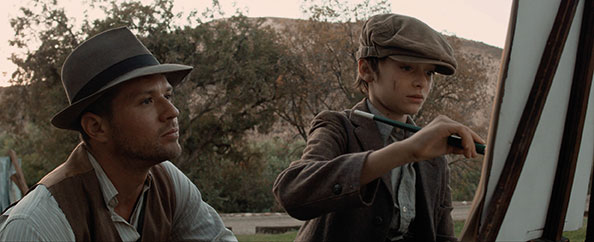 Disruptive Drones
Posted on Mar 22, 2017 by Julian Mitchell
When an Oscar-winning DOP shoots a film on drones with only one aerial shot you know times are changing
It's only 13 minutes long, well it's a short, but the way they filmed The Circle could have some lengthier implications for on-set work practices. We didn't think too much of the shoot until we found out that A-list cinematographer Claudio Miranda was shooting it. Here is an Oscar-winning DOP – he won for Life of Pi – who is well known to be ultra-picky about what he shoots with and absolutely hates small cameras. Inspire 2's camera, the X5S, has dimensions of 140x98x132mm with a Micro Four Thirds sensor.
The shoot is a DJI production and so like any demo you have to be wary of smoke and mirrors trickery. But the premise was interesting: shoot a narrative-led, end of Depression era story, make it unapologetically cinematic and shoot it only with a drone and its attached camera.
When we talked with Claudio he had already used a DJI Inspire 1 drone on his current movie, Granite Mountain. He also quickly reiterated his dislike of small-sensored cameras. "We used one of the original cameras on a movie that I just did, Granite Mountain," Claudio said.
"Originally I wasn't looking at using the camera because I don't like small cameras. There's no highlight range, there's no dynamic range, they just clip and look terrible. So I just did a test and I was kind of amazed at how well it looked.
"On Granite Mountain I wanted to get the big drone to carry the big camera but for actors it is also very intimidating to have a huge 'lawnmower' above their heads. Sometimes it's nicer to be smaller and then you are able to get closer without something that's so massive and potentially threatening. I actually ended up using the Inspire 2 again recently for Granite Mountain and I did some plates shots."
A connection was soon made with the powers that be at DJI, mainly because they were fans of a Tom Cruise film Claudio shot, Oblivion (maybe it was the drones from the future in the movie). But the resultant help allowed Claudio and his Granite Mountain director, Joseph Kosinski to use more of the Inspire 1 for the movie.
"So I did some more camera tests and presented them to Joseph Kosinski, director of Granite Mountain, and we ended up using the camera for some of our aerials," says Claudio. "We couldn't afford to have a helicopter all the time and we wanted something that we could carry as we were up in the mountains all the time.
"That was the Inspire 1 and then we had a M600 with the X5R camera on it. We just loved the fact that we could stay in the air for half an hour."
  Actors Ryan Phillipe and Noah Schnapp
The Circle
The meeting turned into an offer to shoot The Circle with just DJI's new Inspire 2 drone and Raw recording enabled X5S camera. This was so new that Claudio was actually working from the Chinese-only menus. But the results he had achieved from the X5R camera, also a Raw enabled product, had piqued his interest.
"You see a lot of movies and everyone is using drones in a certain way, but we didn't use it too much in a 'dronie' way on Granite Mountain which in turn was very similar to The Circle, inasmuch as you read the script and it doesn't really feel dronie. When you think drone, you think of James Bond type movies with lots of action; you don't think of a period piece with a dad who's an artist."
As we are all learning there are various creative ways to utilise a drone on a film set that can emulate an establishing chopper shot, or shots that can't be done otherwise such as getting close to a talent then ending up 400 foot in the air on the same shot.
'Birds' like DJI drones can all be programmed with waypoints – it's almost like aerial motion control. The ones on the Inspire 2 and the Phantom 4 Pro are pretty good, but when you want centimetre accuracy, you really want to use the real-time kinematic (RTK) satellite navigation device for the M600, according
to DJI.
Must Be Cinematic
If you are one of the 300,000 people who have watched The Circle on YouTube, you'll know that the quality of the footage is superb and very cinematic. The really cool part is how that is possible. Also with all the hand-off type moves, are we entering a new way of working with drones flying, then being caught and then becoming a stabilised camera with rotors?
"When they pitched me to shoot the movie I said that I'd do it but we've got to do it cinematic style. We've got to shoot it shallow depth to see focus, rack focus and do all those things I love to do. On Granite Mountain we were high up and everything was in focus, the big thing I wanted to play with was a shallow depth-of-field and it was interesting to use the drone for that."
If you watch the film, he achieved shallow depth-of-field with the limited number of cleared lenses that work with the camera. He used a 12mm, 15mm, 25mm and a 45mm. There are also others like a 8-18mm. Claudio said that the 15mm that comes with the camera is already pretty sharp.
"The new bird is better than the previous one and so is the camera, I wasn't working with my normal operators so had to work with some new people. It was a little Wild West at times like when we did a hand-off from an aerial drone to be caught by an operator who then becomes the new operator. I'm operating the camera and there's a guy operating the drone, then the guy catches and he operates the drone. We would do the hand-off and then turn off the motor so we could preserve dialogue as well. We made sure we could preserve a lot of the dialogue by turning off the motors. Some of the stuff in the bedroom, that's all useful dialogue."
If you watch the 'making of' video, then you'll see the hand-off with the new operator wearing a crash helmet. As soon as he catches it they switch the rotors off. They also put the drone on dollies a lot so Claudio would just be using the camera. "There is a shot in a diner where we just had the drone on a dolly. We did a move and came around, it was simple."
Take Out The Drone
An old car and some old looking support tech carries the Inspire 2
Claudio, through the course of the shoot, related it to how he would have shot the footage 'normally'. "I would have used a crane and probably lowered the whole thing down 18in. For the shot on the bed we hung drones from four pulleys and just lowered it down, super simple, and I had a stabilised gimbal head to use, that was good. It worked really well and perhaps better than a studio or movie version would have."
The DJI app allows for control that Claudio equates to what you get with a Preston camera control, the FI+Z, which is a three-channel lens and camera control system. "But we did have a focus puller and he was able to pull focus back and forth, I'm operating the gimbal itself and whether it's handheld or not, I'm always operating the camera. We're also on comms so I can tell him higher, lower, etc."
The whole experiment might sound like they were trying moves on the hoof but that's not the case as the whole thing was storyboarded and they did do location scouting. "It wasn't really a grab-and-run kind of thing. We did lose one alleyway location and had to improvise a little bit, that was a little bit of a hand-off, a drone to catch thing again. But it was actually quite interesting to watch what's happening from outside, it didn't feel like that was happening watching the film."
New working practices?
Drones were hung from four pulleys with a stabilised gimbal and lowered up and down
With the unstoppable use of drones and their inherent ability to avoid obstacles and more importantly adhere to a centimetre-wide stop, is it too early to be talking new skill sets? Claudio doesn't think so. "It's possibly a whole new skill set. Even from what I learned from The Circle even just those hand-offs show how important it is to get everyone co-ordinated. It's a really hard job and there are things that I probably would have improved on looking back from the hand-offs. For instance, the catcher couldn't really see what he was doing, I would try and figure out a way in the future to get it so he can see what he's operating without guessing. I'm not sure how we do that, whether we use Google glass or a little side monitor; he has to see the bird. But it's just a matter of learning and trying to give a different approach to the catcher/operator.
"It was also really amazing, the low-light stuff that we did. It was quite like the way I would have lit a normal camera. I didn't want to light to a higher f-stop just because I wasn't sure about the focus. I really wanted to do what I normally do. So I lit like I normally do without any special dispensation for the Inspire 2, where it might need more light. I don't really know how they got the camera to look so good, I was really surprised. In fact, from the beginning I didn't really want to believe it. I realised that the camera records to the SSD at almost the same rate as the camera I would use on a film! The Sony F65 fills up a 512GB card in 30 minutes, the DJI X5S pretty much does the same thing. It's 5K. You're getting the full range and the dynamics – what I hated about small cameras in the past is when you pointed it at the sun you got these weird rings around it and they had a low bit depth in those highlights, there's weird banding and the colour fidelity was sometimes very right-bit looking. Also some of these cameras where they don't have colour fidelity make faces look two-dimensional, they flatten everything out and don't have deep colour. I hate a lot of cameras and those were the kind of things that I was expecting, but I was very surprised how well this one actually worked for us.
"The shots we were able to get, like the vantage points, were really beneficial and will be beneficial for a lot of people. There are cheap digital cameras that have opened the door for a lot of people."
Grading Footage
Claudio is a big believer in capturing Raw footage. He wants all the information, which is another reason he was interested in this project, but he has some tricks and presets that help to attain that cinema look too. "I have a special thing I do before it gets loaded into DaVinci while they are Cinema DNG files. There are some settings that I have come up with that smooth it out a lot. It makes it more to my taste. It doesn't really look great until you do that. It's all about preserving highlights and rounding them off, once you do that it doesn't do anything artificial but it opens up the camera and really smooths out those highlights. I've had direct sun screaming into some shots and dark shadows where there is still information. They are still working on getting a more cinematic look straight out of the camera."
Ironically there may be other more ego-related reasons that cameras like DJI's new one won't be used on bigger sets. The money men love to see the big cameras being used on sets so they can see what they are paying for, this is especially true on commercials. But the reality is that Claudio has proved to those who don't mind how big the camera is that small doesn't necessarily mean bad anymore.
Drone and camera operator Alexis Park discusses the potential the DJI Inspire 2 drone and X5S camera has for broadcast production
In my opinion the Inspire 2 looks like it answers all of the questions the top-end X5R users were looking for. The workflow with the original X5R is painful even with a professional DIT set-up. DJI have opted for the closed universe so everything is handled through their CineLight app. It is by no means the worst application however it does have some pitfalls that other apps such as DaVinci have refined, and if it was possible to utilise other applications the workflow would be quicker.
This aside, the Inspire 2 with its new on-board processing seems to have answered all of the previous issues and more. The Inspire 2 now transcodes the cinema DNG image sequences on-board which will be the biggest tick for any professional delivering footage to a client and will certainly make my life easier when out on the road in remote environments where powerful workstations are difficult to operate. The ability to record straight to ProRes will ease up on data requirements in the field and save money as most edit houses will often charge huge amounts to transcode the original DNG into ProRes for online grade.
Other advancements which are a huge leap is the max speed increase of the drone to a potential 90kph! This will open up a huge number of possibilities for dynamic shots, couple that with the max ascent speed being over double to nine metres per second, it will make those classic flyaway shots have even more of a wow factor.
The new on-board tracking feature is something I am looking forward to putting through its paces. Recently I have been flying the original X5R/Inspire 1 set-up through the jungles of southern Vietnam, tracking off-road vehicles under the canopy from a follow vehicle. The ability to make the camera focus on a subject and 'smart track' using the collision sensors will certainly be interesting to try, as long as manual control can still be taken back quickly because at the new speeds the craft can reach things will have the potential to go wrong quickly.
The new anti-collision sensors built into the Inspire 2 were a feature passed down from its smaller brother the Phantom 4. This multidirectional array isn't something I'm hoping to rely on too much but having it there will mean that when shots are started in a tight area the craft should sit within a safe distance of objects. This will be particularly useful when spatial awareness is difficult such as when high ceilings and pillars are in the flying path.
Overall the new craft is a big step up from the extremely popular Inspire 1 and it looks like DJI has really answered what high-end professionals require from a sub-7kg machine, especially with the added redundancy systems which are becoming more and more sought after for operational safety case (OSC) work. That is where the aviation authority want to know that the aircraft being operated is as safe as possible.
I can't wait to get my hands on one to fully push to its limits as the Inspire 1 has been a great workhorse of mine over the last 12 months allowing me to get shots not possible with other systems. The new Inspire 2 will push the envelope even more in my opinion.
Alexis Park was the drone
and camera operator on The Grand Tour, SAS: Who Dares Wins and many other programmes. He will be reviewing the Inspire 2 drone and X5S camera for our next issue.