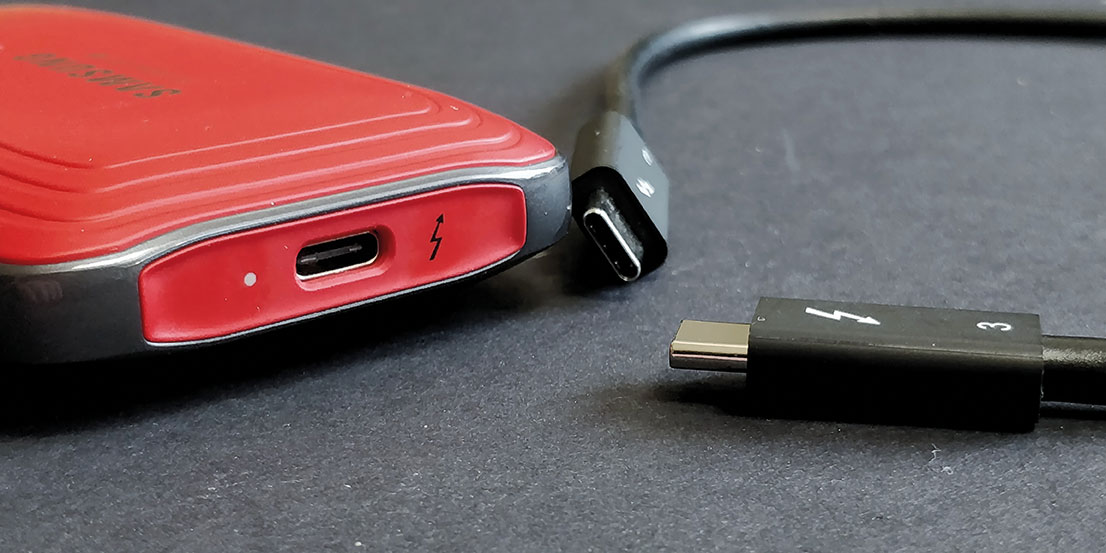 Crunching the numbers
As a freelance cinematographer, Ash Connaughton is always looking for ways to make his work day more efficient. The Samsung Portable SSD X5 drive is the extra help he's been searching for
As a freelance cinematographer Ash Connaughton's work day is a mixture of shooting, checking footage, having meetings for new projects, finding locations and a host of other relevant jobs. Ultimately, his image skills are why he's employed, but that has to be backed up by an almost foolproof work process that gets the footage he shoots into the right hands as soon as possible.
"I've been wanting to look at the Samsung Portable SSD X5 drive for a while as I had heard about the speed of transfer you can achieve through the Thunderbolt 3 interface," explains Connaughton. "When I first got hold of the portable drive, I was amazed at how small it was; you have something that is smaller than a mobile phone, is self-powered so you're not looking to plug it in anywhere, has shock protection and has its own in-built security."
Thunderbolt 3 delivers the fastest bandwidth up to 40Gb/s and is equipped with the super speed of NVMe interface, which gives the portable drive the ability to handle heavier data at faster speeds.
The Samsung Portable SSD X5's DTG (Dynamic Thermal Guard) technology also helps maintain optimal performance and temperature, while a heat sink keeps surface temperature below 45°C. Its body has no moving parts and is reinforced with magnesium alloy that can even withstand a 2m drop. There's also an optional password protection, based on AES 256-bit encryption, to securely protect your data.
Amazing numbers
The Samsung portable drive can be used as a recording medium on-set, while also being an edit drive throughout your shoot and post
When Connaughton got hold of the portable drive, he immediately wanted to test the transfer speeds. "I did a 1GB test using disk benchmark testing software, which allowed me to test the read and write speeds and then I did a 4GB test," he says. "The 1GB tests were pretty consistent and amazingly fast read speeds at more than 2000 MB/s, the write speeds were more than 1500 MB/s. I was very impressed with those speeds.
"I also put a 4GB file through the test and the results were very similar with more than 2000 MB/s read speed and more than 1500 MB/s for the write speed, so very consistent over the two file sizes."
Connaughton hadn't encountered this file transfer speed before. Naturally, he wanted to put it to good use in his everyday work. "At a basic level, the portable drive allows me to ingest data much quicker and then move it around at incredible speeds. For instance, if you're an on-set DIT, you've got loads of big files to deal with and so you can process the data quicker. I was using the one Terabyte version, which allows you to move a lot of data around. This is also a small drive and is super quick," he says.
"You can also start thinking about editing directly from the drive, so instead of off-loading your data on to a traditional spinning disk drive or a SATA SSD, which will be slower, you can literally plug this drive in via USB-C Thunderbolt 3 connection and edit straight from it.
"I would also always recommend doing another back-up to another drive just to be safe. Indeed, if you had two Samsung Portable SSD X5 drives you could use one for your main drive and the other as the back-up. But there's no doubt that the pure speed and force of the read and write performance of this drive is groundbreaking," he says.
Primary use case
Depending on the way you work, the Samsung Portable SSD X5 could find a home as a recording medium twinned with being an edit drive throughout your shoot and post. In the immediate future, Connaughton can see the portable drive as being used as a fast on-set storage solution, but you might find other roles for it. "That feels to me to be its primary use case. If you're on set and your DIT has a couple of Samsung Portable SSD X5s, you can use it as a kind of drive hub by offloading everything on to it and making copies from there for back-ups etc. You can then send those Samsung portable drives out as the day's rushes to post-production or a processing lab, it's your choice," reasons Connaughton.
"Because the portable drive is so fast, you have to work out where your possible data bottlenecks are going to be and work around them. That's another reason to record directly to the drive as you have the speed advantage from the beginning. Another big advantage is the portable drive's form factor, especially if you're travelling while shooting. If I was going on a travel shoot with a relatively small kit footprint, the Samsung Portable SSD X5 would be easy to put in to a backpack as it's so light. In fact, a couple of drives and your recording media is sorted for the trip.
Advertising Feature