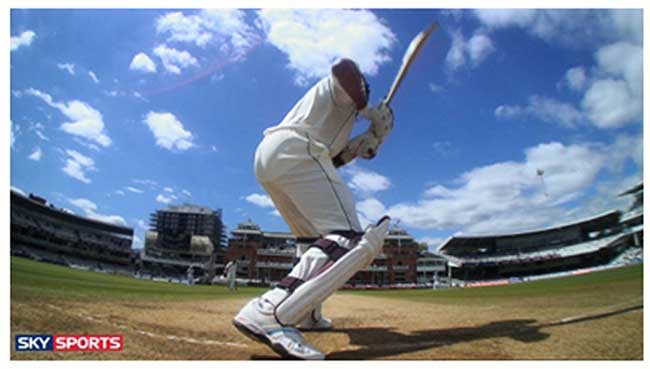 Cricket Stump v3 Makes Its Debut at IBC 2014
Posted on Aug 13, 2014 by Alex Fice
Stump cam v3 will be at this year's IBC show.
Camera Corps has chosen IBC2014 as the global launch platform for the latest version of their Cricket Stump Cam for capturing dynamic close-ups of major national matches and international tours.
"Version 2 Cricket Stump Cam has been in successful use for about five seasons, delivering high-definition images from a camera integrated inside the middle stump at each end of the pitch," explains Camera Corps Projects Manager Paul McNeil. "Version 3 is the most compact to date, completely housed inside a regulation-gauge cricket stump. This gives users the freedom to place cameras in the mid or outer stumps. Each camera can be configured with a choice of 50 degree, 100 or 128 degree lenses to allow tight, wide or superwide shots.
"The Version 3 Cricket Stump Cam system consists of four cameras; two for each wicket. A classic arrangement is to position one camera with a tight-angle lens facing forward to capture images of the bowler and the oncoming ball. The second camera, fitted with a superwide lens, is then ideally placed to televise the wicket keeper. All four feeds are multiplexed onto single-mode fibre.
"Version 3 Cricket Stump Cam was trialled very successfully throughout the summer 2014 cricket season by SKY. It is designed to withstand direct strikes from cricket balls. Top bowlers can accelerate a ball to speeds of more than 90 miles per hour. A fast bowl coming in from one of the run-outs can reach 100 miles per hour." Our cameras received direct strikes from fast bowlers about 20 times during the summer. The only corrective action needed was, on rare occasions, to reset a couple of connectors."
Version 3 Cricket Stump Camera is available on a dry-hire or wet-hire basis. It comes complete with a Camera Corps Universal RCP panel which allows full remote control of blacks, shutter speed, colour and gain. The system's world-first exhibition appearance will be on the Vitec Videocom stand, 11.E55, at IBC2014.