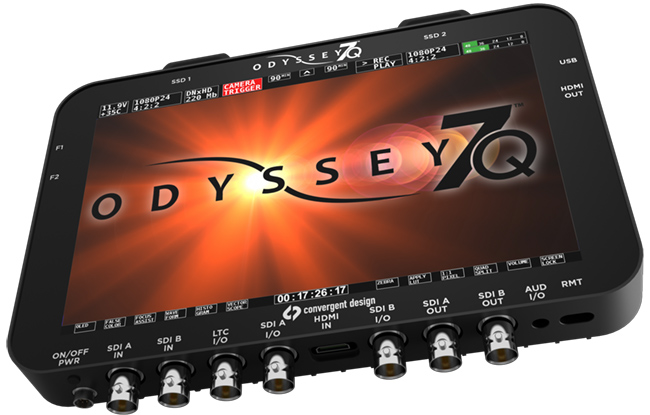 Convergent Ship Their Long Awaited Odyssey 7Q Recorder
Posted on Nov 5, 2013 by Alex Fice
Convergent Design are now shipping their Odyssey 7Q OLED monitor and recorder.
Convergent Design, maker of the nanoFlash and Gemini 4:4:4 onboard recorders, last week shipped the first production units of their new flagship product, the Odyssey7Q, a 7.7" OLED monitor and video recorder.  The Odyssey7Q is price at just $2295.
Professional monitoring features are included: Waveform, RGB Parade, Zebras, 1:1 Pixel Zoom, Focus Assist (Peaking), Vectorscope, Histogram, LUT Support, False Colour. The 7.7" OLED has a 1280×800 RGB pixel array, wide colour gamut, and 3400:1 contrast, with claimed virtually no motion blurring and true blacks. Bluetooth LE supports simple remote control through iPhone and Android apps.
As a recorder, Odyssey7Q supports a wide range of recording formats.  Uncompressed RGB HD video is included, with compressed HD video soon to be added in a free firmware update.  For RAW capture, ARRIRAW (4:3 and 16:9), Canon 4K Raw and Sony FS700 2K RAW are available as purchase or rental options. New 2.5″ Premium SSD media supports read/write bandwidths in excess of 500 MBytes/sec per drive, enabling Canon 4K Raw at 60 fps on a single recorder.
The Odyssey7Q also features a unique Multi-Stream Monitoring mode, which allows up to four HD Video signals to be input and displayed simultaneously in quadrants onscreen or switched between in full-screen view.  A purchase or rent record option (Multi-Stream HD) allows up to four HD Video feeds to be recorded to simultaneous individual files, or even to allow a "live-switch" edit be captured.
A wide range of battery accessories, mounting options, and sunshade, are available to support the Odyssey7Q. While Convergent Design has significant preorders for the Odyssey7Q, it is on target to fulfill all current orders before the end of 2013.