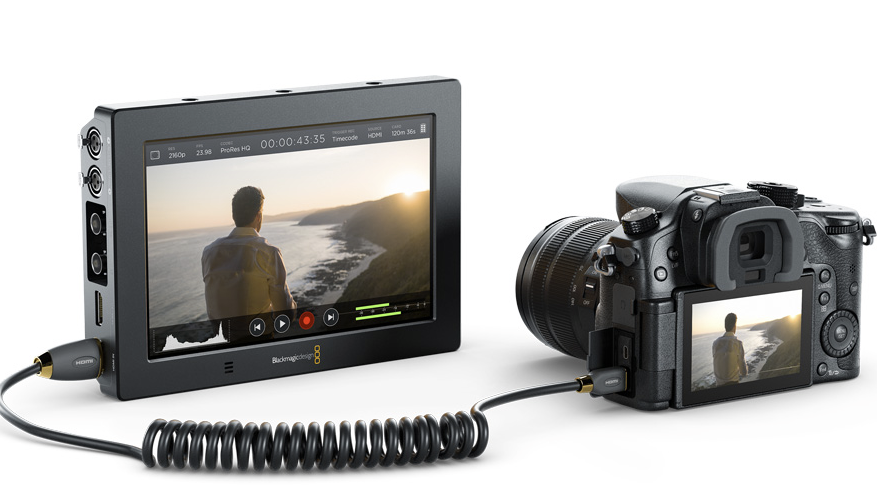 Blackmagic Design Launch A Low Cost Monitor/Recorder
Posted on Apr 20, 2016 by Alex Fice
Blackmagic Design call it Video Assist 4K but it's a monitor/recorder of the type that Atomos has made famous and although the monitor doesn't show 4K but will record 2160p30 as long as you have a fully working HDMI out or SDI.
The Video Assist 4K might make you pull that old DSLR out of the cupboard because they're are plenty of pluses for this value of money ($895) product and you're bypassing those old compression gatekeepers and recording in ProRes and DNx files formats on SD cards in two slots so more recording time.
It has built in focus aids such as focus peaking and focus zoom. You can also use the histogram to help set exposure. Because Video Assist has built in recorders, you can bypass the low quality video files or even tape based recorders in many cameras.
Audio
The new Blackmagic Video Assist 4K features two analog audio inputs with phantom power that are connected to a low noise HD audio circuit. This means you can connect high end microphones and mixers via the balanced mini XLR connectors, and completely bypass the camera audio, again great for those bad DSLR audio circuits.
Spec wise you get 6G-SDI in and out on full size connectors as well as HDMI 2.0 in and out. There is also a LANC connector for extra control options in addition to the SDI and HDMI record triggers. Also included is an upgradable hardware codec with a selection between ProRes Proxy, ProRes LT, ProRes 422, and ProRes 422 HQ. A 3.5 mm audio output is included so you can plug in headphones for audio monitoring and the Video Assist 4K also includes a speaker for playback.
A great little product that maybe should have been around a couple of years ago stealing sales from Atomos and Convergent Design, but a good price will help.
The new Blackmagic Video Assist 4K is available today for $895.