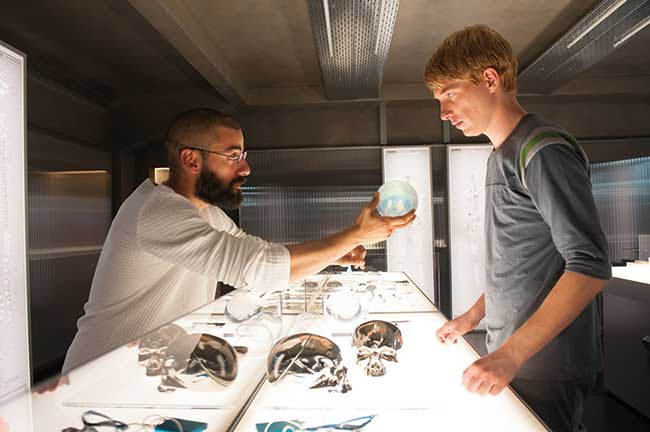 Between Gods And Men
Posted on Feb 11, 2015 by Alex Fice
On set with actor Oscar Isaac (Nathan), Director Alex Garland and DoP Rob Hardy with Sony's f65 camera.
Screen writer Alex Garland has now become a Director and he brings us a suitably twisted branch of the three pronged 'love' story. Ex-Machina couldn't be anything else but a digital movie being shot and finished in 4K.
Watch the trailer to Ex-Machina and you get a far too tasty glimpse in to the world of a future Internet billionaire.
Alex Garland directs his own story and brought along with him some up and coming British talent. Garland worked closely with cinematographer Rob Hardy, to light and photograph the work his team had done. Thanks to the location's floor-to-ceiling glass windows, and high-tech security features, each of the house's rooms takes on a different feel depending on the time of the day and the way it's being lit. No more is this clear than within the confines of Ava's room, which is part observation suite, part prison.
"Rob Hardy I've admired for a long time," says producer Andrew Macdonald. "He's a British cameraman who has done some amazing work. You want someone who is going to work well with Alex and to go on this journey with him. That collaboration is key, and that runs through every department."
Garland confirms that Hardy, "really picked up the ball and ran with it. He transcended whatever requirement I could possibly have made of him. He elevated everything."
For Hardy's part, he embraced the challenge of working within a genre he hadn't previously explored. "I've never worked on anything sci-fi," he says. "This just had all the elements that interested me about any given story. It crossed the line between being accessible and also something that had good weight to it. The visual opportunities were endless, really."
It was the human themes, in the end, on which he relied to define the film's visual aesthetic. "We didn't really talk much about film references and we sort of avoided the obvious ones," Hardy explains. "We were looking at photography and thinking a lot about the philosophy behind what the characters were thinking and doing. It's a human story, and I immediately saw it as this sort of unrequited love story with a twist. It had a dark heart to it, which really interested me."
Ex Machina was the second film Molinare has posted in 4k. Although both Belle and Ex Machina were to be delivered 2k, they decided to complete all work at 4k as they knew this would soon be common practice and wanted to ensure their workflow. Asa Shoul of Molinaire: "With the Baselight grading system being resolution independent, 4k isn't a big step up for us; we've recently worked on Halo Nightfall with 6k material and Hockney with up to 9k images.
"The main challenge of this movie was ensuring the astonishing CG didn't fall apart in the grade." Asa Shoul, Molinare.
"Rob came to the project quite late on and asked me to come to Pinewood to compare the Sony F65 and Arri Alexa. We match graded the images within a few minutes but felt that the F65 had a greater tonal range. Rob wanted to use older Russian 2x anamorphic lenses and with the 1.9:1 sensor this meant an almost 3:1 image. This effectively turned a 50mm into a 70mm lens. We cropped into the image to create a 2.39 image, but had the full width to play with in the grade.
"After initial testing we created a couple of simple luts for Rob to use onset and editorial on Avid. We asked the DiT and Pinewood not to grade the dailies any further. All Vfx were pulled by Molinare and supplied to Digital Negative. Dneg then used the same LUTs to apply to Quicktimes of their effects so that they would sit seamlessly back into the Avid cut.
"The F65 and F55 matched really well as expected although the F55 is rated at 1200 ASA which cannot be changed in camera but may be altered in the grade. The F55 was noisier in the shadows and on a couple of scenes where there was a fair amount of smoke on set and we had to introduce more contrast into the image, this became visible. We addressed this by de-noising through Neat Video. So that this didn't appear soft, we would mix this back slightly to the original image or add some grain in the Baselight.
"Director Alex Garland wanted a clean look without grain which was quite a contrast to Rob's previous film, The Invisible Woman which was shot 35mm Anamorphic and Rob embraced this look, with softer shadows and subtle bounced lighting. The combination of the super crisp F65's 4k image became filmic with the older Russian lenses.
"We started grading by using the LUTs we'd set for Rob to use on set. Initially going for a golden look to the film, we cooled this on second pass and then added some bite to the contrast with a low pivot in the shadows. We didn't want the film to feel harsh or digital with the tell-tale clipped or burned highlights that you on some films, so all the lights were either keyed and brought down or tracked with shapes to ensure detail was retained. We added some diffusion with the D-fuse plugin in Baselight and in a scene with CG robot body interiors, added this to help the Vfx sit in.
"In the bedroom scenes Caleb watches Ava on a TV screen, and whilst the screen was attached to the wall, it looked a little comped on when the VFX images were placed in the screen. To help this we added anamorphic flare to the highlights so that they spilled from the TV onto the wall.
"Dneg also supplied Alpha channel mattes for these and other monitor sequences so that we had complete control over how the different elements worked together.
"We used motion blur to make rain disappear in one scene and an anamorphic blur to make skin appear less human in extreme closeup.
"We used a combination of Baselight look plug-in and swapped colour channels to create a sort of duotone sequence to emulate what a robot might dream colour would look like for the first time.
The robot brain concept in Ex-Machina.
"Each of our theatres has a 5th generation Baselight which can run two streams of 4k in real time. " Asa Shoul, Molinare.
"We had a good idea of what Alex and Rob wanted. Of course this does change in the grade, but one of Rob's main concerns was that he wanted to avoid a "look" that might age this film. By that he meant that with many US features going for a high contrast orange and teal look, (we call this the Transformers look) they not only all start to look the same but will really date the films in a few years time. Rob wanted a good level of contrast but to retain a softer "painterly" feel.
"Each of our theatres has a 5th generation Baselight which can run two streams of 4k in real time and hold 100 terabytes. Holding the 4k project and rendering all deliverables at 2k and HD wasn't an issue. When our TV projects go 4k then storage will become an issue. We are already addressing this and using Baselight's consolidation software to reduce the amount of data stored that isn't being used for each project.
"The main challenge of this movie were ensuring the astonishing CG didn't fall apart in the grade. By this I mean that very often the VfX house might not know what grade is going to be applied to their work and although an image might appear fine in log on their monitors, once given contrast and the colour look of the scene, the edges or elements within the VFX might start to show. To avoid this we supplied the lut to Dneg so that they could check their work ahead of delivery. We are now testing Baselight on Avid and Baselight on Nuke so that we can pass full grades to both the edit and effects house to help the entire post process well ahead of time.
"Having worked with the Genesis and F35 in the past, I feel I know how to get the best from these cameras both from a technical point of view with debayer settings and with grading them to feel filmic and less "digital". Likewise with the RED Dragon we have also found that with certain debayer settings we can have a really good starting point to work from with more natural skintones and colour range. Often the camera default may not produce the best result and it's invaluable to have time to test with these cameras. A designer told me last year that they used to change their colour palate depending on wether a production was shooting on Kodak or Fuji, but once everything had changed to being shot digitally they weren't included anymore.
"We encourage everyone in the production team including makeup, costume and design to be part of camera tests to see exactly how their choices work on screen.
THE DIT STORY
Ex Machina is about the realities of building articial intelligence and what it means for the human condiiton, for the film image that means gleaming surfaces, breathtaking scenery, large slabs of glass and a need for a clean look. A perfect job for a 4k workflow. DIT Jay Patel walks us through it.
"As the DIT my job was to QC the shots as we were shooting the movie itself. I had a grading monitor by my station where I graded everything as well. Rob Hardy the DP, myself and Asa the colourist built a base grade up at Molinare. So we used that as a fundamental base for every set-up. Then on-set I would tweak that grade to match for consistency and also to Rob's preference. I also took care of the rushes including essential back-ups, and then sent copies through to the post room.
"It was the first time for me to work with the Sony cameras, f55 and f65, also I think the first time for the camera team. I think Rob had used them before but the focus puller hadn't so it was a matter of putting our heads together to try and get round it. One of the most important things was to match the colour for both cameras. We had the f55 as a handheld camera as the f65 was to big for that role.
"Everything was shot in 4k raw which is quite major in the sense that the files are huge, for instance with the f65 15 minutes of shooting time at 24 frames is a quarter of a TeraByte! So to try and back all of that up and keep all of that data turning around is tricky. The f55 is slightly more forgiving in as much as it takes half a TeraBytes for an hour's worth of footage. They would go in between the two cameras and mix and match so when Rob wanted to go handheld he would have the f55 and when we were on a dolly or sticks we would shoot with the 65, and sometimes we would have two or three cameras rolling at the same time, which was quite interesting. But most of it was studio stuff so it did help a lot, we only went on exterior locations when we went to Norway to shoot.
"Pinewood Post were dealing with the dailies side of things so I would make the initial back-ups of all the footage while doing live QC of everything. We would use something like Scratch to look out for thing like shadows and flares and just note it down and send it through to post. Then I would send a copy of that hard drive to them where they would do their copies and archive on to LTO. The reason we did that was that we didn't want the official camera mags to leave set, so they would stay and a copy would go, I would also have a copy just in case something went wrong.
"The Sony f65 camera comes with a 256GB mag size as well as a 512GB. We used the 512GB once when we had helicopter shots so we could just keep running for an hour at a time. The f55 comes as standard with 512GB cards which is an hour's worth of shooting.
"I had two set-ups, a full 12-core Mac Tower system which would play everything back almost at real time and then when we went to Norway I used a Mac Retina system which was obviously a lot slower but we were moving around so much I had to use it. You couldn't playback in real time but at half quality you could. Real time would stutter.
"Sony has got a bunch of gamma curves you can output of the camera for viewing and everything we used was SLOG 2, now they have come out with SLOG 3 which is more like the ALEXA Log C. Rob likes to use SLOG 2 as it gave the camera a bit more life, it wasn't so flat in its log mode. So we viewed it in SLOG 2 and would apply a look externally to that.
"We shot everything in 2:35 but it ended up in 2:39 which is an extra 5% more. The interesting thing was because we shot everything in anamorphic the f55 couldn't actually output a de-squeezed anamorphic image so we had to get a frame converter box and de-sqeeze the image manually, that was really painful. On the new firmware you can now get that de-squeezed image but on the movie we only had that on the 65.
"The Sony f55 has potential as a movie camera. When you use something like an ALEXA it's built like a film camera and it gives you all the options like a film camera. Panavision has mod'ed up their f55 to have all the connections, bracketry and support for you to build it up like a film camera. However it does make stunning images like the 65. The movie does look superb and it did surprise me as I was sending files through.