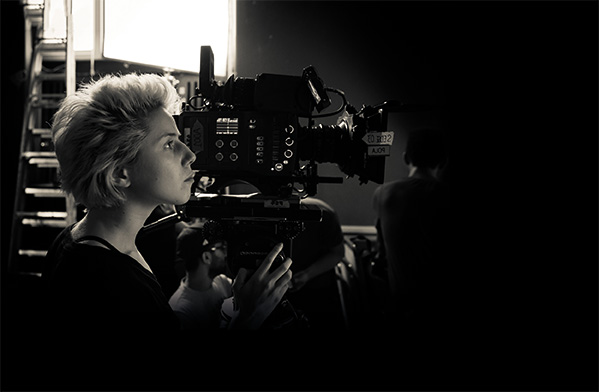 Ascending Stars
Posted on Jul 17, 2018 by Julian Mitchell
Our first talent compilation lists the rising stars of European-based cinematography
How do you pick one talented DOP from another to compile a list like this? It has to do with their credits, their word-of-mouth credibility but mostly what they bring to the screen. With all our stars we have noticed certain ways that they work that pushes the art a little bit further on. New ways of framing for instance, using the new technologies of lighting in ways that change the direction that lighting is headed, new ways to move the camera and perhaps new ways to use colour.
For sure our list is compiled subjectively but then researched from opinions emanating from the industry. We then had to decide when an ascending star legitimately becomes just a star of cinematography. Does your first movie credit stop you being a rising star or does a Netflix, Amazon or Hulu commission have the same effect? It's perhaps not that cut and dried, as some BBC programming has been part-funded by US companies and will naturally settle on Netflix,
for instance.
Just by reading these bios from our list you will get a sense that our stars had been destined to ascend in this industry by some of the awards they have already been given, so easy for us you could say to identify them. But we still needed confirmation from the industry; and not just from their peers and set-buddies but also from creatives further up the workflow, as in grading rooms and editing bays.
So it is with great pride that we present our first talent list. We will listen to our readers as to how we can perhaps elongate our lists to other areas of the industry and other talent groups. But most of all we will be keeping an eye on this carefully compiled set of talented people and wish them the best of luck in their ascending life in one of the best industries in the creative world.
In no particular order, here they are. Congratulations!
Richard Stoddard
Richard won the BAFTA Cymru for his work on feature The Passing/Yr Ymadawiad directed by Gareth Bryn. He shot feature Just Jim directed by Craig Roberts, That Good Night starring John Hurt and the remake of The Watcher in the Woods directed by Melissa Joan Hart. He picked up the BAFTA Cymru for television drama Hinterland/Y Gwyll, with his other drama including Being Human and ITV's Bancroft. Richard has worked with directors including Ed Bazalgette, Daniel O'Hara, John Hayes and Steve Bendelack. Kit wise, he always uses his ARRIHEAD 1 geared head, and prefers shooting with anamorphic lenses, in 2.35:1 aspect ratio.
Chloë Thomson
A cinematography graduate of the National Film and Television School, Chloë has shot a number of award-winning films, and her work has been screened at festivals including Cannes and Sundance. In 2017, Chloë was named a BAFTA Breakthrough Brit and shot Requiem for BBC1 and Netflix. Previous credits include Ellen, her first feature-length TV drama, for Channel 4, which won a BAFTA Cymru and a Broadcast award for Best Single Drama; and Damascus Cover, her first fiction feature film. Shorts include Natasha Khan's I Do, which premiered at Tribeca 2016, Jonah (Best Cinematographer, Underwire 2013) and Volume (Best Short Film, BIFA 2012).
Kate Reid
Kate is an award-winning cinematographer whose drama credits include Call the Midwife, Trust Me, series 2 of Marcella and the new BBC One six-part series Press, for which she was series DOP. Her work has been screened in competition at festivals such as Sundance, Berlin and SXSW and she won the Underwire Award for Best Cinematography in 2015 for the film Nazi Boots. Kate has shot two independent features, numerous shorts and her documentary credits include Ava DuVernay's Venus Vs., and the Emmy Award-winning TV series Years of Living Dangerously. She strives to put story at the heart of her cinematography, whatever form she is working in. Kate studied cinematography at the UK's National Film and Television School having previously worked as a camera assistant on features such as Batman Begins.
Si Bell
Originally from County Durham in the UK, Si began filmmaking in his teens, working as a clapper loader and shooting short films in evenings and on weekends. His work on features Electricity, Orthodox and Tiger Raid attracted critical attention, and he was named a Screen
Star of Tomorrow by Screen Daily in 2014.
As well as films, Si has also shot drama series including Ripper Street, Fortitude and Hard
Sun. 2018 will see the release of both In Darkness – a Universal feature film starring Natalie Dormer – and Butterfly, an original three-part drama for ITV starring Anna Friel. He will next be shooting the opening block of Britannia 2 for Sky Atlantic and Amazon. His favourite pieces of filmmaking kit include his Leica Summilux lenses and the ARRI TRINITY rig.
Luke Bryant
Luke was nominated as one of the BSC's Emerging Cinematographers 2017 for his work on the short film Present. In the last 18 months he's completed a number of features, including Dead In A Week (with Tom Wilkinson and Christopher Eccleston), The Buddy Games (with Josh Duhamel and Olivia Munn) as well as two episodes of Sky Arts' Urban Myths series, second unit on Netflix's Black Mirror and the upcoming E4 show Dead Pixels. Recent shorts include the The Hope Rooms (with Andrew Scott and Ciarán Hinds) and the Oscar shortlisted SLR (with Liam Cunningham.) He's not a huge gearhead, but doesn't leave home without his Sekonic light meter.
Benedict Spence
Benedict began his career in factual entertainment, shooting programmes for the BBC, MTV and Sky. In the past years he has moved into music videos, for artists such as Beth Ditto and Leona Lewis, and now into TV commercials for clients such as Sony, Carphone Warehouse and Asda. "I now try and split my time between commercials and scripted TV shows; last year I shot Series 3 of Witless for the BBC and GameFace for E4/Hulu. I love the pace, creativity and camaraderie of a scripted set but also the attention to detail and thought of a commercial set. Looking forward I would love to work on a comedy/action film; one of my all-time favourites is Grosse Pointe Blank (1997). But to be honest I just feel very lucky that I am kept as busy as I am and that I have kind directors who believe in me as a cinematographer!"
Urszula Pontikos
Urszula's first feature Weekend premiered at SWSX in March 2011 and became an instant hit, scooping the Audience Award. By the end of the year the film had picked up over 20 international awards. It also appeared in many critics' Best of 2011 lists. Since then Urszula has won the Sundance Cinematography Award in 2014 for her second feature Lilting (Hong Khaou's directorial debut). Other credits include Second Coming starring Idris Elba and Nadine Marshall, directed by Debbie Tucker Green. As well as features, Urszula has set the look of numerous TV dramas including critically acclaimed Humans and Marcella. In 2015 Urszula was invited to join the British Society of Cinematographers. Ursula also shot Film Stars Don't Die in Liverpool (featured in March 2018's Definition).
Stephen Murphy
Stephen is best known for his work on series four of BBC drama Line of Duty. In the last year he has also shot the first episode of series eight of Vera for ITV, stepped in for additional photography on Yorgos Lanthimos' film The Favourite, and shot second unit on the DC/SyFy drama Krypton. In 2014 Stephen was invited to join BAFTA as a full member. His favourite gear includes Panavision C and B series anamorphic lenses, the Panavision Millennium film and ARRI ALEXA Mini cameras and any large tungsten fresnel light.
David Procter
With a background in direction and having trained at Ravensbourne and the UK's National Film and Television School, David honed his cinematography skills with short films, but he soon diversified into documentary, commercials and music promos, shooting second unit for DOPs such as Robbie Ryan BSC and Anthony Dod Mantle BSC ASC DFF. His first documentary, Red Sands won Film of the Festival at Raindance. In 2010, he began collaborating with BAFTA-nominated director Simon Ellison; their first fiction collaboration, Jam Today, won Best British Film at Encounters and the Ron Holloway Award at Tirana. David has won a Grand Prix and multiple Gold, Silver and Glass Lions at Cannes. He has been talent spotted in BAFTA's Academy magazine and nominated for a Channel 4 Talent Award.
Diana Olifirova
An award-winning cinematographer based in London, Diana specialises in narrative, commercials and music videos. Her recent short film All of Me received the Best Emerging Cinematographer Award from the British Society of Cinematographers. She completed an MA at the UK's National Film and Television School in 2015. Her work has been screened at festivals worldwide including Edinburgh International Film Festival, BFI Film Festival, Palm Springs International Film Festival, Underwire Film Festival and Lift-Off Season Awards 2017. As a member of the Ukrainian Society of Cinematography, she brings a unique viewpoint to her work. Fascinated by light, people, art, movement and life, Diana tells stories using composition that evokes emotion and connects the audience to the story.