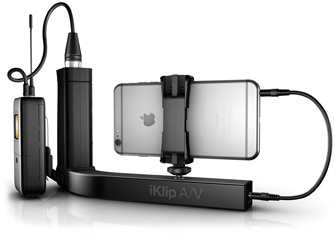 A Pro Way To Use Your Smart Phone
Posted on Jan 18, 2016 by Alex Fice
iKlip has joined company iOgrapher in turning Tablets and Smart phones in to devices that can legitimately be be used in pro AV situations. In fact their new A/V product uses an integrated high-quality mic preamp and built-in wireless receiver support as well as your device's video to get the job done. Plug your microphone or wireless receiver into the preamp's XLR input, then plug the 1/8" TRRS cable into your smartphone's headphone/mic jack.
iKlip A/V also provides 48v of power via two AA batteries, and also features built-in support for holding most popular wireless microphone receivers. Also offered is real-time monitoring and gain control options: It comes with an input gain knob plus an 1/8″ headphone output. These extra features are built into the grip itself.
You can attach iKlip A/V to a monopod or tripod thanks to its standard female threads on the underside and you can remove the iKlip Xpand smartphone holder and attach other types of compact video cameras to its standard camera mount. iKlip A/V promises to work seamlessly with your iPhone, iPod touch or other smartphone. iKlip A/V should be compatible with all most popular mobile video recording apps including Apple's own camera App and some with more options like Filmic Pro.
iKlip A/V is under €220 and is available soon.