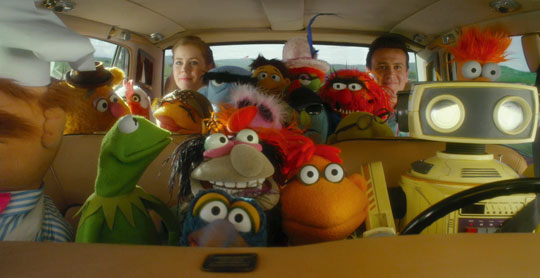 4K Digital Muppets
Posted on Dec 29, 2011 by Alex Fice
Muppet – No post house involved until the digital intermediateMichael Cioni from Light Iron Digital started work on the new Muppets movie last October and has called it the best looking movie of this year – until The Girl With The Dragon Tattoo comes out that is. He talks about the some of the barriers the movie broke down production wise and how on-set production saved the production money and lots of time.
On October 28th, production began shooting for three months.  Working again with Freehill Productions, Cory Schulthies operated one of our OUTPOST carts where the data for this job was 100% done on set.  This was a big deal for Disney because it was the first time they were going to get everything done on set by (essentially) one person. On some previous works with Disney and ABC, the task of downstream data was shared across our onset OUTPOST systems and post houses.  But for Muppets, the studio and filmmakers agreed to move forward with all of the data management taking place on set.
"Even the dailies for the filmmakers were screened on set, which is never an easy thing to accomplish.  Thanks to the help of Jeroen Hendriks' mobile trailer, the filmmakers could review their work from ProRes 422 transcodes with a Panasonic projector right on location and on the same day.
"I'm fairly confident in saying that Muppets was the first movie of this magnitude – a major studio that literally did not have a post house on the show at all until the DI.  Archiving, LTO, dailies colour, syncing, web deliverables, visual effects pulls and temp conforms were all done by the OUTPOST operator, Disney's on-site DEPOT backup and the Muppet editorial team. Muppets followed our recommended workflow exactly, creating what was a completely self-sufficient machine that was independent of outside, 3rd party post production support.
"A good workflow on paper should always be simple. The Muppets workflow was simple, streamlined and proximal.  Cory Schulthies was on set, and worked in between the production party (led by the DP and DIT) and the post production party (led by the post supervisor and assistant editor).  Putting the heavy-horsepower of OUTPOST with Cory on set allowed him to satisfy the needs of both entities while simultaneously eliminating unnecessary third party involvement such as post laboratory…including Light Iron!  And that's the way I like it.
"As an example, while on set each day, Cory created the following elements as they happened. There was no entity outside of Cory and OUTPOST and Disney and their offline cutting rooms involved in this process:
• Triple backups of R3Ds: 2x Raid 5 and 1x Raid 0.
• REDCode 36 @ 16:9 (4096×2304).
• Colour: looks set by DP Don Burgess or DIT Carissa Ridgeway, applied by Cory.
• Synced sound: audio fed and synced in REDCine-X (v. 400+).
• Avid files: DNx115 (MXF) were chosen because of expected test screenings in 2011.
• ProRes files: 422 (MOV) used for screening in a portable RV screening room made by Jeroen Hendriks.
• H264 #1: for Disney intra-net (1080 @ 8Mbs).
• H264 #2: for Web & iPad distribution (720 @ 2Mbs).
"It was actually during the camera and make-up tests that I started noticing something different about the Muppets.  There was a small joke floating around the set based on an inaccurate rumour that people claimed; 'RED can't get good skin tones.'  While I personally have never had trouble with RED skin tones, the joke we made on Muppets was the very real concern over Muppet skin tones!
"It sounds strange, but it's actually very important.  Unlike people, the Muppets have a very distinct set of colours.  Kermit green is bright, but not electric.  Fozzie orange is semi-saturated, but not too brown. Gonzo is blue with purple, not purple with blue. It is critical that the RED captures the colours of these characters that look, essentially, 'perfect' based on 35 years of memory.  Until now, most memories you have of the Muppets were photographed on film and almost none of them went through any precise digital colour correction whatsoever.  But it was clear after a couple days that Muppet skin tones were looking perfect and people were immediately talking about the content, not the technology.
But as soon as people started looking closer at the iPads and the projected dailies, everyone realised that there was a new dimension of Muppets we have not seen before: texture.
As mentioned before, the only portion of The Muppets that was done at a post house was the final conform, DI and film record.  We did the conform on a Quantel Pablo 4K using the RED Rocket for debayering in P3 using REDLogFilm and REDColor2.  Other than small adjustments to some other metadata fields, our initial preparation for these files to look as good as they do are elements that I'm pleased to reiterate everyone has access to.  Corinne Bogdanowicz pre-coloured the film as the reels were locked one-by-one.  Soon after, Don, Michael Burgess and James came in for what was some of the most efficient collaboration we've had in DI hands down.  The Muppets is a 100% end-to-end file based success.  Not a single tape was made to create the content people are about to see or have seen.  From trailers, the DCP, the Fuji film record or even the home entertainment deliverables such as BluRay and iTunes, only files were created from the 1:1 master (DSM) all sourced directly from the Pablo.  Props to Disney for taking a much-needed anti-compromise stand in file-based acquisition, exhibition and distribution.
Extracts from Views From The Light House at www.lightirondigital.com ©Light Iron Digital