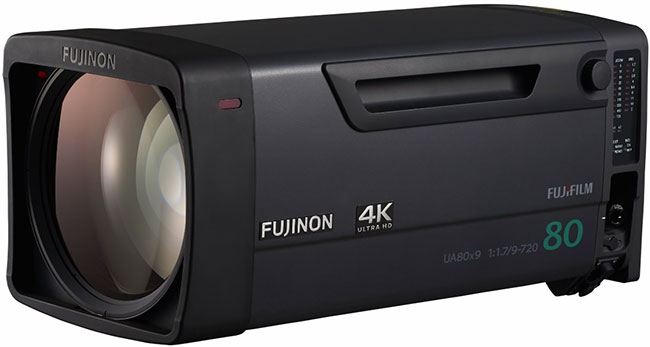 4K Broadcast '2/3in Style'
Posted on Apr 21, 2015 by Alex Fice
Sony's new 3-chip CMOS sensor measured at 9.8 Megapixels and sized at two third inch.
Sony's new 4K broadcast camera, the HDC-4300,  pre-show details were slight but included a new 3-chip CMOS sensor measured at 9.8 Megapixels and sized at two third inch. The model was to offer multi-formats and frame rates down to HD and beyond.
Expected in its wake were 4K 'box' lenses from companies like Canon who could use their recently announced 20×50 PL mount lens as a basis for a lens more suited to broadcast.
Well it's here and other information is now forthcoming like the capability of 4K/HD operation, with 2x, 3x Super Slow Motion as standard, and higher speeds up to 8x available, to produce high-quality replays and specialtiy program effects.
But the software to fully realise these speeds is sold separately. The SZC-4002 software license  enables the system to shoot full HD (1920 x 1080) at frame rates up to 479.52/400 fps, as well as 59.94/50, 119.88/100, and 179.82/150 fps. Users can save these high-frame-rate shots to Sony's PWS-4400 multiport 4K/HD Live Server.  This software is available as weekly, monthly or permanent.
"The addition of other 4K products, such as the PWS-4400 multi-port 4K/HD Live server, a multi-format switcher capable of real-time 4K signal processing based on the MVS-8000X, and Sony's new BVM-X300 4K OLED or PMW-X300 4K LCD monitors creates an end-to-end 4K live production solution."
…and here are the lenses
Fujinon and Canon have both shown 4k lenses designed for 2/3rd inch cameras at NAB. Fujinon has shown two both designed for a 2/3-inch sensor. The new UA80X9, the first field lens in the series, has an 80x zoom and optical image stabilisation, making it good for coverage of large-scale live events, such as concerts and sports. In addition to its advanced optical performance, the lens covers focal lengths ranging from 9mm in wide angle to 720mm in telephoto. The UA80x9 size and weight is similar to the XA99x7.4 field lens. The lens will be available by August of this year. 
Fujinon were also showing a prototype of the UA22x8, the company's first portable zoom lens with optical performance compatible with 4K 2/3-inch broadcast cameras. The UA22x8 zooms will be available by August of this year. 
Canon is currently developing a high-zoom-ratio, long-focal-length field zoom lens that provides imaging performance for use with 4K-capable broadcast cameras featuring 2/3-inch sensors. The 4K field zoom lens is being developed as a new model in Canon's DIGISUPER series of studio and field broadcasting lenses.