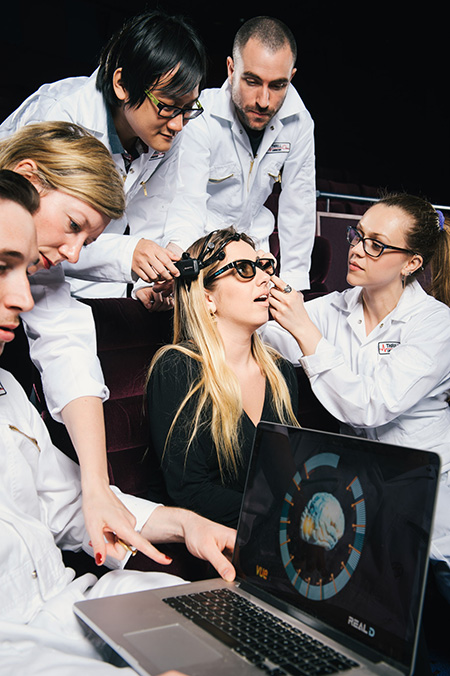 3D Marketing Gets Desperate
Posted on May 21, 2015 by Julian Mitchell
This lady is obviously planning a game of tennis later so takes in a quick 3D movie.
We had to check the calendar didn't say April 1st when we saw this story in our Email in-box. Professor Brendan Walker from the Austin Powers sounding 'Thrill' Labs claiming that people exposed to 3D programming have some kind of increased cognitive ability like Bradley Cooper in the film Limitless. 
The research, in which over 100 people were exposed to 3D and standard format films at Vue's Piccadilly cinema found that participants experienced a 23% increase in cognitive processing. Reaction times were improved by 11%. While temporary, watching a film in 3D gives the brain a "boost" that can last up to 20 minutes after viewing.
It's almost as if Vue's and RealD's marketing departments have got together and wondered how they get more people in to 3D films. Katy Phillips, Marketing Director at RealD actually says, "The fact that they are not only engaged and immersed in this experience but they are potentially improving the sharpness of their brain function at the same time is really uplifting. As a result of this experiment, we look forward to seeing more 3D and encourage you to visit a cinema near you soon."
The man from the Thrill Labs.
The man from the Thrill Labs laughably goes on to say that if you want to play better tennis, be a better surgeon, a better boxer you should take in a 3D movie just before! But the best claim comes from neuroscientist Patrick Fagan (Associate Lecturer at Goldsmiths) that watching 3D could help the fight against dementia! "These findings are more significant than you might think. It is a fact that people are living longer and there is a noticeable decline in cognitive brain function in old age which can impair future quality of life. There has never been a better time to look at ways to improve brain function. The initial results of this study indicate that 3D films may potentially play a role in slowing this decline."
All 3D films gave to us was a headache and an increased determination that we didn't want to see another one. Desperate!