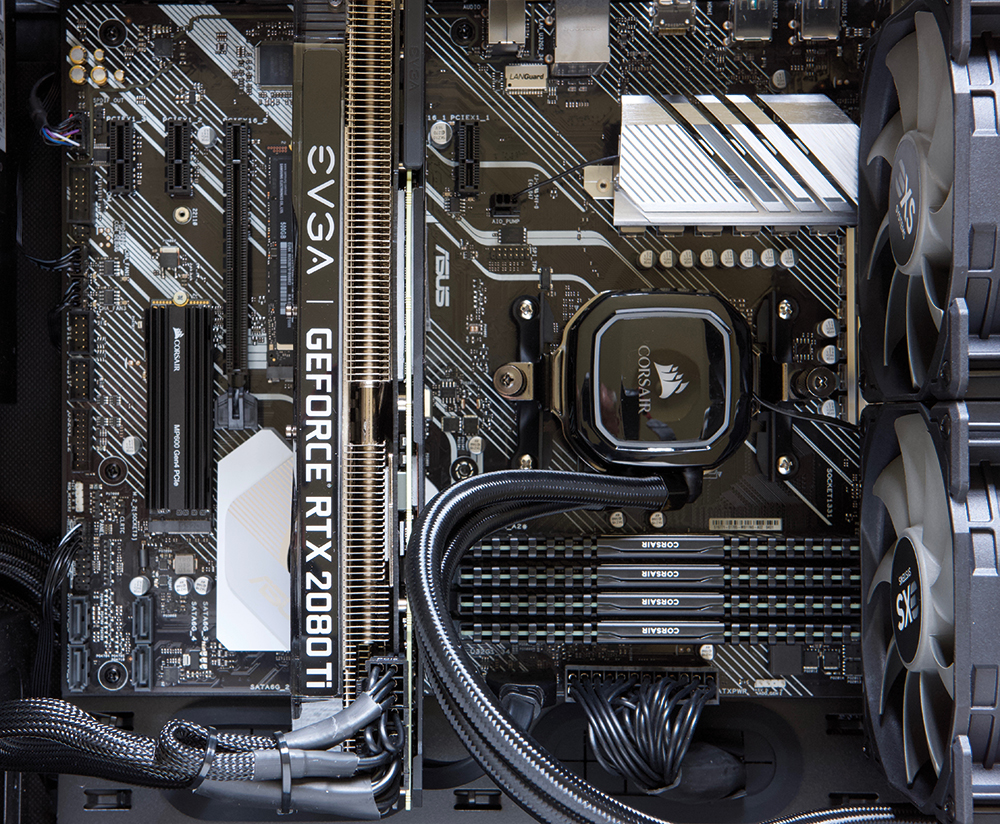 3XS Evolve NLE 4K
Posted on Nov 6, 2019
Can scan's latest update, the 3XS Evolve NLE 4K, rival its more well-known competitors when it comes to video post-production? Adam Garstone finds out
---
The computer is loaded with I/O and designed for high end video post production
Words & close up pictures Adam Garstone / Pictures SCAN
The United Kingdom is the birthplace of the computer. Charles Babbage famously designed the first mechanical computer in 1822. The genius Ada Lovelace recognised the potential of Babbage's Difference engine and outlined how a computer program would work – the programming language is named after her.
At Bletchley Park, Tommy Flowers designed and built Colossus, the world's first electronic, programmable, digital computer – though when I was a kid that honour was thought to be American, as the brilliant WRENs, scientists and engineers at Bletchley were muted at the time by The Official Secrets Act. During the explosion of personal computing in the late 1970s and early 80s, innovative and excellent British computers twinkled into, and out of, existence: Oric – named in honour of Orac, the irascible AI from Blake's Seven – Research Machines Ltd, NewBrain and, of course, Sinclair.
With the personal computer now polarised into Windows PCs and Apple Macs, it's easy to forget that some of the best PCs available are still built in the UK. The online retailer Scan – under the 3XS brand name – has an enviable reputation in the gaming world for making fast, rock-steady PCs – its choice of high-end components enables power-mad Fortnite combatants to overclock the hardware to their pizza-clogged hearts' content. Plus, they have pretty-coloured LEDs.
Scan also has a Royal Warrant of Appointment from the Queen – presumably because Her Maj likes to while away her evenings destroying her virtual enemies with a torrent of lead from a minigun, while chomping on an American Hot pizza with extra chilli.
Designed for post 
But 3XS also makes PCs specifically designed for video post-production, and they beat many of the 'big' manufacturers' products for speed, reliability and price.
The latest update to its mid-range Evolve NLE 4K is a monster. If you are easily bored by specs, then please skip over the next couple of paragraphs, but suffice to say the main processor is an astonishingly fast, multicore beast, and the image processing is carried out by (at the time of writing) probably the fastest consumer graphics card you can buy.
The graphics card is an 11GB EVGA GeForce RTX 2080 Ti. This is an impressive specification, and these high-quality components are matched by Scan's astonishing build quality and attention to detail.
Impressive spec 
So, the CPU is a 12 core AMD Ryzen 9 3900X, clocked at 3.8GHz and mounted in an ASUS Prime XS570-P motherboard. There is 64GB of 3200MHz Corsair Vengeance DDR4 DRAM fitted as standard, with a Samsung 500GB SSD as the 'system' disk, and another high-reliability 1TB SSD for data. I got a mighty 12910 multicore Geekbench score and clocked transfers to the data SSD at over 3.5GB/s.
The graphics card is an 11GB EVGA GeForce RTX 2080 Ti. This is an impressive specification, and these high-quality components are matched by Scan's astonishing build quality and attention to detail.
The computer's case is a beautiful Corsair Carbide 275Q with a 650W, high-reliability (though not redundant) power supply. The computer is shipped packed out with antistatic bubble-wrap, so your first job is to open up the case and remove it. The case opens without tools and reveals a nerd's dream. The internal cabling is carefully sheathed and cable-tied neatly in place. The inside of the case is sound-proofed and the CPU is liquid cooled. Pipes lead from the chip to a large radiator in the top of the case. Two lazy fans push air through this radiator – the enlarged surface area only requires the fans to run slowly to achieve the required cooling, making the Evolve whisper quiet under even heavy loads. In normal operation, the computer is virtually silent.
The graphics card also has a built-in heat extraction system, with a couple of fans – these high-powered cards are often the source of much of the noise workstation class computers make. Again, given its extraordinary power, the RTX 2080 is surprisingly quiet.
The Corsair Carbide case itself is attractive (for a computer) and practical. I loved the power button feature, headphone jack and a couple of 'front panel' USB connectors, which are on the top, front edge of the unit, where you can actually reach them from your seat if the computer is by the desk. It's a little thing, but would make a huge difference on a day-to-day basis. There is also a little puddle light at the bottom of the front panel, which lights up the carpet. It's of no use at all, but it's cute.
The computer is loaded with I/O. There are eight channels of audio output, two USB 2, six USB 3.2 (four of them Gen 2), HDMI (up to 4092×2160 at 24fps) and a Gigabit Ethernet port. There isn't any Thunderbolt (which doesn't work well under Windows anyway, in my experience) but the Gen 2 USB ports handle up to 10Gb/s. Those two top panel USBs are 3.2 Gen 1 (5Gb/s).
The graphics card can support four monitors at up to 7680×4320 pixels, with three DisplayPorts
(v1.4), an HDMI (2.0b) and a USB Type-C connector.
The computer comes preloaded with Windows 10. If you need to restore the Operating System at any time, Scan has velcroed a recovery USB stick to the power supply inside the machine. It's an example of the attention to detail that is obvious when you buy a computer from them. Scan has also, mercifully, stripped out most of the cruddy 'trial software' that gets installed with Windows, so the machine is lean and clean from the outset.
The Corsair Carbide case itself is attractive (for a computer) and practical
Especially for edit
This Evolve is, of course, sold as an edit computer. Avid Media Composer is not great at utilising the full power of workstation-class machines like this, but those few effects that benefit from meaty hardware (like blurs in the Paint tool and reversing video) worked well. Rendering the timeline was only limited by the speed of reading the video from disk, so small projects that fit on the 1TB internal SSD would be super-speedy – rendering from a NEXIS attached by Ethernet would be more-or-less real time, as usual.
Attention to detail inside the Evolve bodes well for its performance
At the other end of the spectrum, DaVinci Resolve is capable of wringing every ounce of power the hardware will offer, so the Evolve is a brilliant platform. Playback of 4K ProRes and Blackmagic Raw material was smooth, and I got bored of adding blur nodes long before the computer ran out of the power to play them. An old project that stuttered on an old Mac Pro with four external NVIDIA K5000 graphics cards played effortlessly on the Evolve. Rendering projects was astonishingly fast – again having the source footage on that fast, internal SSD makes a big difference if you can manage it. Resolve really pounds the hardware, so long renders force the cooling fans to rev up a bit, but the unit never gets loud.
Like Resolve, Adobe's Premiere Pro is much more capable of using the hardware it's running on and, again, it flies on the Evolve.
Best buy?
All that power isn't cheap, of course, although the £2999.99 (inc VAT) asking price is value for money, given the extraordinary performance. Purchasing from Scan is a pleasant experience, too. The units are built to order, so they can be modified and customised as you like. At each stage of the build process you are sent details and photos, and the units are given a comprehensive test and burn-in after completion. You get a three-year warranty, with any repairs in the first year being carried out on-site, and technical support is available both online and (shock, horror) on the phone seven days a week – another great advantage
of buying from a bespoke, UK-based manufacturer.
It's hard to criticise the Evolve NLE 4K. It's powerful, good value and stable – within the limits allowed by Windows 10 and certain NLE software packages. 3XS/Scan has made a sensible choice in fitting a high-end graphics card to a powerful, but not top-of-the-range (ie expensive) CPU. This tailors the computer very well to the demands of video editing and effects, without driving the price too high, though I would suspect a lower spec machine would be adequate if you are solely an Avid user. The purchase experience, customer support and build quality are exemplary – and I love that little puddle light.