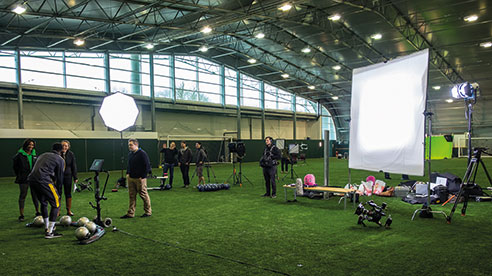 Working While Moving
Posted on Nov 12, 2018 by Julian Mitchell
International videographer Rob Crombie thought long and hard before purchasing Samsung's Portable SSD T5 drives and revolutionising his business
Rob Crombie is a producer, director, filmmaker, videographer and founder of London-based video agency, Sneak Global. He works with agencies, brands and businesses around the world to create quality video content for online audiences.
Rob does an extraordinary amount of travelling, but the pressure of servicing an international clientele means he has to continue working while on the move. "I'd been looking at the Samsung Portable SSD T3 drives to see if they could help prolong my working day, but when I discovered the product had been updated to the Samsung Portable SSD T5 range, I immediately bought two T5 2TB drives."
Instant Redundancy
Buying two Samsung Portable SSD T5 drives gives you a back-up if any footage gets lost. "The other drive becomes an instant clone of your work and because of the fast transfer speeds, copying even 4K footage over takes hardly any time. I always travel with my A drive on me and the other one wrapped up in the hold if I'm flying."
However, the main reason Rob bought the two 2TB Samsung drives was for their portability. "All I need is a laptop and the Samsung 2TB portable drive, and I can edit anywhere in the world. The durable, secure device can be password protected and the drives are so light, you can pick the computer and drive up together and they won't disconnect. They're light enough to be held in by the tension of the cable."
He adds: "I've edited in taxis, planes, and trains – anywhere where I can plug in the drive really. The form factor of the Samsung Portable SSD T5 is so small and powerful you don't bring attention to yourself. My previous portable drive was big and nowhere near as fast. Also, imagine dragging around a RAID drive that would need to be plugged into a power outlet.
"When you don't have time to edit, it helps that you can do it with the CODEC you shot with. In another, less powerful, editing set-up you might need to use smaller proxy files, which take time to create. With Samsung's Portable SSD T5 drives, you can easily manipulate even 4K footage."
Like all Samsung Portable SSD drives, they are bus powered, so don't need external powering and they are smaller than the average business card, weighing just 51 grams, and only 10.5 mm thick.
With no moving parts and a shock-resistant internal frame, the Samsung drive can withstand accidental drops of up to two metres – ideal when you're on the move.
Editing across five countries
A great test for the Samsung Portable SSD T5 drives was when one of Rob's clients approached him to create a global influencer campaign, spanning five countries.
"The 12-film campaign was to focus on UK, Russian, French, German and Norwegian markets, featuring influencers working in design, travel, lifestyle and fashion. The films had to be shot in the native language of each country we filmed in and localised for the remaining markets.
"We were tasked with delivering the campaign in full, from the creative development and influencer recruitment to filming in each market, post-production editing and localisation.
"As soon as we had finished shooting, I transferred the footage from the camera cards directly to the portable drive. While I travelled to a new location or to the airport, I was able to start editing immediately, directly from the Samsung drive."
Rob was also involved with a six-country production that needed the light editing set-up that the Samsung Portable SSD T5 gave him. "The 2TB drive gives me lots of storage and because I'm editing off the drive when I'm in the office, I can use the desktop machine. Also, when we grade the footage we can run it straight from the drives without using the internal hard drives," explains Rob.
"But it's the fact they are small and light. They fit in a pocket in my rucksack; you're carrying around 4TB of storage, which is mad! We were shooting two projects and both fitted on one drive. Even if I don't have enough room on one, I can spill over to the other. But one 2TB capacity has been plenty for most of what we do."
Slow down
Rob is now used to the speed that he is getting from the Samsung Portable SSD T5 drives, but when media has to be archived to spinning media, everything seems to slow down. "Everyone is trying to get home after a day's shooting, but copying has to happen. The Samsung drives have sped up that process," says Rob. "I wish I'd bought the Samsung Portable SSD T5 drives sooner. I will always have two or more of them in my bag when I'm on location."
More information: www.samsung.com/uk/ssd
Advertorial content