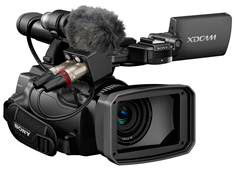 Sony Launch Third New Camera In A Week
Posted on Apr 3, 2012 by Alex Fice
The new PMW100Sony introduces their third camera in a week as part of their NAB roll out. (Sony felt that announcements at the show have a chance of disappearing under the weight of other news). The PMW-100 joins Sony's XDCAM HD422 line-up – making it the smallest and lightest camcorder in the XDCAM family.
The camera has been designed to be small enough to compete against citizen journalist tools like DSLRs, mobile phones and consumer camcorders but with a broadcast quality, 50Mb/s in this case.
Equipped with a newly developed 1/2.9-inch "Exmor" CMOS sensor, achieving the minimum illumination of 0.08lx. Featuring a 5.4-54mm (40-400mm  in 35mm equivalent) zoom lens.
"The PMW-100 combines exceptional picture quality with portability and outstanding manoeuvrability based on the proven XDCAM workflow, taking professional users to a whole new level of productivity. The development of the PMW-100 is a natural step in the progression of the XDCAM range and is a direct response to our customers requirements. Long-time XDCAM users requested a light and compact camcorder that will not only work seamlessly on its own, but also alongside other XDCAM cameras such as the acclaimed PMW-500," said Bill Drummond, Strategic Marketing Manager, Sony Europe.
Demonstrating how small the new PMW100 actually isThe PMW-100 supports full-HD video at 1080i, 1080p and 720p up to 50 Mbps MXF recording and playback based on the  MPEG  HD422 codec using the standard MPEG HD422 Long GOP compression technology. It is also switchable to MPEG HD420 35/25Mbps or DVCAM 25Mbps. The PMW-100 can also record high quality 24-bit four-channel audio at an uncompressed 48kHz.
Recording media choice includes the high speed SxS memory card as well as Memory Stick, SD card and XQD as the emergency secondly media. The new "SxS Memory Card Management Utility"* software will provide additional operational convenience with SxS memory card, such as the data back-up function and the lifetime indication of the  card in use.
The Slow & Quick Motion function enables users to create artistic fast and slow-motion footage from 1fps to 60fps in 720p mode and from 1fps to 30fps in 1080p mode.
The camera also incorporates HD/SD-SDI output, Composite output, Genlock input, time code input/output, i.LINK (HDV/DV) input/output, and A/V output.
The PMW-100 will start shipping in May 2012.
* "SxS Memory Card Management Utility" will be available to download from May 10th.