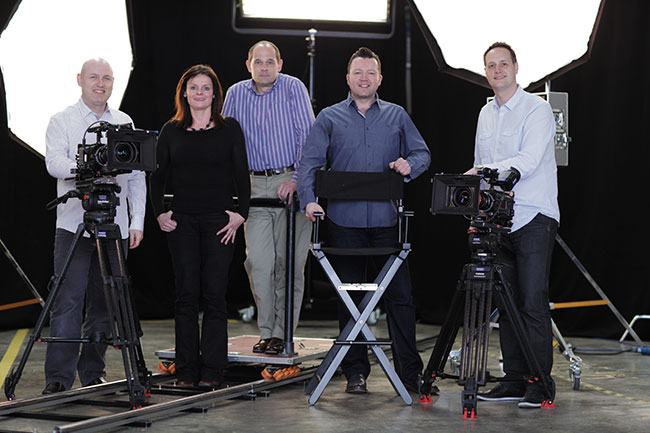 Procam TV Completes Management Buy-out To Support Expansion
Posted on May 16, 2013 by Alex Fice
The Procam TV management team (L-R) Don Grant, Head of Systems Development; Helen Cardrick, Finance Director; Nick Badham, Director of Project Management; John Brennan, Managing Director; Paul Sargeant, Director of OperationsOne of the UK's largest broadcast hire company, Procam TV (Procam) (www.procam.tv), has announced it has completed a management buy-out of the business, led by its existing management team. The MBO, which is backed by private equity firm, Foresight Group (Foresight) and incumbent bankers NatWest, will enable Procam to embark on its next phase of growth.  Foresight is investing £1.8 million by way of equity and debt through Foresight VCT, Foresight 2 VCT, Foresight 3 VCT and Foresight 4 VCT, giving it a significant minority stake in the business. The company also announced that former CEO of Carlton Television, Clive Jones CBE, has been appointed as Chairman.
Procam TV has been providing camera equipment and crew to many of the biggest broadcasters, production companies and blue chip organisations throughout the UK and internationally for over 20 years. It is a preferred supplier to BSkyB and an approved supplier for BBC and ITV. Over the last four years growth has been particularly rapid, with revenues doubling following the introduction of new camera formats.  Procam claim they have the largest stock of HD cameras in the UK. Most recently they have invested in new super high-def '4K' cameras.
Headquartered in Battersea, London, with additional facilities in Manchester, Procam employs 70 people and has supported many of the UK's best loved shows, including Made in Chelsea, ITV's Splash, Watch's The Incredible Mr Goodwin, BBC2's The Great British Sewing Bee, Derren Brown and The Great British Bake Off.
A core objective for the new management team  is to accelerate the company's expansion, with plans to capture greater market share by launching new facilities and services due to be announced in the coming months.
The management buy-out team is led by current Managing Director, John Brennan, with other existing senior staff now also appointed as company Directors.
John Brennan, Managing Director, Procam TV, said: "In Foresight we have found a superb partner that shares our passion for TV and our ambition to grow into new sectors and geographies. There is currently enormous demand for quality content from traditional broadcasters as well as from new online media players. Our business is thriving as we help production companies fulfil that demand cost-effectively."
Clive Jones CBE, the newly appointed Chairman of Procam TV, has held a string of top executive and board roles in British television during his career, including CEO of Carlton TV from 1996 to 2004 and Chairman of GMTV from 2004 to 2010.