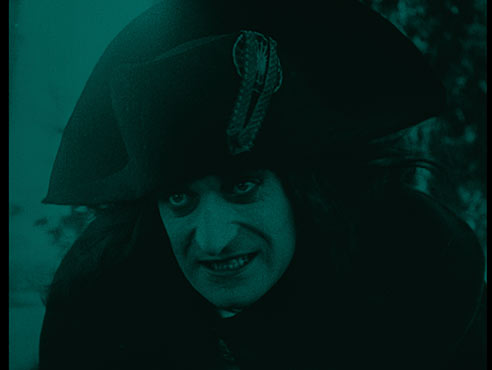 Napoleon's Digital Rise
Posted on Mar 20, 2017 by Julian Mitchell
Restoring the film was made even more difficult by Abel Gance's innovation Polyvision which expands the screen to three times its regular width.
Abel Gance's five-hour classic silent movie may well have its greatest version yet in this painstaking restoration for the digital world. Definition talks to the BFI's Kieron Webb and Paul Wright from Dragon Digital
Julian Mitchell: Has there already been some film restoration of this film or is this the first time that it has been restored?
Kieron Webb, BFI National Archive: The restoration of Napoleon on film took place across decades and culminated in a 35mm black & white negative, from which a show print was struck in 2000. Using original silent era methods, the print was tinted and toned in the film's many colours and was screened in a very limited number of events with a live score. The new version marks the first time that the film has been digitally restored.
Julian Mitchell: Was there already a process of finding different versions of the film to encapsulate in to the final version? Which version are you restoring?
Kieron Webb: It is the film elements from the restoration of 2000 that have been digitally restored. This is the most complete version of the film that is available, compiled by filmmaker, archivist and historian Kevin Brownlow who spent over 50 years tracking down surviving prints from archives around the world since he first saw a 9.5mm version as a schoolboy in 1954. The film has been entirely regraded and received extensive digital clean-up throughout.
Julian Mitchell: How was the decision made to restore the film digitally? Was this seen as an enhancement or a modern way of doing things?
Kieron Webb: The BFI has been involved in the project for decades, recognising the importance of the film and wanting to ensure it is accessible to future generations by creating a digital restoration, complete with composer Carl Davis's score. It is the generosity of Carl Davis and Jean Boht that made possible the recording of the score by the Philharmonia.
The restoration has enabled the film to be shown in cinemas around the UK from November 2016 and released on BFI Blu-ray and DVD.
"The film has been entirely regraded and received extensive digital clean-up"
Let's get digital
Julian Mitchell: How did you deal with the triptychs? Can you explain what they are in the context of the film?
Paul Wright, Dragon Digital: Napoleon's finale shows Abel Gance's innovation of Polyvision, also known as triptych. This is where the screen dramatically expands to three times its normal width, to a ratio of 4:1, and is utilised for the presentation of both panoramic views and montages of images. The panoramas were captured by stacking three cameras on top of each other, one pointed to the left, one straight ahead and one to the right.
What we end up with is three 35mm camera negatives for the Polyvision section, which were scanned at a resolution of 2048×2048 pixels generating digital DPX file sequences. From here we start to digitally restore each of the sequences, independently repairing issues such as frame stability, density fluctuations and removing dirt, scratches or mould that has manifested over the years.
Using Sony 4K DCI projection and a seven-metre screen (for viewing purposes) coupled together with a 4K uncompressed feed direct from our Quantel Rio finishing system, we were able to position the three sets of 2K scanned sequences alongside each other, horizontally reforming the Polyvision and panoramic footage.
At this stage, the left, centre and right panels are all live, to allow us to make critical and precise adjustments to any of the panels in real time. We approached these adjustments in various passes; the first pass was to make geometric tweaks to make sure the three panels aligned as Abel Gance intended. There are some parallax issues visible within the original footage, as that triptych tripod had the cameras placed on top of each other. This is evident with any objects in the foreground, but these add to the charm in what was truly pioneering and ahead of its time. Such techniques are still being developed and are at the forefront of media applications today, with technologies such as 360, which really shows how innovative Abel Gance was.
The second pass was to grade and colour correct all three of the panels, and with this triptych section in particular, it was important for two reasons. The first reason, like the rest of the film, was to be as true to the original 1927 print as possible. We achieved this working alongside image specialist Ben Thompson from the BFI National Archive and film historian Kevin Brownlow from Photoplay Productions. With Kevin Brownlow's extensive knowledge of how the film should look, along with reference print cells he'd collected from various original sources, we regraded the film.
The second reason was to make sure that the three panels balanced together properly when projected in both density and colour. What became very apparent during this process was that any slight density issues or flicker present seemed to be magnified by the triptych panels. In isolation each panel was very good and the digital repair already applied to smooth out these density fluctuations was a vast improvement to the original. However, when projected together, any slight flicker or change in density on any of the panels would stand out as the left, centre and right panels would change at different times. We found that we had to carry out a lot more digital restoration to treat this issue and for it to no longer be a distraction.
The Quantel Rio system was used to reinstate tints and tones that would have been present in the original 1927 print of Napoleon .
Julian Mitchell: What can your post equipment achieve with restoration projects, is there a limit to what you can do? What were the standard treatments and what weren't?
Paul Wright: For a typical restoration originating from film elements such as 16mm and 35mm, the process starts with careful consideration as to the best approach to scan and digitise the film. The condition of the film will determine how we scan and the utmost care is taken to protect original elements. In recent times, when film scanners were primarily being designed and used for scanning modern film stock for digital intermediate processes, there was a big focus by the equipment manufacturers on how quickly film scanners can digitise the footage. We found ourselves constantly working with manufacturers to slow the process down so we could have the ability to adjust tensions, film transport speed and other mechanisms to handle film with care.
Once the film has been scanned, standard treatments usually include image stability, density issues, dirt, dust and scratch removal and colour grading to reinstate original colour or reapply tints and tones. A lot of advances have been made to image tracking tools in post-production and VFX software tools, as well as digital restorations tools. It's these image tracking tools that are important for analysing a film's instability and being able to counteract this movement for correct image stabilisation.
With digital restoration, problems manifest in different ways and we've found that where one piece of post-production equipment may be good at repairing certain problems, it may not necessarily be good at repairing others, so we try to have as many tools in our armoury as possible. In some cases, where off-the-shelf systems haven't been able to tackle a problem, we have had to develop our own bespoke solutions in-house, using software development or modifying hardware. It makes restoration so rewarding; applying knowledge and skill sets to restore film heritage whatever challenges arise.
Julian Mitchell: How much of the restoration is frame by frame? Could you automate procedures?
Paul Wright: This is dependent on the material being restored and can vary on a frame-for-frame basis. Our approach is to review a shot then decide on the appropriate action. Procedures and processes can then be automated and the level of repair can be fine-tuned and tailored to suit the material. Where automated procedures are used for repair, careful analysis is still required to step through the repaired material to ensure the automation is correct. Frame-by-frame repair is required with problematic and damaged areas of the film, so it's typical for any digital restoration to require a mix of automated and manual clean-up.
In the case of Napoleon, with a runtime of approximately five and half hours, there was somewhere in the region of half a million frames to analyse, repair and review.
Julian Mitchell: Explain some of the digital tools at your disposal with your Rio platform, which ones were used most on Napoleon?
Paul Wright: The Quantel Rio system was an essential part of this digital restoration. The Rio was designed to be a finishing system, not only a colour grading system and it gave us complete flexibility and the appropriate tool set.
The primary purpose of the Rio system was the grade; the negative scans were black & white, so using Rio, our colourist worked to reinstate the tints and tones that would have been present in the 1927 print. We tried to mimic the original photo-chemical laboratory methods for tinting film digitally within the Rio system with great results. In some cases we used the digital colour palette to mix the colours as close a match to the original tints as possible.
Other essential tools used within the Rio platform were the edit toolset, the ability to track shots for further stability correction if required, racking shots etc. It was the triptych section where Rio came into its own. Having three 2K image sequence panels projected on the screen at one time, all live, with multiple colour correction layers, all with geometry resizes, all with embedded mattes and the ability to change any element at any time with no delay and no rendering, meant that our finishing sessions were extremely productive and we were essentially seeing the final results come to fruition.
Julian Mitchell: Explain some of the workarounds you achieved to complete the project.
Paul Wright: I would not say we used any workarounds as such; where a specific problem or task arose, we would find a solution. That's the nature of a digital restoration, the challenges are always there to be met and we take great pride in meeting them.
Julian Mitchell: How much time was saved using this digital platform?
Paul Wright: Our approach is to keep working on a restoration project until we are 100% satisfied with the result and our client is happy. Every project differs in the time it takes us to complete. It's a very organic process with some parts of a project requiring a lot more attention and time than others. It was exciting to be part of the restoration team bringing Napoleon back to life and it was a thrill and an honour to work on such a project.
Napoleon is in selected cinemas and is out now on BFI Blu-ray and DVD.