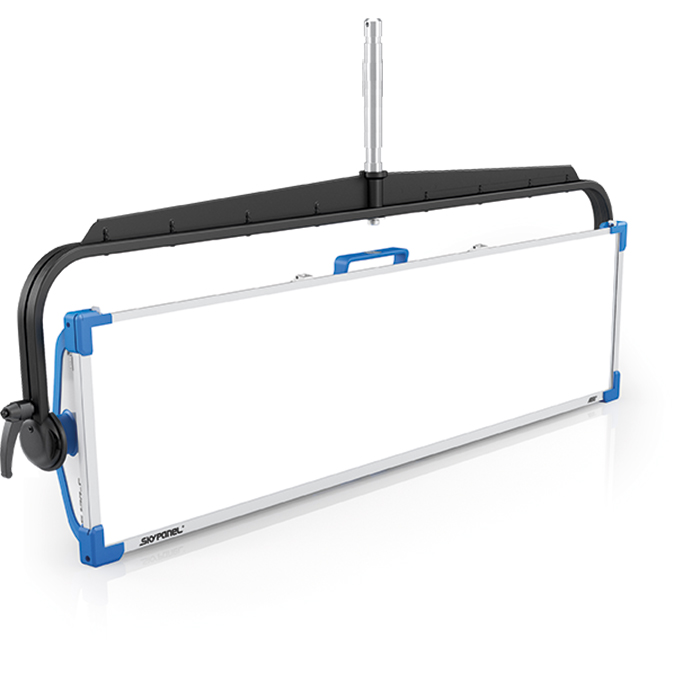 History Boys
Posted on Jun 6, 2017 by Julian Mitchell
Robert Richter (left) and August Arnold (right), founders of ARRI.
Arri's current executive board, Franz Kraus (left) and Dr Jörg Pohlman (right).
Julian Mitchell: 100 years of ARRI, how are you celebrating this year? What does this milestone mean to ARRI?
Dr. Jörg Pohlman: We are marking our centenary with celebratory events and materials focused primarily on September, the actual month of the birthday. We're very proud of our history and look forward to sharing some wonderful stories and content later this year – put together with the help of many of our friends across the worldwide film industry. Even more exciting than our past is where we are as a company in 2017, and the values and vision we carry into the future. ARRI was founded by two passionate, film-obsessed teenagers; that same energy and exuberance still defines the company today. We're 100 years old, young at heart and looking ahead to even greater things.
Julian Mitchell: You have successfully turned from a film camera company into a digital film camera company; what is your next big conversion or challenge and what have you learned from the successful transition?
Franz Kraus: The conversion from analogue to digital taught us that the diversity of our product range and – more importantly – the engineering skills acquired during our DI developments helped us adapt to a shifting technology landscape, since it was our work with the ARRISCAN that paved the way for ALEXA. It also taught us that our most valuable assets are the level of trust in our brand, the extraordinary talent of our employees and our very close relationships with filmmakers. A sea change like the analogue-digital shift doesn't come along very often – now it is more about timely, incremental responses to the ever-changing needs of filmmakers and making sure that our offerings are of genuine benefit in terms of creativity, production value and workflow efficiency.
The highly successful new ALEXA 65 'medium format' camera.
Julian Mitchell: What are the biggest challenges for a camera manufacturer in the 21st century? Being consistent in your designs? Keeping the customers happy? 
Dr. Jörg Pohlman: For us, challenges include not only focusing on the best overall image quality and true production benefits, but also communicating to the market exactly why we think our approach is the best approach. There are more camera manufacturers than ever before and cameras are cheaper than in the past – this results in a lot of marketing noise and a certain amount of hype about on-trend features that sound good but don't tell the whole story and don't necessarily bring real benefits. We have to stick to our fundamental principles and speak with a clear voice to the industry. Camera form factor is another challenge in the 21st century – do you offer an expandable box, or sophisticated ergonomics? There is a need for both, which is why we provide a range of cameras.
Julian Mitchell: Does the huge increase in TV drama production from the likes of Amazon give you confidence for the future of high-end production and therefore the future of your products? Are your cameras used more on TV than movies now?
Franz Kraus: ARRI cameras have been used on television productions since the 1950s, so operating in both markets is not new to us. However, television today is better and more cinematic than it ever has been, so we're seeing ALEXA and especially AMIRA – with its Multicam feature for live broadcasting – used as much for TV as for feature films.
The emergence of streaming content services has not pushed image quality requirements down, as some feared. On the contrary, content providers are looking for ways to set their programs apart, so we can be confident in the future of high-end production. You mentioned Amazon; after extensive testing they chose ALEXA and AMIRA as their cameras of choice for UHD and HDR programming, which shows that they are serious about maximising overall image quality. As good as television is now, we also believe that seeing feature films on a big screen is still very special and the ALEXA 65 system provided by ARRI Rental is a response to that, making sure that going to a movie theatre feels like a different, more immersive experience.
Julian Mitchell: Last year you bought the TRINITY camera stabiliser system, are you planning more acquisitions? What are your plans for TRINITY, are you working on a range of products?
Franz Kraus: We always have an eye on exciting new innovators in the industry and on opportunities to form partnerships or to make acquisitions that will diversify our business or carry our products into new areas. TRINITY is the flagship of a full range of camera stabiliser options we now offer, and the system will of course expand. Looking ahead, we see that a system approach is what will bring the greatest production benefits. Already, our Electronic Control System accessories, our lenses and our cameras all talk to each other, making tasks on set easier and faster, and providing valuable metadata for post-production. In the future, lighting and camera support equipment – including stabilisers – will join the conversation, until everything on the set is linked and communicating.
Julian Mitchell: The ALEXA SXT is finally here. Why has it taken so long to appear? Who is this camera designed for? Is this the ultimate ALEXA?
Dr. Jörg Pohlman: ALEXA SXT is the pinnacle of the 35-format ALEXA camera system, offering future-proof images for UHD, HDR and wide colour gamut through an unprecedented range of recording formats. Developing the SXT cameras was time-consuming because they incorporate completely new look management architecture and the powerful, sophisticated image processing of ALEXA 65. As the most advanced and versatile digital camera system we have developed so far, ALEXA SXT is designed to meet a huge variety of production requirements.
Julian Mitchell: We think the ALEXA 65 has now turned from a specialist camera into a camera for all genres of film, especially after the success of films like Rogue One: A Star Wars Story, do you agree? How do you see the 65 now?
Dr. Jörg Pohlman: We had expected that the ALEXA 65 would be used primarily as an additional camera for specific sequences on ALEXA shoots, so it has been very exciting to see it embraced as the main unit camera on so many productions – and not just those with big studio budgets. Feature films shot with the system are now being released thick and fast, with many more on the way. Our current focus is on expanding our exclusive 65mm lens options, with several new series of lenses becoming available this year, some of them customisable and all with distinct optical characteristics.
Julian Mitchell: We recently witnessed a short film shot completely by drones with a minimum of aerial shots. What do you think are the main changes to the way movies and TV are shot in the future? Can you see some kind of automation or AI being developed for shooting?
Franz Kraus: It is certainly possible, but the question should be what benefits would it bring? Of course we constantly strive for a more efficient set and post workflow, and in some circumstances an automated aid for framing or camera control might be useful, but surely not very often. Why do so many cinematographers like to operate the camera themselves? Because by doing so they feel a connection to what is happening in front of them and can respond instinctively to the movement and emotion of human beings. The tools we provide should increase creativity, not diminish it.
Julian Mitchell: With the rise of HDR and its value-for-money returns for just a bit more data, do you think for productions this is more favourable than increased resolution? Are you frustrated
by the different standards out there? Which do you favour?
Franz Kraus: If the priority of productions is to improve viewer experience across as wide a variety of platforms as possible, then yes – HDR should be at least as important to them as further increasing resolution. Add to that the fact that increasing dynamic range is less data-heavy than increasing resolution, and it is clear that HDR has great potential. However, it is still early days and – whatever content providers think about it – HDR will only succeed if creative film and programme makers feel it enhances their visual storytelling toolset. Different manufacturers measure dynamic range in different ways, so the numbers cannot be compared. Filmmakers who do their own testing discover that ARRI cameras offer the best capture option for HDR/UHD deliverables.
Julian Mitchell: Would ARRI consider building a camera for a mass filmmaking market? Something like a €10,000-15,000 price point? Or is this market too crowded?
Dr. Jörg Pohlman: While there are no current plans in this direction, we would not categorically exclude it for the future.
The new SkyPanel C120.
Julian Mitchell: Your SkyPanel has been a huge success, are you expanding the range and abilities in 2017? Are you introducing any more lighting products this year?
Franz Kraus: We are extremely pleased with the success of the SkyPanel product range and are actively exploring further opportunities. Since the fixtures are designed to be upgradeable via software updates, features will continue to be added according to customer feedback and market requirements.
Julian Mitchell: Where is your competition in the market? Do companies like DJI with their recent part buyout of Hasselblad interest you or worry you?
Dr. Jörg Pohlman: Competition in the market is a healthy thing and filmmakers are happy to have a variety of options from which to choose. The fact that there are more manufacturers out there now only makes it more important that we stay true to the principles that have sustained and defined us for the last century. Quality and reliability – traits for which ARRI is renowned – are more important than ever. The same goes for long-term return on investment, which goes beyond build quality to encompass modular hardware and upgradeable software. These priorities make our cameras more expensive to develop, but what other digital system has remained as relevant, for as long, as ALEXA?
Julian Mitchell: Finally, what is your message to the filmmaking community, is it in good health and will the digital moving image world continue to expand and become more sophisticated?
Dr. Jörg Pohlman: One of our biggest messages to the filmmaking community in our centenary year is simply a request to keep talking with us. We love having a dialogue with filmmakers; we love being told what they need and finding ways to give it to them; we love hearing how our products have helped to tell a story or overcome a challenge; we love seeing careers develop over time. Is the community in good health? Yes it is. Will digital imaging continue to improve? Yes it will. These are exciting times and we've never been more enthusiastic about continuing as a trusted partner to the industry.