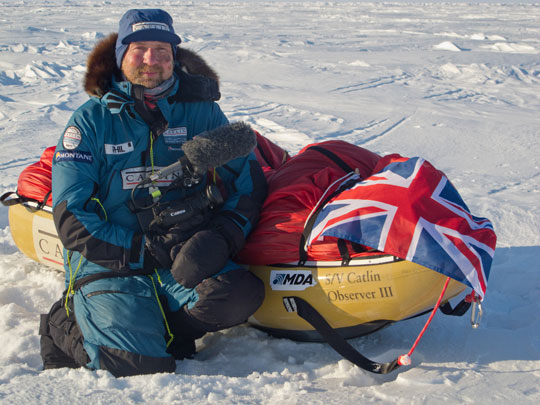 Frozen Capture
Posted on Sep 22, 2011 by Alex Fice
A very cold Phil Coates and his very cool Canon XA10. © Martin Hartley.comAs part of a major expedition to the Arctic Ocean, TV cameraman and director Phil Coates had the chance to become the first embedded crew to shoot in high definition 50Mb/s in the Arctic. But as the journey went on this became the last thing on his mind.
Whenever you buy a new piece of electronics you always also get a lot of paperwork with it, within this paperwork, usually in the manual is the recommended operating temperature for use. Obviously nowhere here does it mention the temperature of minus 43˚C being suitable! This temperature is beyond what materials like plastic exist in, sensors and LCDs will start behaving erratically and then you have to start thinking about the human holding it.
This is the environment that TV film maker Phil Coates planned to make a documentary in. Earlier this year he was part of the Catlin Arctic Survey, an international scientific expedition that's examining the surface layers of the Arctic Ocean to research how changes within the seawater beneath floating sea ice may be affecting powerful ocean currents that influence prevailing climate and weather patterns worldwide. Heavy science stuff and you could argue that making a documentary about it for TV broadcast might be as interesting as the raising of the Mary Rose. But Phil had quickly realised that the angle of the documentary was about the people versus the environment, he just had to capture the experience.
The Survey had two key teams – a travelling 'Explorer Team', that included Phil, and a static 'Ice Base' team of scientists that was based just off the western coast of Ellef Ringnes Island in the territory of Nunavut, Canada. Both teams headed off to the Arctic at the end of February.
On 14 March Phil Coates and the rest of the Explorer Team – polar explorers Ann Daniels and Tyler Fish, and scientist Adrian McCallum – were dropped off on the sea ice, off the eastern shore of Borden Island, to begin phase one of a 10-week, two-phase expedition at the top of the world. Phase two of the expedition would later see the team dropped off near to the North Geographic Pole to begin a much longer transect towards the coast of Greenland.
Phil Coates, "It's all about managing the situation. I've got good experience of operating in cold conditions and using kit. Paradoxically the frozen Arctic Ocean is a very humid environment. It's obviously very cold but we're at the surface of the ocean and because it's such a huge expanse the currents play against each other and can rip open the surface ice and therefore create open lanes of water called 'leads'. So it can be minus 25 or 40 and you've got open water in between the two. You then have the danger of moisture getting in to the kit even at those temperatures."
Polar explorer Ann Daniels and Phil Coates. © Phil Coates.tv & Geo Mission
The camera kit Phil chose to take to the Arctic were two Canon XF100 professional HD camcorders and the ultra-compact XA10 HD camcorder.
Coates revealed: "The production will be the first time an embedded 'Location director camera operator' can shoot full 50Mbs HD on such an expedition, and in such extreme conditions."
The extreme Arctic conditions provide a number of unique challenges – big and small. For example, conditions mean that removing your gloves to alter camera settings just isn't possible, so Phil had to programme the camera settings in Resolute Bay, in the Canadian High Arctic, before being deployed onto Prince Gustav Adolf Sea for the first phase of the expedition.
There are broader challenges, as he revealed: "Making a television documentary is quite different to shooting an expedition film. The planning process is much more rigorous; it requires greater input and collaboration from the whole Explorer Team, and I have to think creatively about many production elements."
No Gloves, No Fingers
On the frozen Arctic Ocean Phil operated the cameras wearing two pairs of gloves, glove liners and thick outer windproof fleece gloves. When the going got really cold, he warmed up his hands in a pair of sledging plunge mitts: "At-40°C, I will literally pick the camera up, press record and get going. As the expedition progresses I had more opportunity for creative control."
Whatever you choose for kit has to come with a certain amount of compromise. On this trip Phil was pulling his own sledge but even before he started it weighed more than 100 kg. "I had to make some decisions to get the weight down. I had a look at what was on the market. I met the Canon's guys at a show and they mentioned that they were just about to launch the XF100. This is a 50mb/s camcorder and one of the main interests for me was the fact that as a truly embedded director and camera operator this might be the first time someone had used full HD. Fully embedded means pulling your own kit, living cheek by jowl as part of the expedition.
"The XF100 is about half the weight of the old Z1 which swung it for me as it allowed me to take a back-up camera which enabled me to shift the way I was going to tell the story. If I could take spares I could take more risks, so I can be more imaginative, I can try to create more impelling imaginary and present a more dramatic story.
"What I ended up taking was a preproduction Canon XA10 which I had a few concerns about but out of all the cameras I've used over the years, that little thing blew me away (Read Phil's camera review of the XA10 here). I was able to film with it at minus 43˚C before we had to go to bed because it was too cold. For the LCD screen which was a touch screen I just used a pen stylus for the controls. You can't really think straight in those conditions and it's hard to convey how challenging it is but the amazing thing is that little camera worked.
"I was also able to use it inside the tent. There are all sorts of issues with condensation but I've learnt over the years different ways to get around that. I usually work with a camera for inside and one for outside. But the sensor of the XF100 didn't seem to work if it had been left outside in temperatures below minus 25. The camera worked, I could replay media but I couldn't look out the front end it was green or white or pink, static white noise. So I brought them inside and having brushed them down systematically  I would roll them up in micro fibre dry towels and then in to two ultra light weight dry bags which then went in to my sleeping bag. At one point I was joined in my sleeping bag by a Canon XF100, XA10 and the PowerShot G12 every night.
"The XA10 also allows you to take off the handle with the XLR inputs and then mount it on the sledge. So I had sledge-cam, ski-cam and I even created a body-cam using a monopod with a chest bracket so when I was skiing along I could film myself and get the other team members to film themselves. I was trying to mix up the perspectives and views with that little camera as much as I could."
Unproven Camcorders
The fact that the XF100s were totally unproven also weighed on Phil's mind. "The cameras I used had to be flown from Japan and arrived only a few days before I left. There was also a third XF100 sealed in a Pelicase as a further back-up".
Phil and his very heavy100kg sledge. © Phil Coates.tv & Geo Mission
With all Phil's experience, in this terrain there is always an unknown quality to day to day life and equipment does start to act in strange ways, "Below minus 25 nothing behaves sensibly. To minus 25 plastics generally behave like they should and you can predict what can happen. Below that plastics can shatter, I remember one job in Greenland when I put a tripod down and the spreader shattered. So in those conditions I'm constantly vigilante but I do get it wrong. One thing you must never do is breathe on to your camera so you have to get used to breathing away from it. If I'm hand holding I try to breath out of my mouth in the corner which is furthest away from the camera or I breath down which is away from the camera. Sometimes I'm breathing through a face mask anyway which will absorb the perspiration that will instantly freezes on to that. Interestingly about 95% of the footage I shot with the XF100 I was using the LCD screen and not the viewfinder. Once you get used to working with mitts it's amazing what you can achieve. I fed back to Canon that even with a small camera like that the viewfinder is just too small to use in the field. I had used pen styli which were attached to lanyards to make any fine changes to the menu."
Having said what he can achieve with his mitts on, Phil also admits that while you're getting used to using them you have to expect that up to 30% of your footage will be thrown away. "I'm concentrating on my nose not being frost bitten and trying to tell the story creatively, also checking that everything is correctly exposed and in focus. It used to be very frustrating losing that amount of initial footage but now I realise that operating as a lone camera operator in those conditions something has to give."
Batteries
Phil took dozens of Canon batteries with him as it's impossible to recharge them at such low Arctic temperatures. He explained: "I need this equipment to work in temperatures that are twice as cold as your average freezer. Right from the start I decided that I should use a combination of single use and special build lithium batteries. You can't recharge batteries in those conditions at all as it's too cold which affects the chemistry of the batteries. Also the weight of the charger versus extra batteries goes against it. The rechargeable batteries were the BP-975s which cost about £235 and I needed 24 of them! I had many sleepless nights before I left trying to work out how many batteries I would need for the two months as once you're there it's impossible to get anything sent up.
"I had to work backwards knowing I was going to be there for the best part of two months. The documentary special would be about 90 minutes and I wanted to tell an intimate story so I would be looking to shoot 60 hours.  Working it out I thought I had taken more batteries than I needed, however the day we were picked up from the ice I only had an hour and 27 minutes of power left! The experts say that you will get from a third to half of the usual battery life out of each one, the  power is in there but getting it out is difficult in those conditions". Phil had also 'gaffer taped' a single battery inside a foam compartment as a last minute save.
"The other variable was the cards, SD and CF. I can't transfer the cards to anything while I'm there and there's no swapping of cards. I developed a shooting script and the shot list and I printed all of this on waterproof paper. You obviously have to be careful of checking your footage because of the power situation so you have to have certain in your mind of what you've shot and how the story is progressing. In the evening you review as little as possible, all you're really doing is looking for exposure and audio. I can't use headphones as the cables just freeze up and turn in to a rod, I've also got so much head gear on it's impossible. So I can't monitor it but can monitor 'in vision' on the two bars, as long as they're working I'm in business. I can use in-ear headphones which I would use for checking footage after the meticulous cleaning and ice removal of the camera every evening.
"As with the batteries I had to calculate exactly how many cards I needed. The retail value of the cards that I needed was £12,500! They were all 60Mb/s, 32GB cards. There were 50 of the CF cards and just over 30 SDs – I finished the job with just three CF cards left!"
When Phil first weighed his sledge it was over 100 kg. Choosing alternative cameras and shooting methods became a necessity to reduce the weight. © Phil Coates.tv & Geo MissionWithout the possibility of swapping cards in the field because of the cold and the fumbling needed to push such small buttons Phil had to have his spare camera ready for shooting. It was quicker and easier to take that out of two dry bags than to swap CF cards. He luckily only lost one shot shooting this way. "All that did was to upset logging a little bit because I had a systematic little way of counting in and counting out my cards. I had two boxes that were sealed up and then I had boxes inside the boxes. It took about 15 minutes to go through this processing of logging and numbering the cards."
Each day the team walked or skied between six and eight miles before pitching camp. "Your day is spent dragging the best part of 100 kg over rubble and stopping every hour and a half to have a drink and a bite to eat. At the end of that your work really begins; when the scientific surveys are undertaken."
The Explorer Team was eventually picked up off the Arctic sea ice, two days after their full rations ran out and after a three-day search for a safe landing strip amongst Arctic 'rubble fields' and thin ice. In total they were on the frozen ocean for 47 days and, during two separate phases of the expedition, trekked for over 500 kilometres across the ice.
Phil Coates' equipment:
2x XF100 camcorder
XA10 camcorder
2x PowerShot G12 
Accessories: 
24x BP-975 Battery Packs for XF100
12x BP-827 Battery Packs for XA10
20x NB-7L Battery Packs for G12 
2x CG-800 Battery Chargers for XA10
2x CA-930 Compact Power Adapters for XF100
2x CB-2LZE Battery Chargers for NB-7L
3x CA-570 Compact Power Adapters for XA10
4x DC-930 DC Cables for XF100
4x DC-920 DC Couplers for XA10
2x SC-DC65A leather cases for PowerShot G12
80 SanDisk memory cards
Manfrotto tripods
Phil Coates is an experienced producer, director and cameraman with a track record of working in challenging and extreme environments – in temperatures from -40°C to +50°C and altitudes of up to 8,000 metres – for the BBC, ITV, Channel 4, Channel 5, Discovery International and National Geographic Television. Phil worked at both the BBC Natural History Unit and BBC Science & Features and has been on assignment in over 40 countries across a range of genres including documentaries, factual entertainment, reality shows and sponsor-funded expeditions. He has a degree in human physiology, looking specifically at human performance in extreme environments.