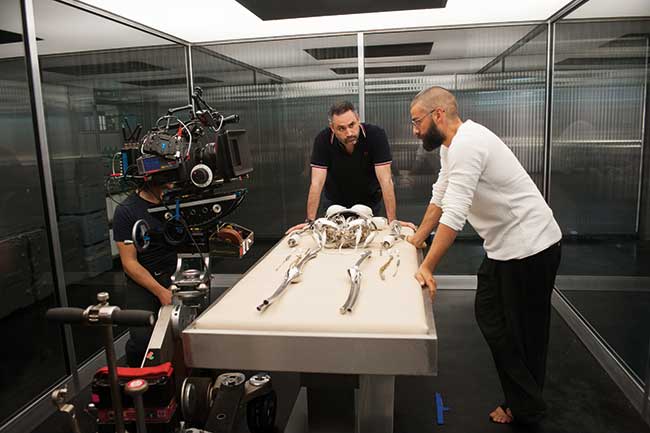 Ex-Machina, the DIT Story
Posted on Mar 2, 2015 by Alex Fice
On set with actor Oscar Isaac (Nathan), Director Alex Garland and DoP Rob Hardy with Sony's f65 camera.
Ex-Machina is about the realities of building articial intelligence and what it means for the human condiiton, for the film image that means gleaming surfaces, breathtaking scenery, large slabs of glass and a need for a clean look. A perfect job for a 4k workflow. DIT Jay Patel walks us through it.
"As the DIT my job was to QC the shots as we were shooting the movie itself. I had a grading monitor by my station where I graded everything as well. Rob Hardy the DP, myself and Asa the colourist built a base grade up at Molinare. So we used that as a fundamental base for every set-up. Then on-set I would tweak that grade to match for consistency and also to Rob's preference. I also took care of the rushes including essential back-ups, and then sent copies through to the post room.
"It was the first time for me to work with the Sony cameras, f55 and f65, also I think the first time for the camera team. I think Rob had used them before but the focus puller hadn't so it was a matter of putting our heads together to try and get round it. One of the most important things was to match the colour for both cameras. We had the f55 as a handheld camera as the f65 was to big for that role.
"Everything was shot in 4k raw which is quite major in the sense that the files are huge, for instance with the f65 15 minutes of shooting time at 24 frames is a quarter of a TeraByte! So to try and back all of that up and keep all of that data turning around is tricky. The f55 is slightly more forgiving in as much as it takes half a TeraBytes for an hour's worth of footage. They would go in between the two cameras and mix and match so when Rob wanted to go handheld he would have the f55 and when we were on a dolly or sticks we would shoot with the 65, and sometimes we would have two or three cameras rolling at the same time, which was quite interesting. But most of it was studio stuff so it did help a lot, we only went on exterior locations when we went to Norway to shoot.
"Pinewood Post were dealing with the dailies side of things so I would make the initial back-ups of all the footage while doing live QC of everything. We would use something like Scratch to look out for thing like shadows and flares and just note it down and send it through to post. Then I would send a copy of that hard drive to them where they would do their copies and archive on to LTO. The reason we did that was that we didn't want the official camera mags to leave set, so they would stay and a copy would go, I would also have a copy just in case something went wrong.
"The Sony f65 camera comes with a 256GB mag size as well as a 512GB. We used the 512GB once when we had helicopter shots so we could just keep running for an hour at a time. The f55 comes as standard with 512GB cards which is an hour's worth of shooting.
"I had two set-ups, a full 12-core Mac Tower system which would play everything back almost at real time and then when we went to Norway I used a Mac Retina system which was obviously a lot slower but we were moving around so much I had to use it. You couldn't playback in real time but at half quality you could. Real time would stutter.
"Sony has got a bunch of gamma curves you can output of the camera for viewing and everything we used was SLOG 2, now they have come out with SLOG 3 which is more like the ALEXA Log C. Rob likes to use SLOG 2 as it gave the camera a bit more life, it wasn't so flat in its log mode. So we viewed it in SLOG 2 and would apply a look externally to that.
"We shot everything in 2:35 but it ended up in 2:39 which is an extra 5% more. The interesting thing was because we shot everything in anamorphic the f55 couldn't actually output a de-squeezed anamorphic image so we had to get a frame converter box and de-sqeeze the image manually, that was really painful. On the new firmware you can now get that de-squeezed image but on the movie we only had that on the 65.
"The Sony f55 has potential as a movie camera. When you use something like an ALEXA it's built like a film camera and it gives you all the options like a film camera. Panavision has mod'ed up their f55 to have all the connections, bracketry and support for you to build it up like a film camera. However it does make stunning images like the 65. The movie does look superb and it did surprise me as I was sending files through.