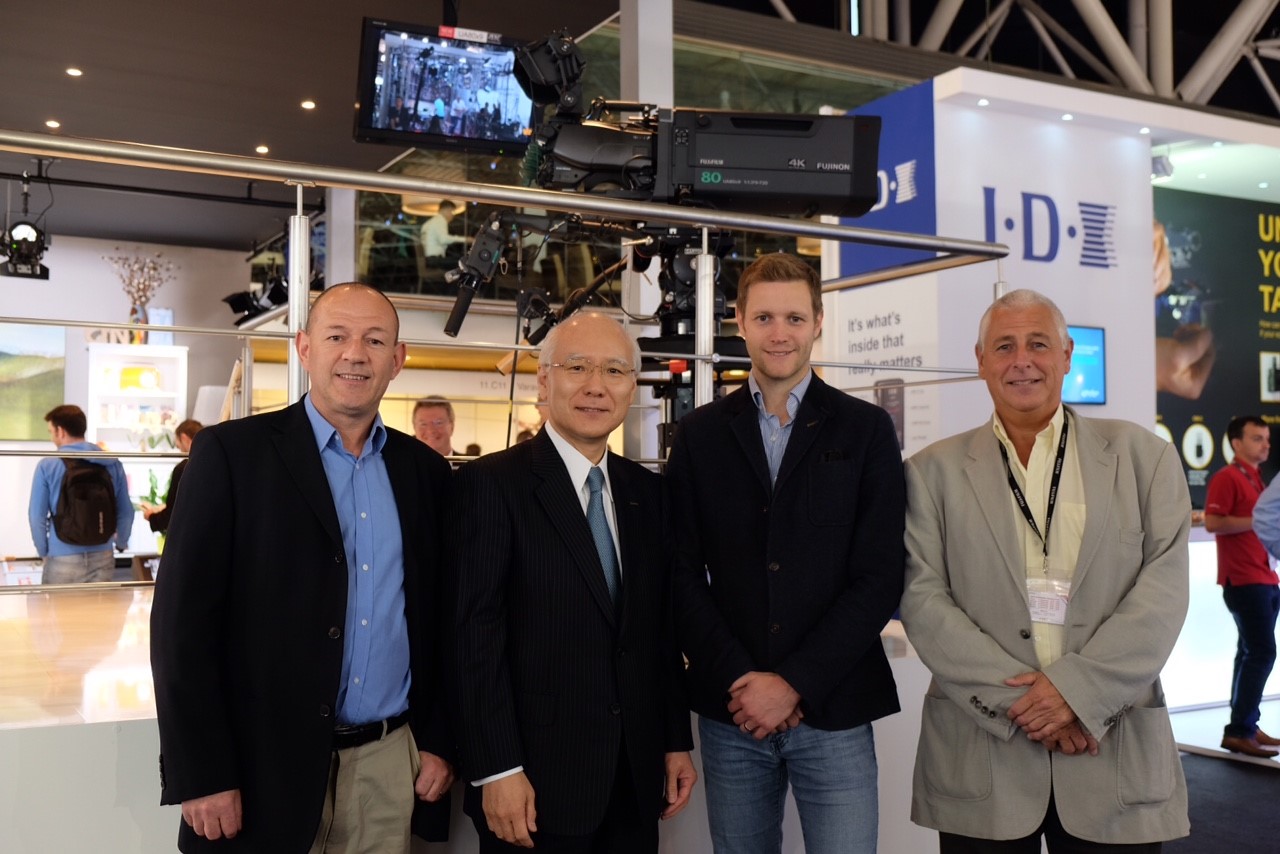 ES BROADCAST EUROPE'S FIRST RENTAL HOUSE TO GET FUJINON 4K LENSES
Posted on Sep 15, 2015 by Alex Fice
L-R Warren Taggart, Managing Director ES Broadcast Hire, Mr Takahashi, Fujifilm Director from Japan, Edward Saunders, Managing Director ES Broadcast Ltd and Ian O'Connor UK Manager Broadcast and UHD 4K Film/TV Optics Division, Fujifilm.
ES Broadcast are set to become Europe's first rental house to provide Fuji's first live production 4K lenses, the Fujinon UA80x9 and UA22x8. With 13 units of each lens purchased, ES Broadcast are gearing themselves up for a busy year ahead.
Fuji's UA80 lens has a powerful 80x zoom for exceptional performance for use with 4K cameras in live coverage of sporting events and concerts. Launched in July, the UA80 is a zoom lens which covers a broad range of focal lengths from 9mm in wide angle to 720mm in telephoto, it also features a unique optical stabilisation mechanism that provides optimum adjustment to image shakes caused by vibrations and wind, making it an excellent choice for live coverage.
Fujinon UA22 is a portable broadcast zoom lens with optical performance compatible with 4k cameras. Despite its lightweight and compact design, the latest release is a 22x zoom lens starting from 8mm on the wide angle side, delivering an advanced level of mobility at the frontline of TV Production.
Edward Saunders and Warren Taggart, owners of ES Broadcast Hire said "We're very excited about the increase in demand for 4K/UHD production. We have chosen now as the time to invest as the first rental company in Europe. Lenses are just the first step on this tooling up of ES Broadcast Hire."
ES Broadcast Hire, founded in April 2012 boasts Warren Taggart, previously operations director at CTV outside broadcast as Managing Director. With the support and partnership of the original sales company ES Broadcast Ltd behind them, ES Broadcast Hire over the last three years has invested heavily in their choice of the best outside broadcast kit the industry has to offer. With stock of multiple camera channel variations, VTRs, lenses and your pick of grip, this addition of Fuji lenses makes their inventory incredibly strong for the OB Market.
The 26 lenses are due to be delivered at the end of this month with the booking diary already filling fast for the first rental jobs in Europe featuring the UA80's and UA22's, Fuji's first 4K live production lenses.