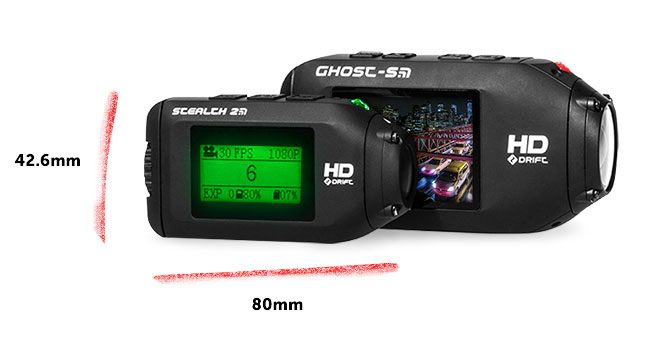 Drift Innovation Shrink Their Action Cam
Posted on Nov 5, 2014 by Alex Fice
The new Stealth 2 action cam with Drift's 'normal sized' Ghost S.
The new camera has a screen but you can't playback on it.The usual tit-for-tat feature battle with competitors like GoPro and Drift has come to a fork in the road recently with GoPro pushing out a 4K roadmap while Drift have gone minimalist. The Drift Stealth 2 comes out of the box with the ability to shoot full HD 1080p at 30fps and high definition 720p at 60fps for a taste of slow motion. It's other features are familiar to Drift users, a 300-degree rotatable lens to align the shot, Wi-fi connectivity for video streaming and remote controlling via the soon to be available Drift Connect app. Further features include a built-in digital LCD screen for menu settings and a three-hour battery life. However the screen is only for menu settings as Drift has decided not to enable video playback on it. A decision based on a tiny screen size I would think.
Half the size and 40% lighter
Measurements are 3.15 x 1.67 x 1.08 inches and 3.42 ounces (48% smaller and 42% lighter than the Drift Ghost range of cameras). The size is Drift Stealth 2's most important feature and will be hidden in many a place to catch some brilliant action. It's tiny but tough and durable but don't be tempted in to thinking it is water resistant, maybe splash proof but nothing more. You will have to wait for their special case for underwater videography.
The Stealth 2 uses an Aptina CMOS sensor and seven-element aspherical lens technology.
The ST2 includes many standard Drift features including timelapse, photoburst, video tagging to record the action after it's happened and "Car DVR mode" for in-car and on-bike video security. The interface enables users to set their preferred shooting mode: video, photo, photoburst or timelapse. Drift's unique colour-coded LED system on the camera enables users to see the current shooting mode and if the camera is recording.
Wi-Fi Connectivity
Combined with the new free iOS and Android mobile app, Drift Connect, Drift Stealth 2 users have control over the camera. The Drift Connect app is the perfect tool for shot set-up, remote-control recording, photo capture, playback and sharing via social media from your mobile device. (Available soon.)
Two Way Remote Control Compatible (sold separately)
Like the Ghost models, the Stealth 2 is compatible with Drift's two- way remote control. The remote can also control multiple Drift cameras at once.