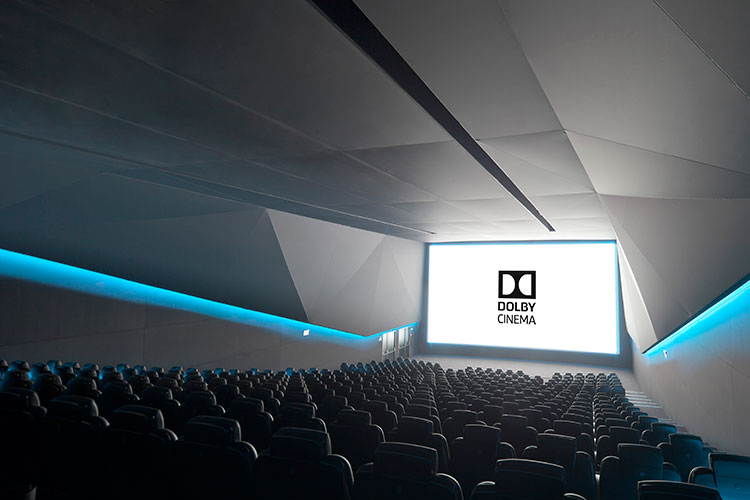 Dolby Opens Second 'Super Cinema'
Posted on Jun 22, 2015 by Alex Fice
Dolby's 'Super Cinemas' want to re-invent the movie going experience.
As television technology gets bigger and better, (ironically using technology from Dolby), Dolby themselves are pushing cinema in to more of an event with their 'super cinemas'. The idea is to make a visit to their cinemas such an event that staying at home with a your television feels like a definite 'low-fi' experience.
JT Hilversum will be JT Bioscopen's second Dolby Cinema location, featuring Dolby Vision, Dolby Atmos and an architectural design that cossets the moviegoer, even if the film is a complete turkey!
The world's first Dolby Cinema was opened last December at JT Eindhoven, which has recently been equipped with a Dolby Vision laser projection system. Now moviegoers will be able to get the complete Dolby Cinema experience with the release of Disney•Pixar's Inside Out in the Netherlands on July 15.
he Dolby Cinema concept is explained to us by Doug Darrow,  Senior Vice President, Cinema, Dolby Laboratories. We ask him how Dolby Vision was included in to their new Cinema Concept.
"The goal of Dolby Vision is to enable an easier process for downstream deliverables. To achieve this colourists would do the colour grade as an 'uber' master which would then be scaled to meet the requirements for cinema and other deliverables if the studio chooses to do so.
"In addition, our efforts with Dolby Vision and its application in the content development ecosystem including on-set and post-house displays, cameras and content creation tools, are all currently being put into place to help implement Dolby Vision. We can't talk specifically about how Dolby Vision is enabled in the Dolby Vision projector, but that it builds on our considerable knowledge and IP.
"Every aspect of Dolby Cinema's inspired design is meant to heighten the technical performance of the system and in turn has been created to draw the audience deeper into the story. Exhibitors can customise the Dolby Cinema design to suit their needs. Features include a signature entrance and a dynamic audiovisual pathway, which audiences will walk through and experience before the film even begins. Additional features might include a wall-to-wall-to-ceiling screen and atmospheric lighting. In addition, all Dolby Cinema locations will undergo a sophisticated visual and acoustic room treatment perfectly tuned for a premium cinematic experience.
"Dolby Cinema incorporates proprietary technology not associated with IMAX. Dolby will work with designated exhibitor partners to determine the best implementation for their location if they express interest in developing a Dolby Cinema."