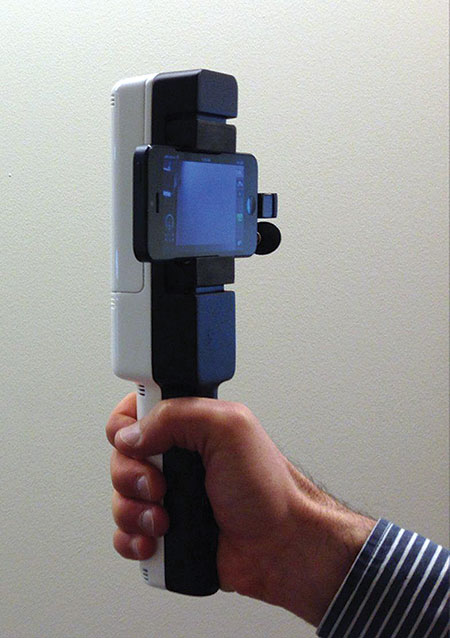 DJI Playing Catch Up With New OSMO
Posted on Oct 9, 2015 by Alex Fice
DJI's latest balancing act is the OSMO, a personal gimbal camera that uses your smart phone as a monitor – but haven't we seen all this already?
In a carefully plumped launch DJI has announced their OSMO personal gimbal with their new Zenmuse X3 4k camera doing the shooting. We can't help feeling a little underwhelmed as we have seen this kind of personal gimbal device at trades shows going back two or three years. Including (below) recently at IBC 2015 with the Walimexpro Husky HY3 3-axis gimbal, they also do a 2-axis gimbal for bigger cameras (Walimex is distributed in the UK by Top Teks).
The DJI difference is that in-built 4k camera at 24p with a 1080p 120fps option. The sensor is Sony Exmor R CMOS sized at 1/2.3in. The OSMO will cost around £600 including the smart phone mount. You get thumb control for different shots and pre-programmed sequences.
The Walimexpro Husky is for small mirrorless or DSLR cameras aswell as smartphones.
Seen at IBC 2014 Lanparte's 3-axis gimbal is for smartphones and GoPro-sized cameras (see below). They also make 3-axis gimbals for bigger cameras and start at around $350. www.lanparte.com
And don't forget about the ultimate balancing act – without motors – like the Steadicam Merlin (below) and their Curve and Smoothee products (the Smoothee appearing in the cool Apple ad for their iPhone 5S https://youtu.be/5NNbG8BZbS4).
We can also mention the no so 'hot' handheld products like this attempt by LiveU at a device that matched a rig with a way of streaming your footage.