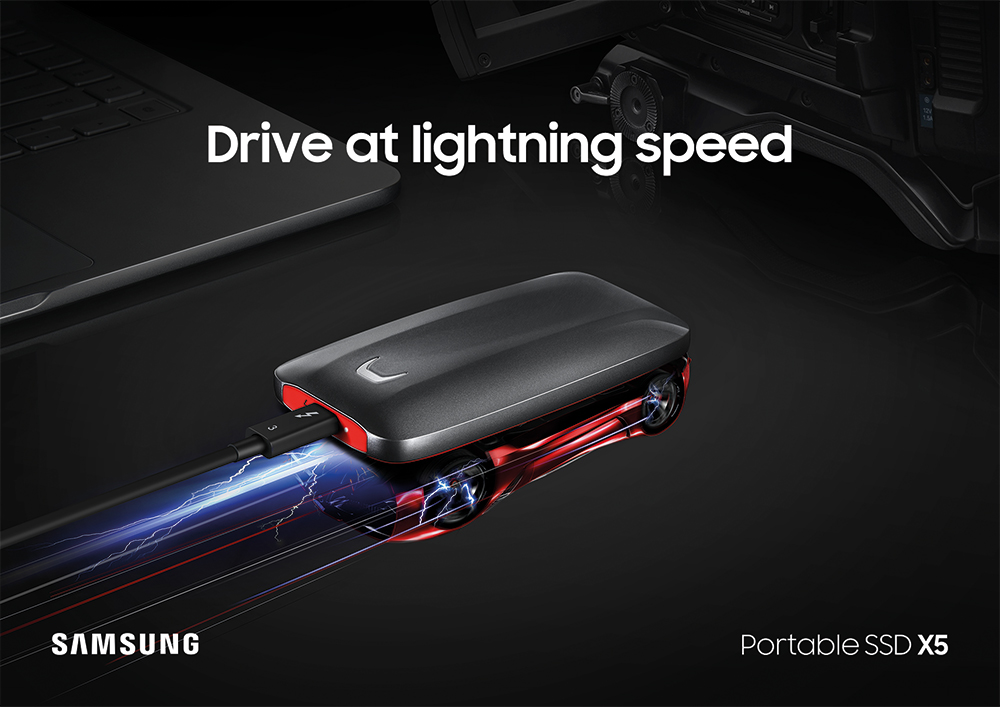 Digital Rivers
Posted on Aug 29, 2019
Discover how the Samsung Portable SSD X5 and faster internet lines are helping regional VFX studios stay ahead of the game
---
Advertisement feature
Canals and rivers were vital conduits during the Industrial Revolution in the early 19th century, and today's equivalents are lightning-fast internet connections and speedy, non-stop rail links to London where most of the media companies are based.
Vine FX is an exception to this rule and is the only TV and film visual effects studio in Cambridge, mirroring other companies that have escaped the capital to set up post businesses in media hotspots, such as Brighton and Bournemouth.
Launched 12 years ago by VFX supervisor, Michael Illingworth, Vine FX started in Soho, but relocated to Illingworth's home town of Cambridge in 2016. The move was made possible due to technological advances, such as faster broadband and improved remote viewing tools.
Vine FX has proved that post-production studios no longer need to be based in London, but as media file sizes increase exponentially in the VFX industry, faster and more convenient ways of getting them from A to B, sometimes without the internet's help, are necessary.
With superfast read and write speeds of 2800 MB/s and 2300 MB/s, the Samsung Portable SSD X5 was exactly what Vine FX needed. Illingworth wanted to see if this kind of transfer speed could be adopted into the studio's high-tech workflow.
His initial impressions of the Samsung Portable SSD X5 were good, particularly as the drive's Thunderbolt 3 interface worked with Vine FX's set-up. "As we have the latest computers, we have Thunderbolt 3, which is necessary to get the most out of this portable drive from Samsung," he says. "We also appreciated the design aspects of the drive – I believe it was a supercar-inspired design."
Of course, the first thing the Vine FX team wanted to do was plug it in and test what speeds they were dealing with. "Immediately we were getting transfer speeds close to 2 GB/s, that's the fastest we've ever seen from a portable SSD drive or any drive actually," says Illingworth.
Vine FX recently worked on Beecham House for ITV and creates many mythical creatures for TV and film productions
On the Vine
Vine FX offers a range of visual effects services, from creature design and compositing through to FX, concept art and storyboarding.
"Our projects work intensity is not linear; demands can go up and down depending on what work needs to be done. That means we can have 35 artists working on a project or it's just me bobbing along. We need the best technology to work this way, the best and most reliable equipment around – the Samsung Portable SSD X5 is fast enough to help us with this," explains Illingworth.
With this in mind, Illingworth put the drive to work almost immediately: "We decided to use the Samsung Portable SSD X5 ostensibly as a transfer device initially. We have a fast network and use internet lines to service out-of-town clients, but sometimes we need fast turnarounds for local customers or client-attended sessions.
"When a fully rendered creature had to go out of house or needed to be seen fast, we used the Samsung portable drive with its incredible transport drive ability. It's amazingly fast," says Illingworth. "That's been a great new option for us and we still have other ways we could use this portable drive; it's definitely disruptive tech."
From the real world
Another important service that Vine FX provides is the creation of new environments. It creates digital environments and scene extensions using reference photography, a digital matte painting, and 2.5D and full CG environments. Its artists also enhance and embellish sets and locations using photographic elements and traditional paint skills.
A super-quick camera capture and transfer device, such as the Samsung Portable SSD X5 is an ideal tool for exactly this type of role, as you can capture reference material straight on to the drive and then transfer it to studio-based workstations incredibly fast.
"Part of our service is end-to-end production management, from pre-production, on-set shoot supervision and scheduling through to delivery, so we're used to working around a production that includes dealing with the highest capture cameras," explains Illingworth. "The start of a digital set extension for a drama, for instance, is a reference for our artists. Now cameras are featuring more outputs, we can hang a Samsung portable drive on one and capture our reference shots, so we have a starting point. Writing to the drive is exceptionally fast and the reading from the drive at the other end is faster still."
Talented matte painters craft digital paintings to create convincing fictional worlds from these beginnings and, as ever, time is currency when it comes to keeping the clients happy.
Transcode station
Michael Illingworth sees the Samsung Portable SSD X5 as a helpful transfer drive even within his facility and throughout all the creative services Vine FX offers. "Our production service gives the client great flexibility, confidence and value. Technology like this Samsung portable drive will help us enhance our throughput generally and its small format, Buss power and inherent security just adds to the incredible features, like the read and write speeds."
But apart from the incredible transfer speed of the Samsung Portable SSD X5, there is another trick up its sleeve Vine FX hopes to try soon. "This is as a transcode station," says Illingworth. "When you need to transcode many high-resolution files to another format, you can take advantage of the speed in a different way. The pure ability and performance of this drive will allow you to achieve a high frame rate transcode from and to the same drive. Very cool."
For more information, please visit samsung.com/uk/portable-ssd