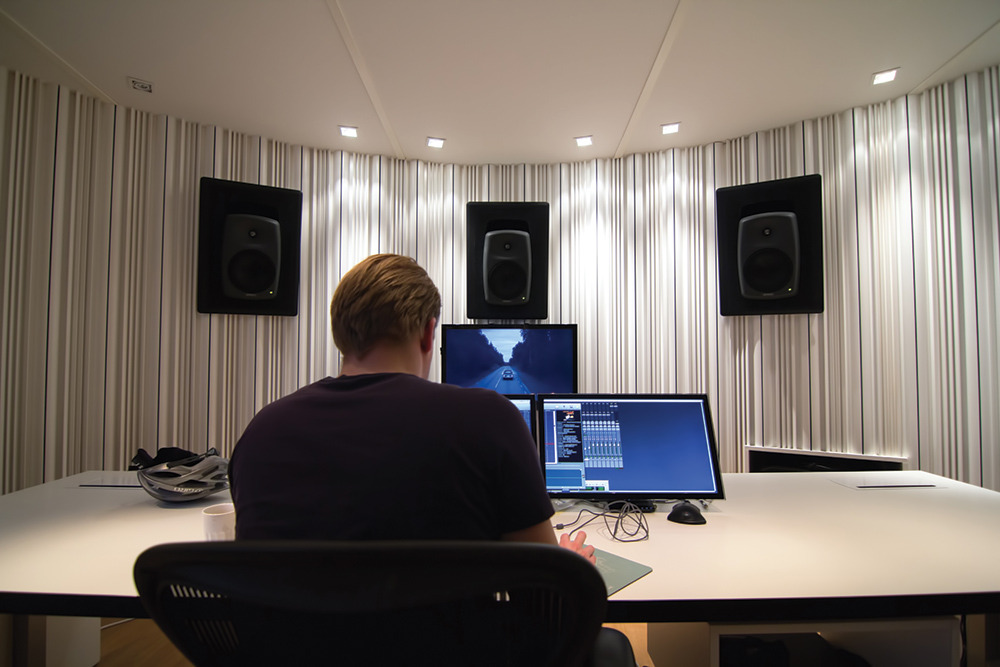 Boutique Grows Up
Posted on Feb 8, 2014 by Alex Fice
Henric Larsson, founder and CEO of Chimney, "Can we grow even more? We shall see."
Henric Larsson is the 'motormouth', entrepreneurial, CEO of Chimney Post Production. The boutique post business that now has its name on seven sites across Europe. They have no investors and everyone gets a share of the business even the receptionist.
Founded in Stockholm in 1995, Chimney is a full service creative agency that produces 1,000s of films for more than 60 countries every year. It covers each step of the creation process, from conception through development, production and post-production. What started off as a single boutique post house in Stockholm has now expanded to six other sites across Europe, even to Germany's capital Berlin. The expansion is in a large part down to the company's entrepreneurial leader Henric Larsson and his sound economic business sense. But his energy and savvi is tempered with a love of the work his company does, maybe the key to keeping his interest from waning.
Henric Larsson is the founder and CEO of Chimney. His career started in the stock brokering industry which you can believe with his machine gun like speech and wired persona. He was great at his job but wanted to try something different and started to work with people with disabilities. After two amazing years he felt a strong urge to start something on his own and so Chimney was created. He is not only an entrepreneur but also passionate about storytelling and branded content and truly believes that an image can tell more than a 1000 words. Thanks to this combination Henric and Chimney have enjoyed success after success starting branches in many parts of the world. It has not always been easy, he says: "Starting Chimney almost 20 years ago, I really screwed up so many times and made so many mistakes, but I learned quickly". Henric has been involved in music video and commercial projects featuring Madonna, Beyoncé, Lady Gaga, The Rolling Stones as well as international brands such as Dior, BMW, Nike and Coca Cola and feature films like Let The Right One In and Tinker Tailor Soldier Spy. No matter what project he takes on, what has stayed at the forefront of his vision has always been creative output and client satisfaction.
After all these years Henric is still highly motivated and focused on providing quality service for both the local and international markets, coupled with his vision of Chimney becoming the leading creation agency in the world. The start of Chimney as a creation agency has been more than successful and Chimney has managed to grow 150% in the last four years while other ad agencies and production companies struggle.
Chimney's timeline from it's beginnings to this year.The Offer
Chimney delivers post production services for more than 1,000 music videos, TV commercials and feature films per year. Working from Sweden's biggest VFX facility, it also offers offline editing, digital film scanning and recording, and sound design. Part of the Chimney Group, the company has offices in Berlin, Copenhagen, Kiev, Oslo and Warsaw as well as Stockholm, and 250 staff.
"To increase cooperation and resource sharing across our offices in six countries we wanted to centralise as much of our IT as possible," says Henric Larsson, CEO and founder, Chimney. "We have enjoyed a close and productive working relationship with HP over the past 15 years – so much so that HP is now our sole IT vendor. To keep the hardware platform the same, even for 3D systems, we tend to buy HP for everything. HP workstations give us maximum performance and minimum downtime, contributing to increased efficiency and profit."
 Massive CPU and GPU power support Chimney's high-end graphic-intensive systems like Autodesk Flame VFX software, enabling the creative team to work with large, complex datasets and intricate 3D models. Intel Xeon E5-2600 processors enable next generation PCI Express graphics, while powerful NVIDIA graphics processors drive up to eight displays per workstation, allowing staff to multi-task.
"We now have dark fibre to our ISP and have moved data storage there," says Larsson. "We will start moving the render farm soon. Before moving all HP workstations to the ISP, we will evaluate building local clouds with thin clients by moving the high-end workstations into our server rooms and working with HP laptops running HP Remote Graphics Software. This will allow users to access and share the desktops of remote HP workstations over a standard network, enabling our artists to collaborate in real time with colleagues across the hall or across the continent."
Mac Pro Woes
With the Mac Pros, the company was facing issues with OS upgrades conflicting with the software as well as connecting them to the storage network. The release of Windows 7 offered a more flexible, easier to manage alternative.
"We've relied on Apple technology for a long time but upgrades to the OS had not been certified by our software vendors, including Maya, Adobe After Effect and Final Cut Pro, which required frustrating and time consuming stop gap fixes.
"In addition, we found that the performance was not up to scratch for our evolving needs. HP Z-class workstations running Windows 7 offered an alternative.
"We have the same challenges as everyone else, but with tight time schedules and tight budgets how do we find time to be creative? I'll always respect my creatives because I don't understand how they achieve it! They come in at 9.00am on a Monday and have to be super creative for eight hours and then go home. We have to find resources within these tight deadlines to be creative. So we have certain practices for certain budgets that means we have to go through certain creative processes. But these processes don't have to be long, some of the best ideas probably took an hour to complete. Some of the our best digital ideas came from our receptionist! Also don't always rely on the creative director who sits home for five weeks working on one idea. Work more in a group but there's another problem, everyone in that group locks themselves in a studio with a screen so it's not really a team effort. We have a flat organisation with no hierarchy which works well in Sweden, other markets are much more difficult. There when the creative director steps in everyone is silent as they don't dare say anything unless they are agreeing with him. I need to take my clients idea and add something, we always try and add something and not to execute only, then we will get the clients to come back."
No Contracts
"We do €30 million revenue and I don't have one single contract, I don't have a long contract with any client. Most of the big post houses in the UK and the US, they have contracts with agencies or brands over maybe three years. Why do that! It makes you lazy, why should you make an extra effort on that job because you know they're not going anywhere and after three years they go somewhere else and you can't stop them. That happens all the time. We don't have that, the job I deliver today is the one I get the next one from, it keep us on our toes.
"There are not many owners who would say don't go for the contracts because of financial security but I think that philosophy keeps us ahead of the competition, not having any contracts. It's more about building personal relationships with a client. If I'm 15% more expensive then they don't care because they work with someone they like. So by watching our costs and not having expensive middle management I'm going to make a profit while others will break even. I'm the owner/founder and super active in the organisation and know when something is happening. I think that makes a difference.
"Can you then grown this in to something really big? I will see. I think we are building something with the right culture but how do you get the culture in to the spine of new management? It takes five, six years. So we're not in a hurry. It's privately owned, we owned it – the staff. We don't have any investors so we can take six years. So that's going to be the next challenge, can we grow it big? My wife asks me 'Why do you need to open up all these damn offices?'. My answer is 'I don't know'. I'm not going to sell the company, I don't do it for that, I just think it's inspiring to open up in Berlin, get 27 new artists in, see how they work. Learn from them, learn from the clients. There is no company in the world who can settle down and think they can last for 20 years unless you are always pushing the boundaries. New services, new products both in the business and workflows. If you don't you die. Part of the reason we expand is to keep everyone in the organisation continually going forward and that's what the clients appreciate as well, that we're always making the extra effort.
"Everyone in our company is a shareholder and I think it makes a big difference. If my receptionist in Poland owns shares for $1000 she is a partner in the group and going to care much more about the clients and that's going to make a difference. If you look at all the advertising agencies how many are share holders – nobody. I think that will help us to grow because you are going to have so many people caring about the group, the brand and the client experience. If you have a client that's mad at you, you're not he sales guy, you go home a five o'clock and just leave it behind."
Innovation
"I think the next step of innovation for us is stopping the clients setting something up internally and actually having remote stations within client's offices. So we're talking about having remote viewing, we've already set that up based on H.264 streaming from our office to clients and locations.
"Many of the clients today are super busy and can't travel all the time, if they can do final approval locally and small fixes they will very happy. This is going to be a big change because also if I set up a screening room in say 'Saatchi and Saatchi' in Munich they are going to use me for everything because it makes their life easier. HP actually have a really smart technology for working remotely which we are using. Also working remotely and those kind of services makes me a good employer and if I'm a good employer I'm going to recruit the best artists. Also if I can work remotely I can use the best artists in the world, they don't have to move to Stockholm. I can offer my clients the best creative minds in the world. So remote access to workstations with thin clients is going to be the big next step for us and the industry as a whole. I would be looking for a full service solution which is of course upgradeable as time goes so I don't have to worry about it.
"New faster workstations and mobile workstations are very important as many of the jobs we have are going to 4K. Internal RAIDs are a big thing for us so disks speeds are very important. We don't care so much about processors it's actually about the graphics card. So new workstations with really enhanced graphics are the most important thing for our industry. You want everything to be real time even though it's 90% of the quality, it's real time that's what you need. Then you can send back to the Stockholm office an enormous render that renders overnight, that's fine. You want to be creative and try things so GPU and disk speed are the big, big things. Even if the mobile workstation is heavier, it's still much much more portable than a desktop.
"We used to use Mac Pros but we don't really anymore. But the great thing about them was that we could have them in the suite. We will probably buy the new Mac Pro or re-use some of my old units because with Smoke For Mac you don't need enormous rendering power so you don't need the latest processors. In the old Mac Pros you can still swap the graphics cards for something more powerful. Final Cut is completely dead, everyone's on Avid. FCP-X really killed the market for them.
"Our new IT vendor HP has proved themselves by having good relationships with my software vendors. Any new version of the software package is always tested on an HP workstation. That's the biggest difference, the drivers are well tested and there is seldom a problem.
"If you go for a Super Micro machine then we tend to see more problems because they have a motherboard that wasn't supported or they have this version of a graphics card or whatever. HP's standardisation has helped us to really make the workstations very stable with minimal support.
"Dell is not there, they are more prosumer so when we buy Maya or a high-end 3D system it's always an HP system it has been tested on. It seems like everything gets tested about 100 times and that's a big thing. We want to buy a complete solution, software and hardware. In the old days we did with Avid, Autodesk with Flame but that's not the case anymore.
"I think the next big thing for the professional imaging world is to achieve believable photo realism. Re-creating the human being. At the moment no one ever gets the eyes right. We can do the hair that's fine but I wonder if someone can do a photo realistic human. I haven't seen that ever. Even the latest PS4 and Xbox One trailers can't get it right and it looks fake.
A few of the facilities at Chimney.