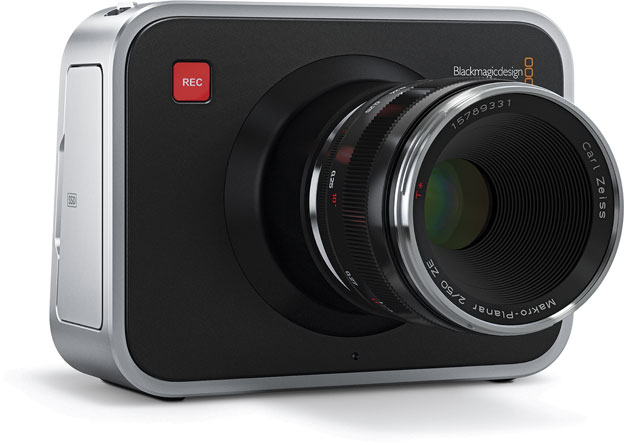 Blackmagic Design Re-invents Small Factor Cameras
Posted on Apr 12, 2012 by Alex Fice
Blackmagic Design's new Digital Cinema CameraPerhaps we have got used to Blackmagic Design's revolutionary approach to engineering and marketing. Great and useful products at very affordable prices.
Then they started buying other companies and almost immediately making those new products as affordable. See Da Vinci for a prime example.
But I bet no one was expecting their latest move in to camera design and manufacture. They don't seem to have bought in the expertise but their marketing feels a bit like Apple's so a bought-in solution wouldn't be a surprise.
The Cinema Camera has 13 stops of dynamic range, a 2.5K sensor, built in high bandwidth SSD recorder, open file format support, colour correction with full version of DaVinci Resolve and a built in LCD with metadata entry, all for only US$2,995.
"Many current generation video cameras suffer from a 'video look' due to a limited contrast range, a maximum HD resolution sensor, poor quality optics and lenses, the use of heavy video compression for file recording and poor integration with NLE software metadata management. With these limitations, they cannot be used for high end work or feature films.
"Blackmagic Cinema Camera has been designed to eliminate these problems so customers get a true feature film look, and at an affordable cost can shoot high end television commercials, episodic television programming and feature films."
The built-in SSD recorder has the bandwidth to capture open standard CinemaDNG RAW, ProRes and DNxHD files, a built in capacitive touch screen LCD for direct metadata entry, standard jack audio connections, built in high-speed Thunderbolt connection, 3 Gb/s SDI output, a refrigerated sensor for low noise, and is fully compatible with extremely high quality Canon EF and Zeiss ZF mount lenses.
"Blackmagic Cinema Camera has been designed as the perfect companion to Final Cut Pro X and Avid Media Composer NLE software. Unlike other cameras, which require the use of custom video file formats that are not compatible with popular NLE software, often making the post production process a nightmare, the Blackmagic Cinema Camera includes absolutely no custom video file formats, and every file type included is open standard. It records into CinemaDNG format for RAW files, ProRes and DNxHD for HD resolution files compatible with Final Cut Pro X and Avid Media Composer.
Blackmagic Cinema Camera includes a built in microphone, as well as external jack based mic/line level balanced audio connections. When playing back recorded clips, a speaker is built in, and there is an included headphone socket, as well as embedded audio on the SDI output and Thunderbolt connection. The SDI output includes all camera data such as timecode, transport control, shutter angle, color temperature setting and ASA information overlaid in attractive anti aliased fonts.
"This is one of the most exciting products we have ever created and its been a work in progress for a very long time," said Grant Petty, CEO, Blackmagic Design. "Ever since I was a telecine engineer back in the 1990s I have wished that video cameras would include features that allowed them to perform creatively similar to film. However current digital cameras are too heavy, way too expensive and need costly accessories to work. We felt there was a need for a camera that delivered these features in a design that's optimised for professional video shoots, as well as being a compact, elegant design that's easily affordable. We think we have achieved that!"