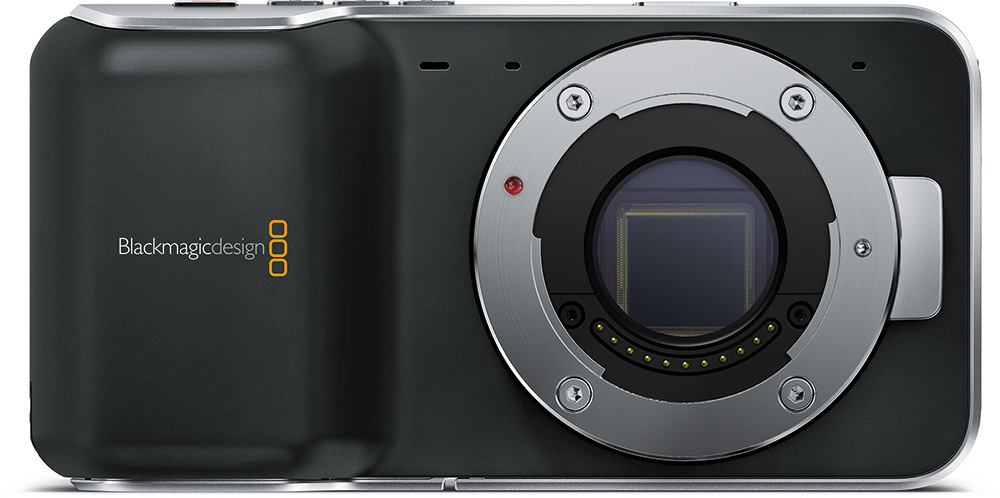 Blackmagic Design Introduce A 'Universal Binary' For Their Cameras
Posted on Jun 24, 2014 by Alex Fice
With the increase in the number of their cameras Blackmagic has drawn a line in the sand and introduced the same software for all of them.
Blackmagic Design today announced the release of Blackmagic Camera Update 1.8 software which includes updated features for all Blackmagic Design cameras. Blackmagic Camera Update 1.8 is available now for download free of charge for all existing Blackmagic Camera customers from the Blackmagic Design support page on their website.
The new update features a completely new code base for all Blackmagic digital film cameras so provides a foundation for new features. This update supports the original wide dynamic range 2.5K Blackmagic Cinema Camera, Blackmagic Pocket Cinema Camera and the Blackmagic Production Camera 4K.
This new code base also improves performance and includes a new modern user interface similar in design to the new URSA camera announced at NAB. This new user interface is included in all models of cameras available from Blackmagic Design.
Blackmagic Camera 1.8 adds compressed RAW DNG support for the Blackmagic Production Camera 4K model, and this allows RAW recording in real time so all sensor data can be captured allowing more range and much higher image quality when doing post production and colour grading. DaVinci Resolve 11, also available today, fully supports RAW grading and rendering to final output direct from the RAW camera original files.
Other features include enhanced lens control support for EF lens mount cameras such as the original Blackmagic Cinema Camera EF and the Blackmagic Production Camera 4K models. This means customers can now get auto focus when pushing the focus button on active EF based lenses and the cameras will mathematically analyse the centre of the image and optimise the focus for maximum sharpness.
This is important with high resolution 4K cameras where images are so sharp that accurate focus is critical for the best results. Because this update uses the focus button for auto focus, the focus peaking feature is now enabled by double pressing the focus button.
This release also improves the focus peaking display allowing more accurate and sharper manual focus, critical when using cine lenses. The focus peaking is now green in colour so it's much easer to see, and the filters generating the edge peaking have been optimised allowing for better detection and display for maximum sharpness. In addition, the iris control has been changed, due to customer request, to hold its setting between record and playback.
This new Blackmagic Camera 1.8 also includes major improvements for the original Blackmagic Cinema Camera models including improved audio performance and a completely rewritten new higher quality de-bayer processor. This new de-bayer means when customers record to normal video files such as ProRes or DNxHD they will get sharper and cleaner looking images. This new de-bayer processing features algorithms that have been incorporated from DaVinci Resolve, which means that Blackmagic camera customers get the benefit of DaVinci Resolve's research and development in image processing and its partnership with major Hollywood studios.
Other benefits for the original Blackmagic Cinema Camera includes enhancements to the cameras dynamic range when shooting at 1600 ISO. This means, with this new software update, customers will get even more dynamic range and image quality, free of charge, even if they purchased their camera 2 years ago.
New support for the Pocket camera includes active MFT support for new lenses and improved de-Bayer quality.
Improvements for the Pocket Cinema Camera are also included in this update, including the modern updated interface, new focus peaking and improved de-bayer quality, plus additional active MFT lens support for lenses including Sigma and Lumix.
"We have been working very hard to incorporate camera feature requests that customers have been sending us" said Grant Petty CEO Blackmagic Design "There are major changes and improvements in this update and we are very excited to see the wonderful creative work done with the benefit of this software. Of course, we are working very hard on more features we want to add into our cameras and you will see more and more of what we have been working on in updates that will be release over the upcoming months."
Blackmagic's brilliant leader Grant Petty goes through the 1.8 update: http://www.blackmagicdesign.com/support/video/1313