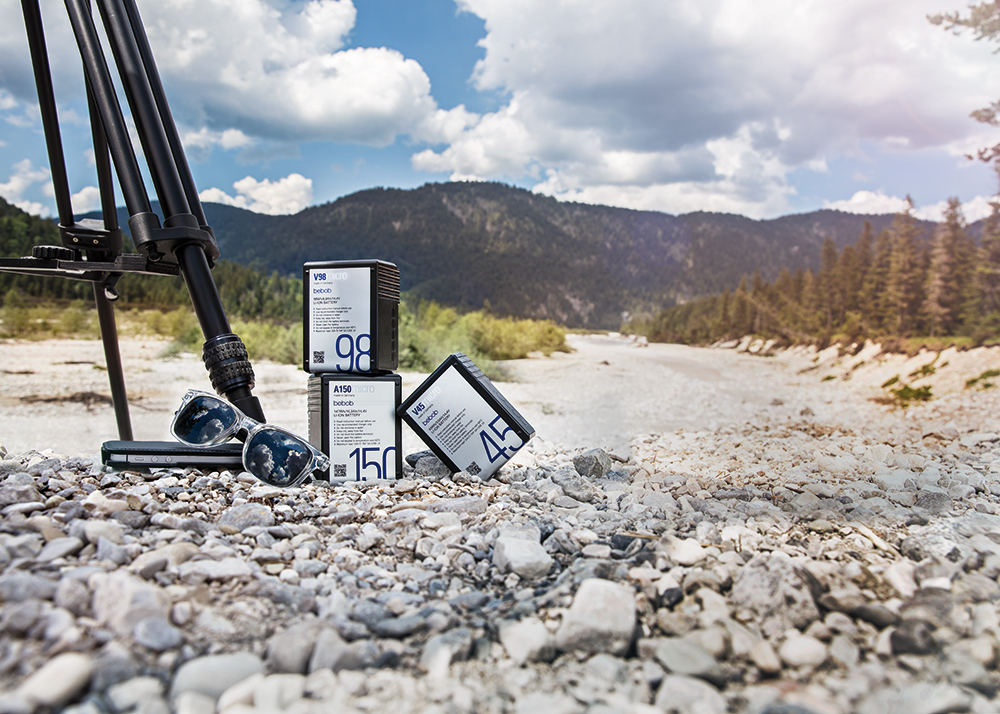 Bebob Batteries
Posted on Aug 23, 2019
Bebob's new range of Micro batteries pack a huge punch and come in a choice of mounts with some smart features
---
The Bbob Micro range of batteries packs a lot of power into an impressively small package
Words / Phil Rhodes
Price from £176/$199
Just as Arri began publicising the new high-capacity B-mount for camera batteries, German manufacturer Bebob was pushing batteries at the other end of the scale. Its Micro range packs a huge amount of watt-hours into a very small space – almost to the point that they can look a little lost on the back of all but the smallest film cameras.
Each battery is available in what most people think of as Anton-Bauer's Gold mount (which Bebob calls A-mount, presumably after the original manufacturer) or in V-mount, and there are 45, 98 and 150 watt-hour versions, all rated at the 14.4V nominal of a four-cell lithium ion pack. The capacities are essentially a notch down on Bebob's broadcast range, which omits the 45Wh battery and adds a 200Wh option.
"Perhaps most enticingly, Bebob's batteries are well priced"
Bebob supplied the 150Wh A-mount and 45Wh V-mount batteries on review. In as much as it's possible to innovate with batteries, Bebob has added a couple of interesting things. USB power is not a rare feature on modern camera rigs, but it's good to see it on the battery and the reversible "twist" D-tap connector, which allows the cable to exit either side, is a nice touch. The application for the tiny 45-watt-hour battery is presumably things that are reasonably power-frugal, like the Sony FS7. They're often used in situations where it's good to keep things light, though an FS7 user would need Sony's XDCA-FS7 module to mount them. The larger capacities are suitable for cameras like the Blackmagic Ursa Mini, or a full-size broadcast camera, which is hungrier but would happily run for an hour and a quarter on the 150Wh battery.
Perhaps most enticingly, Bebob's batteries are well priced. The A150 Micro is listed on their site at €315 (£268,) which is practically half the price of the biggest-name sellers. Any more capacity than that, and they become ineligible to travel by air. It's worth noting that Bebob's website lists the UN 3480/81 certification, required to take them on aircraft, as 'in process' for the V-mount batteries but that will presumably come soon. Regardless, they're certainly admirably compact for their capacity – the A150 is 75x100x75mm, and earns its "micro" branding pretty convincingly.