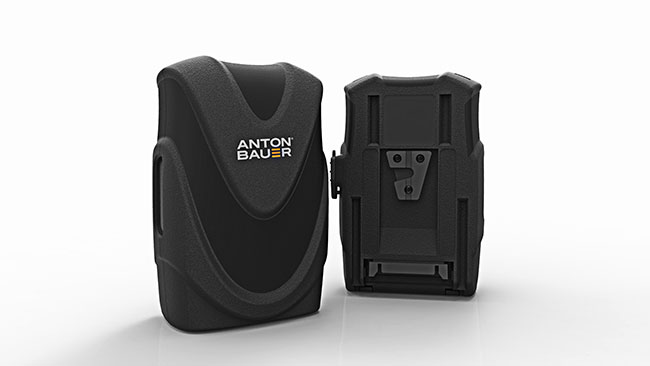 Are Anton Bauer's New Digital Batteries the Safest Ever?
Posted on Oct 29, 2014 by Alex Fice
Anton Bauer's new Digital batteries have new safety measures.
Anton/Bauer has been demonstrating its new Digital Battery Series and Performance Charger Series. Parent company Vitec says that this new Digital Battery Series is the 'first battery line designed specifically to power digital production for the professional broadcast, cinema and new media sectors'. The Performance Charger Series also uses new technology to deliver the fastest possible charging sequence. The batteries and chargers will be available in both Anton/Bauer's signature Gold Mount and in V-Mount.
The new battery design features a 'double skinned' architecture where the cells are individually contained in an impact-resistant and flame-retardant plastic honeycomb, with a 2mm air gap between them, ensuring no cells touch and air can circulate to keep the pack cool. This entire cell pack is 'suspended' within the impact resistant outer case, maintaining a 5mm air gap around it to prevent crushing and accidental penetration of the cells themselves by a sharp object.
The battery contains a proprietary digital filter that increases run-time and lengthens life cycle, eliminating the negative effects incurred when running digital technology with traditional battery circuitry. The Digital Battery Series also uses constant calibration to deliver an accurate power status and features a new, easy to read fuel gauge. When the battery is attached to a load, such as a camera or a light, it will report the remaining run-time in hours and minutes, allowing the user to track usage. If the load varies, the run-time will update accordingly. When the battery is not attached to a load, it reflects the state of the battery charge as a percentage of capacity.
The series will include three battery sizes (90 Wh, 150 Wh, and 190 Wh). From an electrical viewpoint, the batteries contain thermal sensors that continually monitor the battery, and if a rise in temperature is detected, a switch is opened to prevent further charge or discharge. At the same time, if any increase in current is detected, the battery switches off.
The new Digital Battery Series and Performance Charger Series should be available to the EMEA marketplace in Q4 2014 / Q1 2015.
"This is the most exciting thing that's happened to batteries for our industry in over 30 years," says Graham Sharp, Senior Vice President of Products for Vitec Videocom. "We're very pleased to be debuting battery and charger systems that were truly conceived to power the digital age and deliver a new level in safety. The Digital Battery Series is uniquely optimised for today's cameras, as well as all of the auxiliary equipment now being powered around a camera, and the Performance Charger series is both the 'greenest' and most efficient charger on the market."