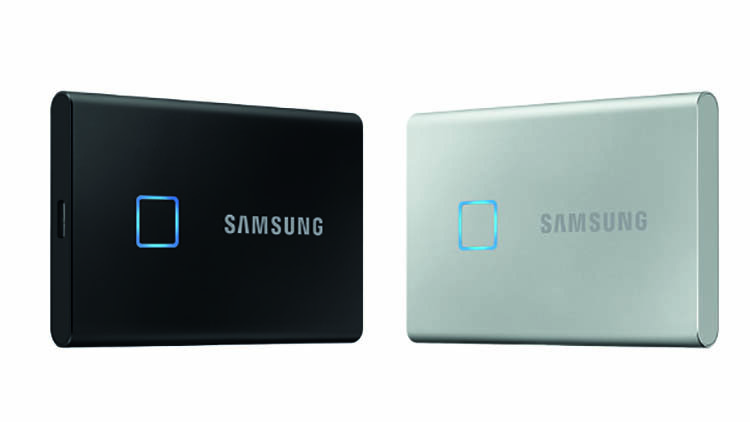 Samsung's new media mover
Posted on Mar 18, 2020 by Julian Mitchell
The new Samsung Portable SSD T7 Touch pushes the use of solid state devices even further into the content creator world; and now there's fingerprint access
---
Portable SSDs are a massive market generally, but for our media-heavy world they are enabling technology. Samsung introduced its T5 portable SSD a couple of years ago and its small form factor, lightning-fast transfer rate and added security and shock-resistance encouraged professional content creators to use it in a number of ways, usually to do with moving media faster.
Since the T5, Samsung has introduced its high-end portable drive, the X5, which holds terabytes of data and manages to transfer it in a blink of an eye – a blink these days is about 2GB/s. But now we have a shiny new entrant into the Samsung Portable SSD range and as you usually want from your media supplier, it is faster, smaller, lighter and cheaper.
The new Portable SSD T7 Touch also uses the X5's interface which allows it transfer speed to double the T5's. With a read speed of 1050MB/s, it is approximately twice as fast as its predecessor and up to 9.5x faster than external HDDs.
Touching
All Samsung's portable SSDs have multiple personalities inasmuch as they can be used by consumers as well as media professionals. We know that the T5s and the X5s are used by the highest-profile filmmakers who have recognised that fast transfer of high-resolution video files means quicker production and ultimately the saving of that hugely important budget. For an added layer of security, the T7 Touch brings Samsung's first built-in fingerprint scanner to an SSD on top of password protection and AES 256-bit hardware encryption.
For the pros, the fingerprint feature might be more of a hindrance than a help, however for those there is a T7 without this option coming soon. Having said that, having the option also gives you the ability to send out physical media with a very cool and obvious means of extra security – just make sure you have somebody at the destination who has programmed their fingerprint in. There is embedded software for Mac, PCs and Android devices that will allow this.
It also features a Motion LED, which allows the user to determine the status of the device simply with a single glance. Available in a black or silver finish, the T7 Touch is offered in 500GB, 1TB and 2TB sizes, making it suitable for a wider range of uses. To ensure reliable connectivity wherever the users may be, the drive comes with a USB Type-C-to-C cable and a USB Type-C-to-A cable. The T7 Touch also includes a three-year limited warranty with manufacturer's suggested retail prices (MSRP) of £129.99 for the 500GB, £195.99 for the 1TB and £365.99 for the 2TB.