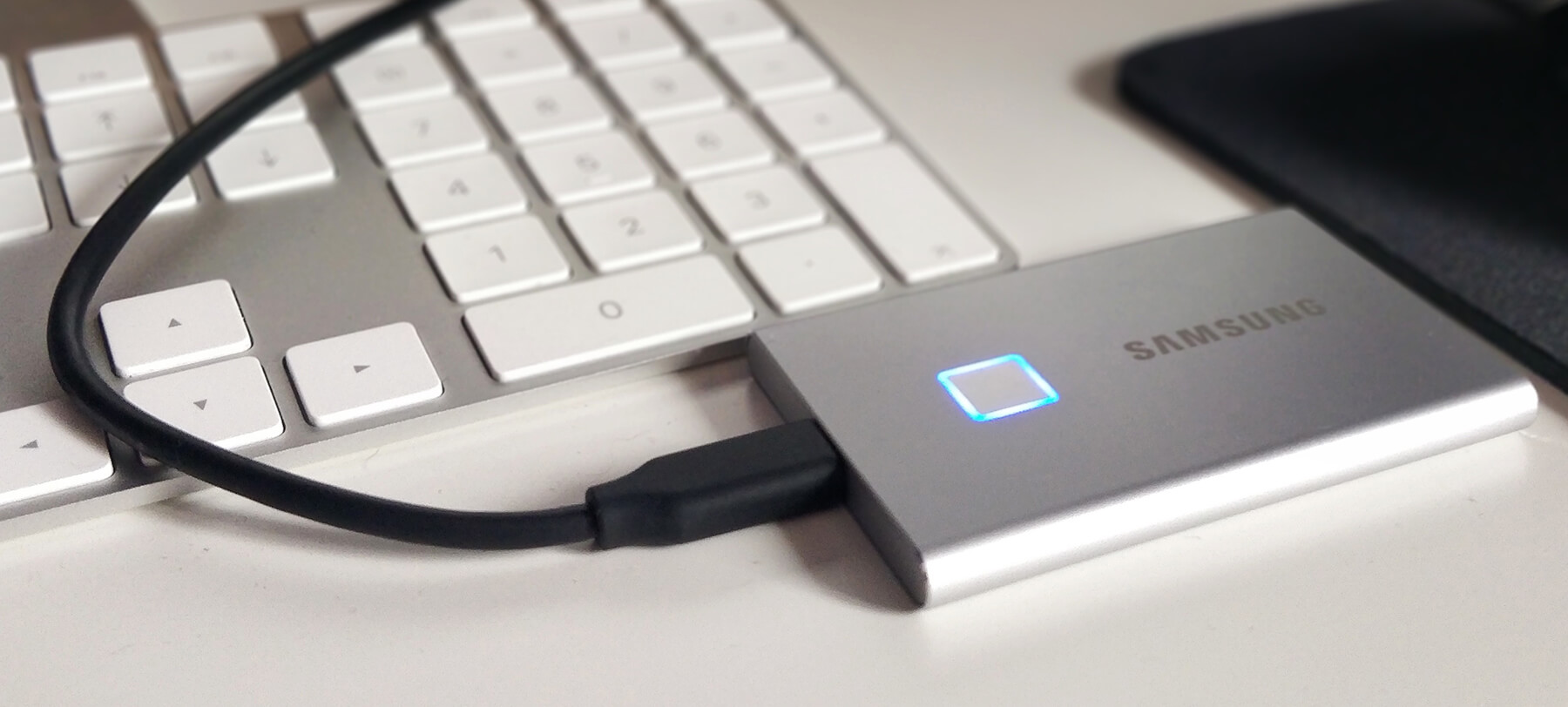 Samsung: The future of storage
Posted on Oct 21, 2020 by Definition Magazine
Video editor Eleanor Catherine Smart gets her hands on the Samsung Portable SSD T7 Touch to see if it can keep up with her fast-paced workflow
Advertisement feature
Being a professional freelance video editor can take you many places. For Eleanor Catherine Smart, it's taken her from feature films, to some of the UK's biggest television channels, to high-end commercial work.
As well as editing, Smart is a proficient VFX artist, working on compositing,
paint and roto, motion graphics and more. With such a broad skillset and packed schedule, she needs kit that can keep up with a host of demands.
With that in mind, she gave the Samsung Portable SSD T7 Touch a try during a recent commercial project, but did it meet her high standards?
Setting the pace
"Primarily, I used the drive to ingest footage after shoots and to move around some exports," Smart explains. "I also used it to work from, though, because I was really interested to see how it would stand up in terms of performance when dealing with the demands of working with editing software and visual effects programs.
"I usually work off a server at the moment, because I'm doing most of my working remotely, but in my more typical work life, I do mostly use drives," explains Smart. "Compared to anything I've used before, I found the Samsung Portable SSD T7 Touch incomparably fast. I've been genuinely surprised."
At its best, the portable drive can perform at a stupendously fast read speed of 1,050MB/s and a write speed of 1,000MB/s, thanks to its USB 3.2 Gen2 technology. But even in less than ideal conditions, the portable drive sets a high bar indeed.
"I used the drive to back up some files and it only took me ten minutes to copy across 250GB of 4K footage," Smart enthuses. "That's a whole day's worth of high res footage backed up and secure in minutes. This level of speed was a massive time saver and ultimately it just let me get on with the edit sooner."
Smart adds: "I also needed to transcode that same 250GB of 4K footage from ProRes down to H.264, and from 4K down to HD, so it would be easier to work with. I transcoded it straight off the drive and that was amazingly fast, too.
"I was actually so surprised by the speed that I did an experiment, doing the same transcode with the same footage using one of the other drives I use daily – I found, here, the Samsung Portable SSD T7 Touch was three times faster!"
There are simply so many uses for such outstanding performance, especially in the world of freelance where time is money. For Smart, one of the most memorable experiences took place on set.
"On the shoot I've been working at recently, they've been using CFast cards in a professional digital film camera, because they're waiting on the SSD recorder to arrive. The footage is filling those cards really fast, because they just aren't built with a capacity like an SSD has," says Smart. "I decided to take the Samsung Portable SSD T7 Touch to set and use it to empty all the CFast cards. Because I could just get the data ingestion done so quickly and get the cards back to the operators, they were able to keep going and the entire shoot wasn't held up because of it."
In Smart's case, she was using 1TB, but 2TB is available and 500GB if less capacity is needed.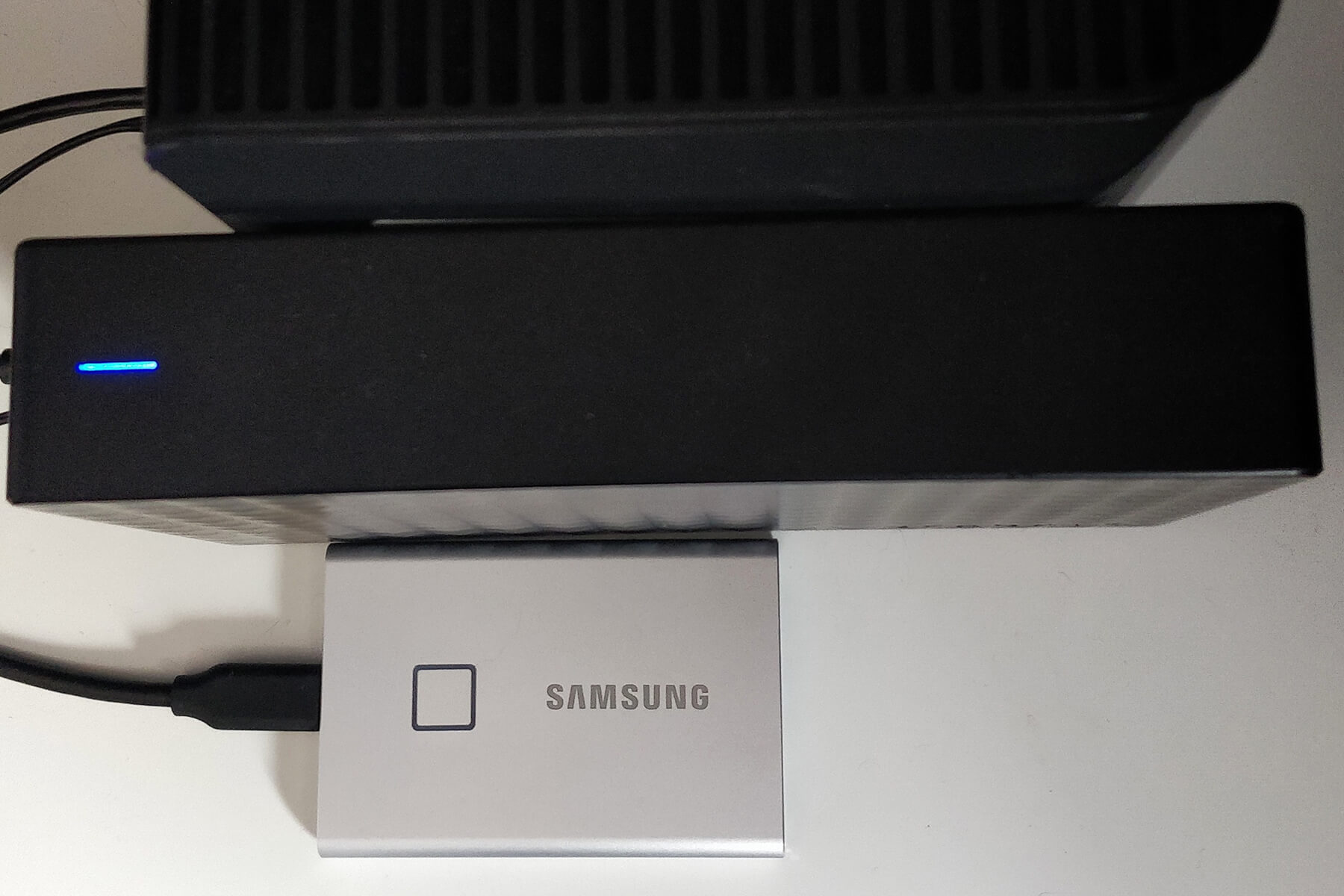 At your fingertips
Of course, there are many features of a portable SSD that are just as important as speed to a lot of users. For many freelancers or other users working remotely, security ranks highly on that list.
For the Samsung Portable SSD T7 Touch, that comes in the form of secure AES 256-bit encryption, with the options of fingerprint and password unlocking. There's much to be said for this, as Smart explains. "I hadn't used a fingerprint drive before, but I found it made so much sense," she says. "So much of our personal technology is unlocked with fingerprints nowadays, like our phones, so I found it really familiar, quick and easy.
"With such reliable encryption, when I'm working on something for a client in my edit suite rather than in their building, they can be assured their footage is secure. And having the password protection option meant I didn't have to register everyone's fingerprint, which is good, because I often work with a lot of people, though you can register up to four fingerprints if required. I was able to hand the client the drive and give them the password, then they could do what they needed and pass it back. It was literally no trouble."
With storage devices, there's not just the matter of cyber security to consider, but physical security, too. On this front, the Samsung Portable SSD T7 Touch offers protection from falls of up to 2m, though if the worst should happen, the drive is backed by a three-year warranty.
"I've seen people drop drives," Smart says, "and your heart drops for a minute, wondering have you lost everything on there? So, it's really reassuring to know that the Samsung Portable SSD T7 Touch has got that shock resistance."
Despite such an impressive set of features, the portable drive doesn't sacrifice on looks or size – it's literally palm-sized. During her time with it, Smart was certainly a fan.
"It does look really sleek and smart, but personally I found its size was the best physical feature. It made it easy to transport," she says.
"Put some of the drives I usually work with next to the Samsung Portable SSD T7 Touch and I'd say they're at least four times as large and at least four times as thick. They also have all these extra cables to plug in for power etc. It's just easy not having all of that."
In the box, you'll find USB Type C-to-C and Type C-to-A cables for added convenience and greater compatibility. The Samsung Portable SSD T7 Touch can be used with PC, Mac, Android devices, gaming consoles and more, making it the perfect tool to fit in with even the most unusual of workflows.
But what was Smart's final verdict? "The Samsung portable drive takes all the right steps towards more efficient working," she concludes. "It's secure. It's fast. It's small enough to fit in my pocket. It takes away the hassle of data transfer."