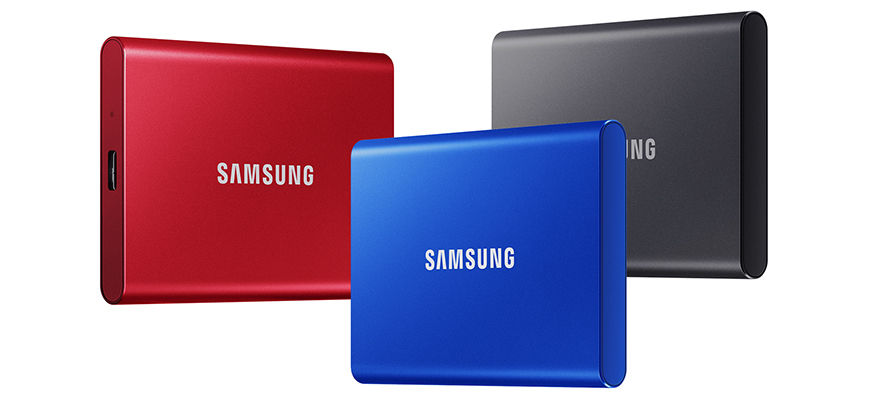 Samsung launches T7 SSD
Posted on May 29, 2020 by Definition Magazine
The new drive follows the recent T7 Touch, offering an appealing combo of speed and durability
Following the release of the popular T7 Touch at the beginning of 2020, Samsung has launched the T7 SSD. The new drive follows mostly in the footsteps of its oldest sibling, which was said to have the fastest transfer speeds available at the time of its launch.
The T7 features the same impressive specs, moving data at up to 1050 MB/s, thanks to USB 3.2 Gen 2 and NVMe technology. From a laptop, this means 4.8GB of 4K footage in eight seconds.
Despite a compact design of just 85x57x8mm and an incredibly light weight of 58g, the T7 is ultra-durable. With no moving parts and an aluminium exterior, it's safe from falls of up to 2m. The SSD comes with a three-year limited warranty for greater assurance.
Users will be able to rest assured their data is safe with the T7, not only thanks to its rugged build, but its password protection based on AES 256-bit hardware encryption, too. Other key features include thermal control and connectivity with Windows PCs, Mac computers, android smartphones, gaming consoles and more, thanks to type C-to-C and C-to-A USB cables.
The Samsung T7 SSD is available in 500GB, 1TB and 2TB versions, with an RRP of £124.49, £200.99 and £376.99 respectively. All three versions are available in three colourways – titan grey, metallic red and indigo blue.
Will Cheung, editor of our sister title Photography News, recently tested the Samsung T7 Touch himself, and you can read the results on our website now.
For more information, please visit the Samsung website.