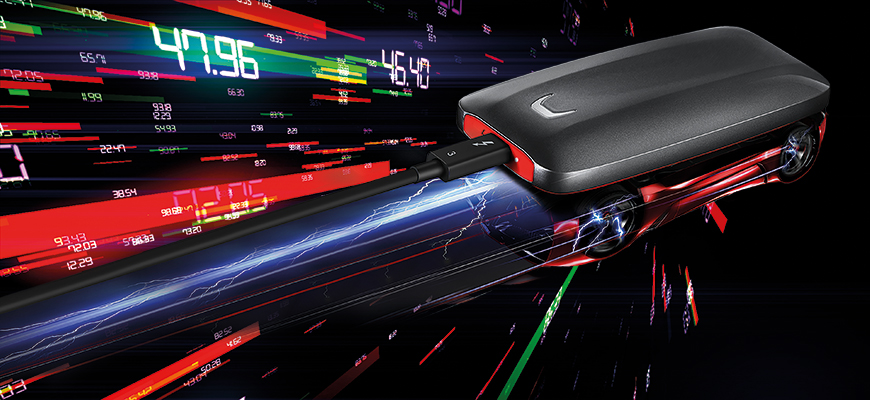 Samsung: forward thinking storage
Posted on Apr 30, 2020 by Definition Magazine
Videographer Richard Jackson recently bought a 6K camera and was worried about transferring the large files – until he used the Samsung Portable SSD X5
Advertisement feature
Transferring data is a chore. In a world of increasingly unwieldy file sizes, this is particularly true; at one time or another we've all had a shoot grind to halt in order to move some mammoth video, photo or audio in order to please a client or producer. It is for this very reason that I was very intrigued to try out the Samsung Portable SSD X5; a portable Thunderbolt 3 interface SSD boasting sequential read and write speeds of 2800MB/s and 2300MB/s, respectively. As a recent adopter of a 6K cinema camera, whose Raw video files are eye-wateringly large at the highest resolution and bit rate, those numbers sounded like a dream come true. But can this sleek little drive live up to the hype? Available in 500GB, 1TB and 2TB varieties, I took the 1TB version with me on a promo shoot to find out.
The Samsung Portable SSD X5 is just as elegant as other Samsung SSDs, though it eschews the minimalist design for more of a sports-car aesthetic; looking like something you'd find in a supercar showroom rather than attached to a laptop. While the bottom of the casing is a bright red plastic, the rest of the shell is made of a very solid magnesium alloy and feels like it could survive a few hefty knocks. (Samsung advertises that it can survive drops of 2m, though I didn't get to test this out!) The device fits comfortably into a pocket, feels rugged and durable, yet still has a weight that would not trouble the most overloaded of kit bags. Even the supplied Thunderbolt 3 cable feels reassuringly tough – something that some other manufacturers would do well to take note of.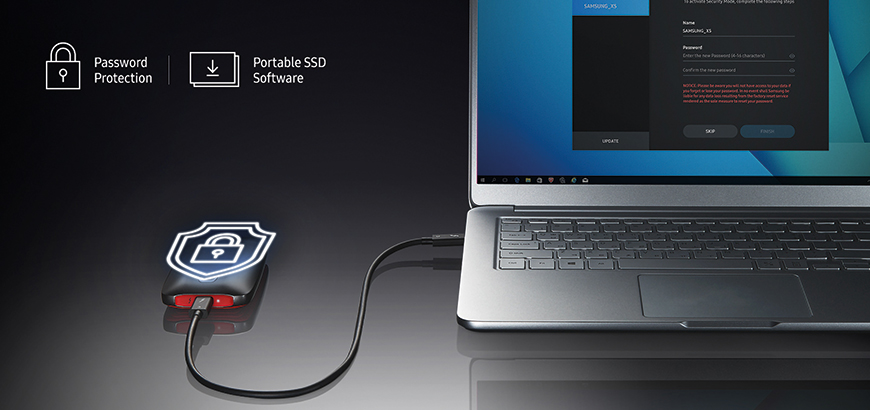 Drive performance
Aesthetics, however, are secondary to performance in this game, and I'm certain that most of us would be happy to use something completely hideous as long as it was quick. Well, here comes the good news: the Samsung Portable SSD X5 effortlessly combines beauty and brains in a single package. In this case, those brains are the PCI Express NVMe architecture contained within, which make for some astonishingly fast transfer speeds. Having recently shot some footage for a client in a Raw format in a 6K resolution at a data rate of 3:1 (323MB/s); it seemed that I had some ideal test fodder for this piece – and the drive did not disappoint. 
The Samsung Portable SSD X5 effortlessly combines beauty and brains
I was able to move a 100GB file from a Windows 10 PC to the drive in little under 70 seconds. When moving multiple files totalling 170GB, it was just 100 seconds. Compared with other drives on the market, the difference is staggering and the practical applications are irresistible. In my line of work, where Raw video is increasingly the trend and cinema cameras are becoming more affordable, this technology is fast becoming a necessity. With bandwidths as high as these, you may be wondering if overheating is an issue and, thankfully, Samsung's portable drive has you covered with its proprietary Dynamic Thermal Guard (DTG) technology. This, combined with a mechanical heat sink and the aforementioned alloy casing, keeps things operating at below 45°C, meaning you needn't worry about thermal throttling or data loss.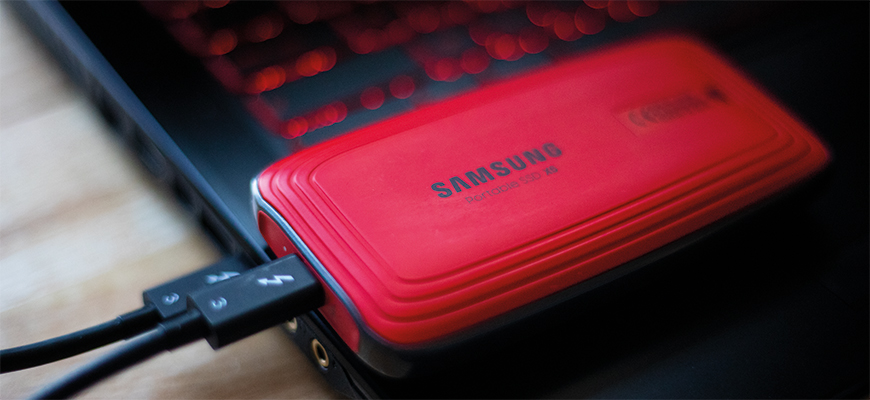 Security
In addition to the speedy transfer of data, you can also rest easy knowing that your files are protected by a full AES 256-bit hardware-based encryption; a method approved by none other than the National Security Agency. This feature is enabled through the provided Samsung software for Windows and MacOS, with access through a username and password and no penalty to performance. This means you have reassurance that nothing short of a supercomputer is going to get unauthorised access to your data, should the worst happen. 
It is worth stressing that this drive is exclusively Thunderbolt 3 based, but this does feel like a forward-thinking move, since it seems this interface will become the standard for portable data connectivity in the very near future. While the Thunderbolt 3 controller itself gradually comes down in price, it in no way means you shouldn't consider adopting this ecosystem early, considering the myriad benefits of doing so.
Aimed squarely at the professional sphere, the Samsung Portable SSD X5 is a fantastic product: it provides value, security, speed and style in a compact package and will make a welcome addition to any kit bag. 
For more information on the Samsung Portable SSD X5, visit the Samsung website.