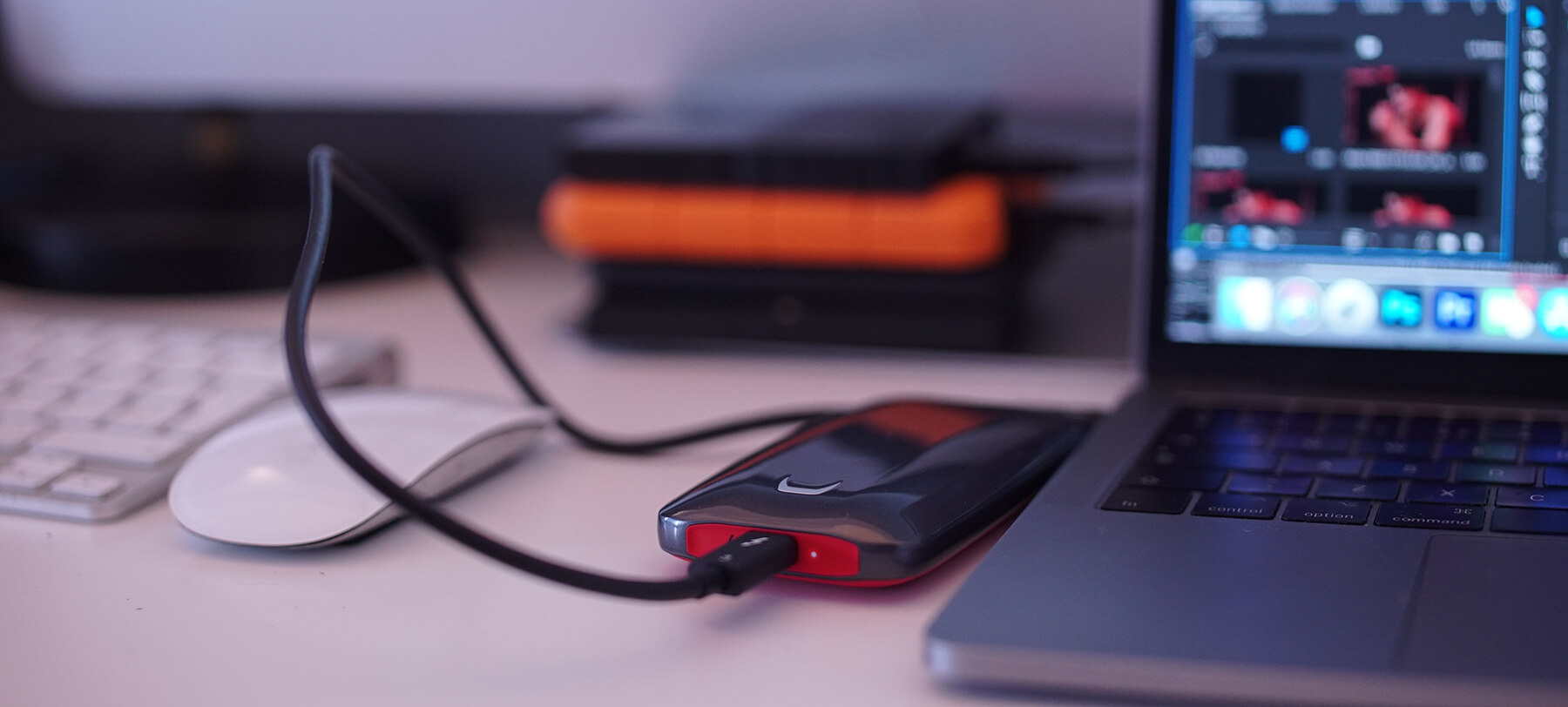 Samsung: Drive past the limit
Posted on Nov 16, 2020 by Definition Magazine
The Samsung Portable SSD X5 gets pushed on every front by Black Cloud Visual's Mo Kamara
Advertisement feature
Dynamic duo Mo Kamara and Marco Badchkam are the creative minds behind south London-based production company, Black Cloud Visuals. Working primarily in the music video scene, the team's particularly vibrant and stylised productions are incredibly demanding every step of the way. But for their efforts, they've accumulated millions of hits online.
With such a growing workload, they need robust, fast and reliable gear. During a recent music video shoot and edit, Kamara put the Samsung Portable SSD X5 well and truly through its paces. But did it stand up to the job? We find out…
All-round performance
For an independent production company, having a storage device that can be used at every stage of the creation process is a real game changer. Kamara was pleasantly surprised to find the Samsung Portable SSD X5 does just that and does it well.
"We used the Samsung Portable SSD X5 the whole way through the shoot," he explains. "On set, it was used to store and back up footage alongside important metadata. While we were in the editing suite, we set all of our editing and visual effects programs to run off and write directly to it, too. Our editing style usually features a lot of visual effects, so our needs are even more demanding than many users' typical editing workflows.
"We were amazed by how greatly the speed of the render process increased, while using the portable drive."
This noticeable change is a direct result of the Samsung Portable SSD X5's blistering read and write speeds – 2,800MB/s and 2,300MB/s respectively to be precise.
"We were running clips off multiple CPU-intensive programs simultaneously with no lag," Kamara enthuses. "Without exaggeration, importing a number of large-sized files was happening almost instantaneously. We also found exporting final projects was so much faster than the drives we currently own and regularly use."
Editing alone is a time-sensitive endeavour, so it's integral that storage kit can keep up. The shoot, however, is a different league altogether. When it was crunch time, and daylight was burning and time was of the essence, Kamara found that the Samsung Portable SSD X5 came into its own.
"On set, we transferred around 30GB of footage on to the portable drive for storage in seconds, allowing the card to be removed and formatted without delay when it really mattered," he says.
The Samsung Portable SSD X5's incredible speed is aided greatly by its advanced Thunderbolt 3 interface, which delivers the fastest bandwidth of up to 40 GB/s for startling results.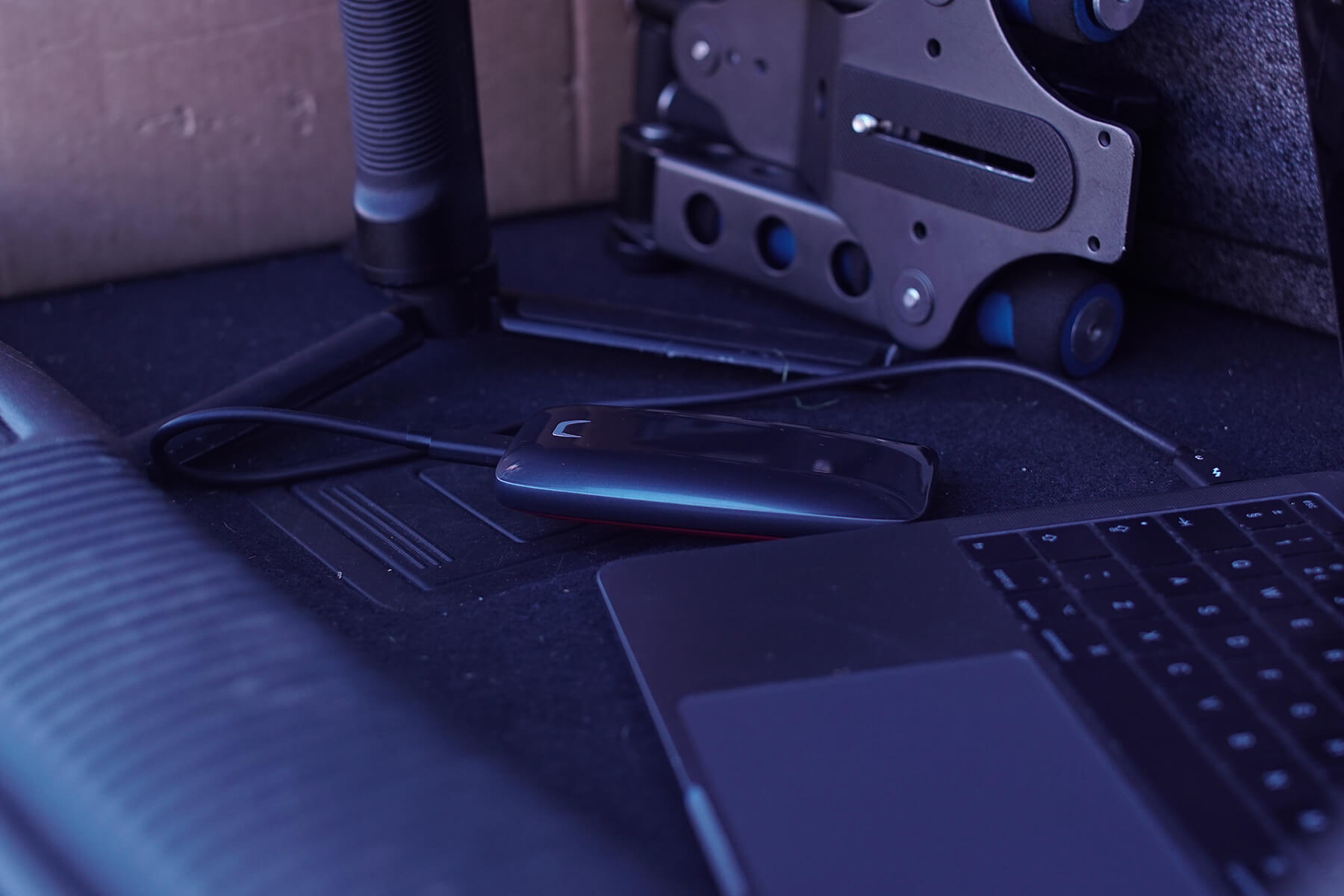 Above and beyond
Some would say it's a natural progression for filmmakers to eventually move on to bigger and better things. We're not only talking about greater commercial success here, but more advanced means of recording, too.
"We were aching to use the Samsung portable drive alongside our monitor recorder, because I simply knew it would have done an excellent job with even larger Raw files than we were shooting," Kamara tells us. "Sadly, we never got the chance.
"We did start recording the majority of shots in 4K with high frame rates, though, which is something we've rarely done consistently before. We were confident that the Samsung Portable SSD X5 could keep up and have enough space to store all that data while out in the field with just the single drive."
When larger files such as Raw codecs are being handled, you can rest assured there's adequate capacity, with 500GB, 1TB and 2TB options available.
"Again, the speed was so crucial here, as it allowed those 4K clips to run smoothly in editing playback."
With such a great deal of tech packed into one compact drive, you may be fooled into thinking the Samsung Portable SSD X5 is a veritable monster, but that couldn't be further from the truth. At 119mm long, 62mm in height and weighing only 150g, it simply doesn't make a dent in the kitbag.
In a real-world scenario, this makes a world of difference to filmmakers like Kamara. "Its portability and small size make it a genuine ease to bring to shoots, while the Thunderbolt 3 interface, with its USB-C design, eliminated the need to carry any additional adapters," he explains.
For those in the visual arts, it doesn't hurt by any stretch that the Samsung Portable SSD X5 is visually appealing too.
"The design is sleek and modern, but also ergonomically nice to handle," Kamara says. "I also found the drive's dynamic thermal guard keeps it cool, even when plugged in for hours."
Another real draw when it comes to design features is the portable drive's protections. Reinforced with magnesium alloy, it can withstand a drop of up to 2m. Inside, too, things are just as secure, with AES 256-bit Encryption.
"The shock protection is obviously reassuring, but it's also a bonus to know if we were to ever lose the drive, our intellectual property would be safe," says Kamara.
Reviewing his time with the Samsung Portable SSD X5, Kamara concludes: "I could certainly see it becoming an everyday feature of our workflow, both on set and in the editing suite. It was so easily integrated into our set up.
"Having a versatile piece of equipment like this can only streamline our work and make shoots, editing and the business more efficient overall."