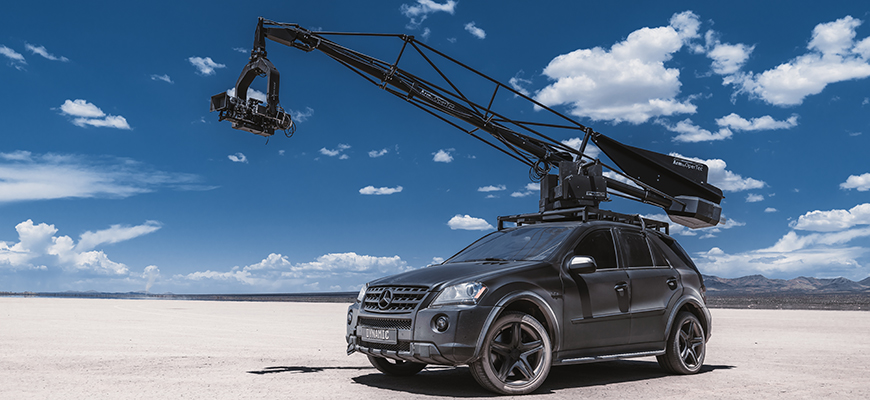 Remote heads
Posted on May 5, 2020 by Definition Magazine
With more and more camera work being done by way of remote head, we talk to some of the biggest players in the game to ask one simple question: what's new?
Words Lee Renwick / Pictures Camera Revolution, ACS and OperTec
Back in the days of old, for crane shots to be achieved, the crane had to be physically ridden and the camera manually controlled by the director, DOP or operator. Really, we're only talking about two decades ago here, but in the world of technology, that's a lifetime.
In the years since, remote heads have impacted film production in a big way. Now, they're used to go to places, perform movements and achieve shots no human could feasibly go, perform or achieve unaided. It's not just the world of feature film that's getting in on the action, either.
Everyone – including those involved in TV, live production and sport broadcasting – is using remote head technology to maximum effect.
So, what's new in the industry? And what does that mean for those of us on-set and, indeed, those of us sat in front of our screens?
A new combination of technology, greater possibilities and grander productions
Our first port of call is OperTec – an expert in providing specialised camera support for film and television, as well as live events. The company's list of productions includes The Martian, Riverdale and the Eurovision Song Contest.
Working across such varied sets, OperTec has a range of kit to match, with a number of gyro-stabilised Active Heads in addition to its own large support cranes.
There's the original Active Head, which offers three-axis stabilisation, capacity to support all typical cameras and small to mid-sized 3D rigs, and the ability to be used with cranes, remote-controlled platforms, and helicopter and aerial systems. The Milli offers much the same, but with a much more compact, lightweight design, and the Magna offers stabilisation on an additional fourth axis, meaning improved performance and greater flexibility when it comes to control.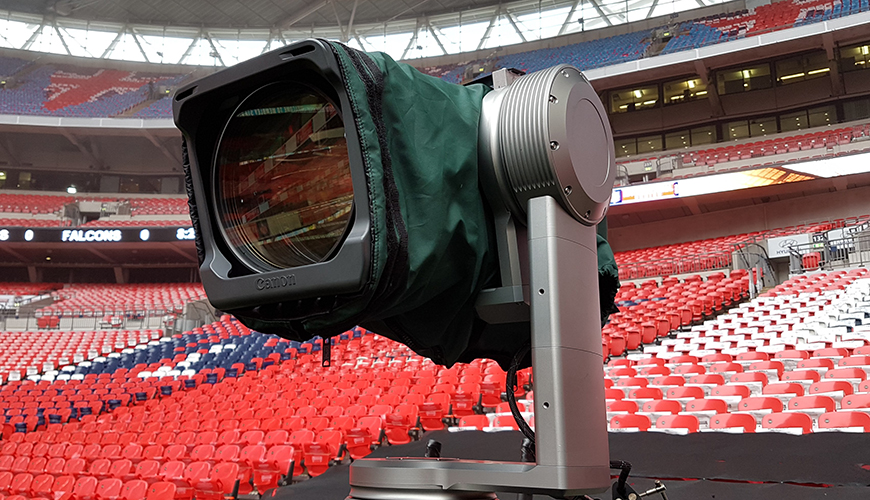 Then there's something altogether new and exciting for OperTec – the Active Head Milli Max, which debuts this year and is designed for use with IMAX cameras. The upshot of this for both operators on-set and those filling cinema seats is clear: a new combination of technology, greater possibilities and grander productions – at least as far as cinematography is concerned.
This new addition to the family isn't the only of OperTec's new developments, though. No, there's much to be excited about across the board, as international sales and rental director Elena Miloradova explains. "Our engineers have developed a new, better-than-ever level of stabilisation for the Active Heads and added the possibility of programming the heads' movement," she states. "We've also expanded the range of opportunities when it comes to operating all of our gyro-stabilised heads."
The key developments for 2020 were really driven by a significant expansion in UHD HDR format requirements across major projects
Miloradova is referring to OperTec's latest control desk, which joins handwheels, a joystick and a pan bar as far as control option offerings go. "Combined, these updates allow DOPs to implement all of their ideas on-set," she says. Just how far this could be taken is, perhaps, an idea best explored through conversation with DOPs themselves, following some use of the new systems on-set. Even still, it does beg the question, just how far can remote head technology be taken?
"Also, with the newest control desk," Miloradova continues, "the DOP can receive the picture he or she needs by pushing just one or two buttons, offering the fastest results."
And it's not just this element of the production that's been streamlined. Miloradova assures us that these technologies allow faster set-up on-set, including easy balancing and rigging time. Of course, this improved performance and operability isn't just of benefit on film sets – the latter in particular could be key in the world of live broadcast.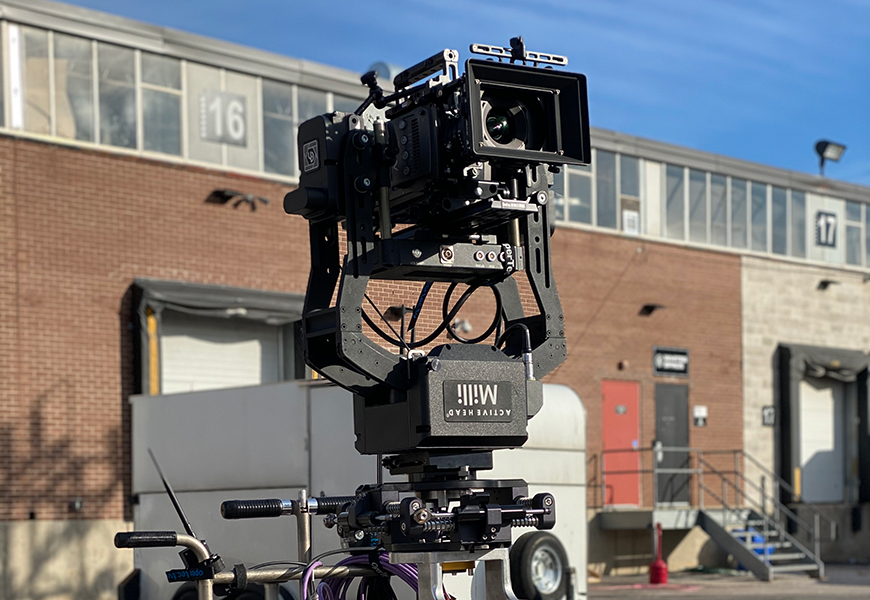 Bringing it all together
Looking elsewhere, we talk to Camera Revolution – a giant in the world of film and high-end television productions. Camera Revolution has an unbelievable amount of credits under its belt, but 20 years in the industry will do that. Films include action blockbusters like The Avengers and intense dramas like Children of Men, while television work includes seven series of the immensely popular Game of Thrones.
As one would imagine, a range of productions this vast requires a proportionate range of kit, and that's certainly the case here. Camera Revolution offers an array of rigs, grips and more, in addition to its seven remote heads. As Ian Speed, the managing director, tells us, there are some new additions on the horizon here, too, including an update to the flagship Libra.
"The new Libra 7 succeeds the Libra 5, with a roll-out across our fleet this year," says Speed. "Also, the Matrix remote head will succeed the Oculus and Maxima 7 heads, and this is available from June."
The three-axis stabilised Libra already offers a lot, with the possibility of rigging in most scenarios, the ability to accommodate all common camera and lens combinations, including IMAX, and features like 360° rollover. That's not to mention its flexibility, with multiple camera array set-ups of three, four and six cameras already in use. Yet, still, it's looking to offer more – and not just as far as cinematography goes.
"The Libra 7 now offers complete stabilised repeat motion, which can be synced to a track or wire system for full 3D repeat moves," Speed says. "Bloop and camera sync, as well as a full data file of all axes, can be live transmitted to the VFX department. The Libra has been a favourite tool for many applications, but now it can give the VFX department the information they need from a remote head in real time, whatever rig it's applied to."
There's still more to come, though, as Speed goes on to say. "We're currently working on the Libra accepting direct MIA files from the VFX department in order to speed up the previs to application time."
But what about the Matrix? "It's a high-end stabilised remote head that offers fast interchanges of lens or camera packages with no delay to the production," Speed explains. The four-axis stabilised gimbal features an open architecture, making it the only of its kind to offer 360° continuous roll without a patch cable between the twist and tilt axis.
What this means practically, as Ian tells us, is that "the Matrix can now offer extremely long-lens stabilised shots without the 'faff' typically associated with heads of this kind".
Production teams will not see the difference in on-screen use compared to a manned camera
Sporting achievements
Next on our list is Aerial Camera Systems (ACS). Though ACS has some household feature films under its belt, the company is primarily involved in live broadcast events, covering some of the world's biggest and most-watched events, including the 2016 Rio Olympics, Harry and Meghan's royal wedding in 2018 and more World Cups and Championships than any non-sport fan would believe existed. This involves minicams, all manner of support –including the unique EyeFlyer blimp – and, of course, remote head technology.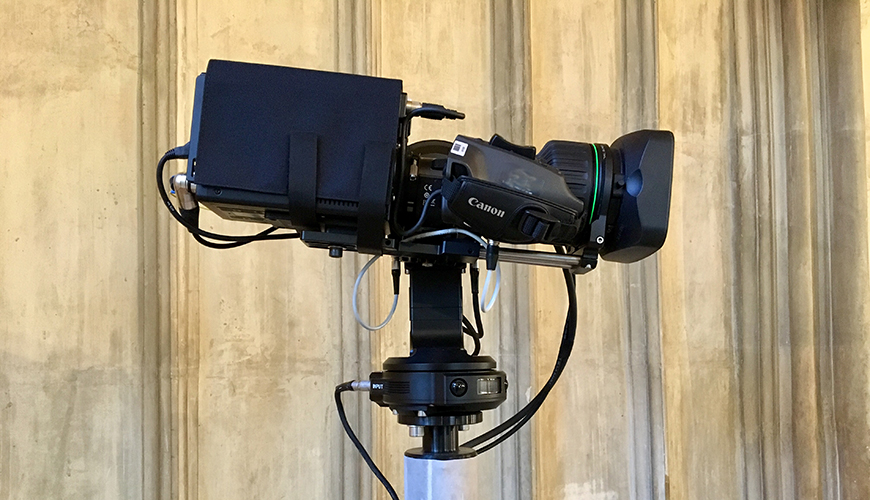 Matt Coyde, ACS sales director, tells us more: "Smarthead is more than just a remote head. In fact, it's a complete channel based around compact camera types, like the Sony HDC-P1 or HDC-P50 for example, integrated with a SMPTE fibre transmission system. Between versions two and three, we can support the whole range of OB lenses from the widest ENG lenses right up to the largest 100x box type."
Turning toward more recent developments, Matt continues: "The key developments for 2020 were really driven by a significant expansion in UHD HDR format requirements across a number of major broadcast projects. This involved the full integration of the Sony HDC-P50 with various lenses, mechanical, electronic and software upgrades to our Smarthead 2 and Smarthead 3 systems. We've also developed, in-house, a flexible 12G fibre transmission with a Power Over SMPTE (POS) solution, which will now become a core element of all future rental provision.
"Essentially, it allows us to seamlessly integrate highly flexible and high-performance compact remote technology into a live OB environment in a range of the latest broadcast format options from 1080p, HFR to 4K, HDR."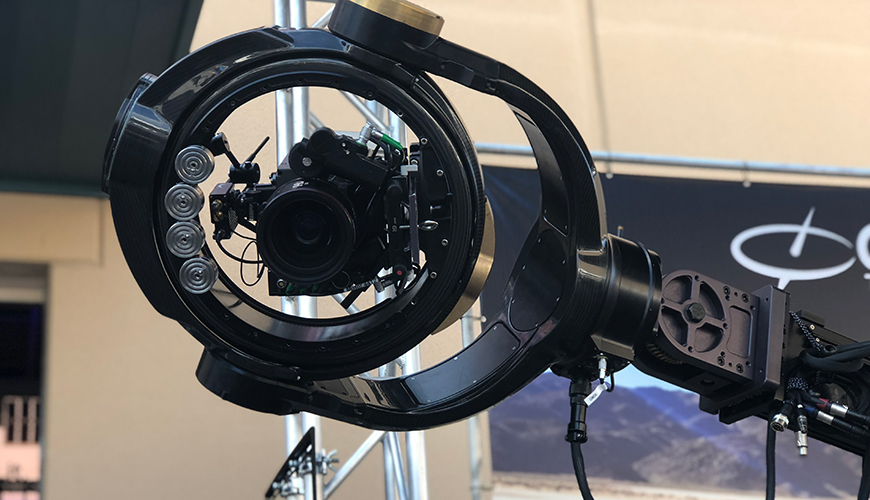 In terms of application in the field, or indeed on-set, this offering of a full camera channel is very significant. "We're able to prepare the whole equipment package in advance, ensuring fast rig times and reliability onsite," Coyde explains.
But what about control? "A fully configurable work surface offers real-time lens feedback, shot box and multicamera control as well as AR graphics integration capabilities," Coyde says. Doubtless, the latter is an essential in this specialist field.
Coyde concludes: "The precision performance of Smarthead means that production teams will not see the difference in on-screen use compared to a manned camera."
Through conversation, it's clear that this is the end goal: seamless integration and ultimate ease of use. Not just for these companies, but for everyone. And the challenging times the industry is currently facing show no sign of halting progress – not as far as these innovative companies are concerned, at least.
This article first appeared in the May 2020 issue of Definition Magazine.