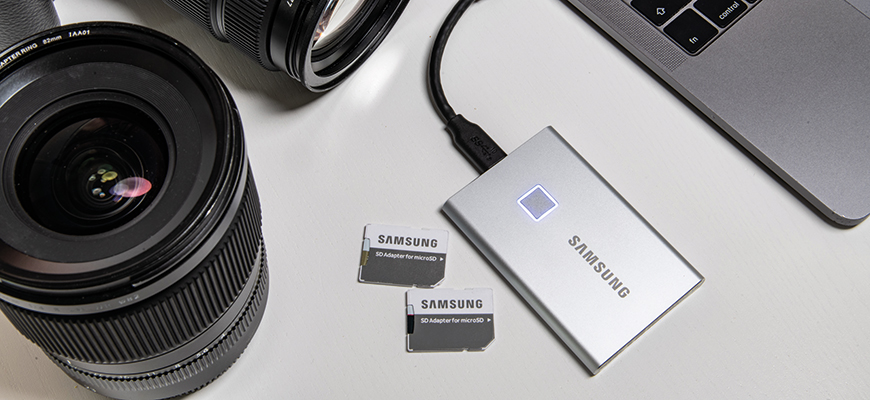 On location with Samsung's new Portable SSD T7 Touch
Posted on May 27, 2020 by Julian Mitchell
Photographer and magazine editor Will Cheung needed fast, reliable memory on the move – and it needed to be compact and secure, too. With its key user benefits, Samsung's superfast Portable SSD T7 Touch seemed perfect for his workflow
Advertisement feature
With the latest digital cameras shooting high-megapixel stills and 4K video, the image creator's need for fast, high-capacity and totally reliable storage has never been more important.
Samsung has been the world's number-one brand for flash memory since 2002, with all firmware and components including DRAM and NAND memory produced in-house, so it was no surprise that the brand's new Portable SSD T7 Touch is packed full with the latest technology. Its USB 3.2 Gen 2 interface enables outstandingly rapid data transfer speeds, with a read rating of up to 1050MB/s and a write speed of 1000MB/s.
To give these figures some context, these read/write speeds are twice as fast as its predecessors, and 9.5 times faster than an external hard drive. What's more, this lightning-fast performance comes in a palm-sized device so it is very compact, too.
"When packing for an assignment, a full backpack is the norm," says magazine editor and photographer, Will Cheung. "By the time I have packed a camera, a backup body, three or four lenses, filters, spare batteries and a laptop, my photo backpack is heavy enough to make it a strain to get it on my back. When I'm flying, loading it into the overhead baggage compartment can be a struggle. Speaking quite honestly, the last thing I need is a large external hard drive to take on my travels. So it is a tremendous benefit that the Samsung Portable SSD T7 Touch weighs in at just 58 grams and has the footprint of a credit card.
"In fact, the Samsung portable drive is so light and compact that I usually carry it in my pocket for convenience. For me, that has two benefits, especially when travelling. Travel inevitably means waiting, so once I find a seat, I can get out the laptop, quickly locate and hook up the portable drive and do some editing or backing up. There's always something to be done."
The Samsung Portable SSD T7 Touch uses an USB 3.2 Gen 2 interface and has embedded PCle NVMe technology. This makes dealing with big files – whether a batch of Raw files straight out of the camera, working on complex, multilayered image files or editing a video project – very efficient for a smooth, frustration-free workflow for Cheung.
"After a day's shoot, I like to back up what is on my camera memory cards as soon as I possibly can. It's not that I have had any issues with my camera memory cards, but the fact is that one day a card will be lost. The idea that I could lose what I have worked hard to capture is frightening. As a photographer, I can travel many miles, get up (or stay up) at silly o'clock and wait an age for the right light, and having all that effort go down the drain because of a technical glitch or physical mishap is enough to make me feel ill.
"The thing is, I am like that with all my images – not just those of commercial significance, but also family snapshots, which are just as precious, although in a different way. Each shot has its own uniqueness," he explains.
The Portable SSD T7 Touch's lightning-fast performance makes life easier and it is a joy being able to move files so quickly
"The Portable SSD T7 Touch's lightning-fast performance, without doubt, makes life easier and it is a joy being able to move files so quickly when I want to work offline. Hanging around for a folder full of images to download is a thing of the past. Moving a 250MB document to the desktop off the drive is amazing – it's almost instant. I timed copying a 36GB folder of images on to the desktop of my 2017 laptop running the latest OS at 59 seconds. That's brilliant and definitely helps with workflow," Cheung enthuses.
Reliability and security are keywords of the Portable SSD T7 Touch. It is available in 500GB, 1TB and 2TB sizes and in silver or black finishes. The robust metal body that encases the solid state drive (SSD) means the unit can withstand a drop from up to two metres. The Portable SSD T7 Touch also comes with a three-year limited guarantee.
For security, the drive has AES 256-bit encryption, and the supplied Samsung Portable SSD app gives users the option of password or fingerprint protection. The app also has an automatic update function, so it is no trouble at all to keep up with the latest firmware updates.
"The Portable SSD T7 Touch's password or fingerprint protection offers great peace of mind," says Cheung. "I take enormous care of the drive when I am travelling around, but the unimaginable can happen and the prospect of having all my data out of my hands is scary.
"So the first thing I did when I got the Samsung portable drive was to set up its password protection and, naturally, I utilised the fingerprint security option, too. It was fast to set up, and I love being able to gain access to the drive's contents by placing my right forefinger on the glowing blue LED square. Very handily, this LED also lights up when the portable drive is working, so it's a welcome visible reminder not to unplug the drive until it turns off.
"The physical reliability of the Samsung SSD T7 Touch seems to be beyond reproach, too. I'm not sure if Samsung's testing procedure includes carrying the unit around in a pocket for a couple of weeks, but that has been my reliability test and so far, so good. The metal casing has no give, so even sitting down on it inadvertently a couple of times when it was in my back pocket was not an issue, and the Samsung portable drive performed impeccably."
Specifications
Availability: 500GB/1TB/2TB, available in black or silver
Interface: USB 3.2 (Gen 2, 10Gbps) with backwards compatibility
Connectivity: USB type-C-to-C, USB type-C-to-A
Transfer speed:Up to 1050MB/s
Encryption and security: AES 256-bit hardware data encryption, password protection and fingerprint recognition
Software: Samsung Portable SSD Software
Guarantee: Three year limited
Dimensions (lxWxh): 85x57x8mm
Weight: 58 grams
For more information, visit the Samsung website.