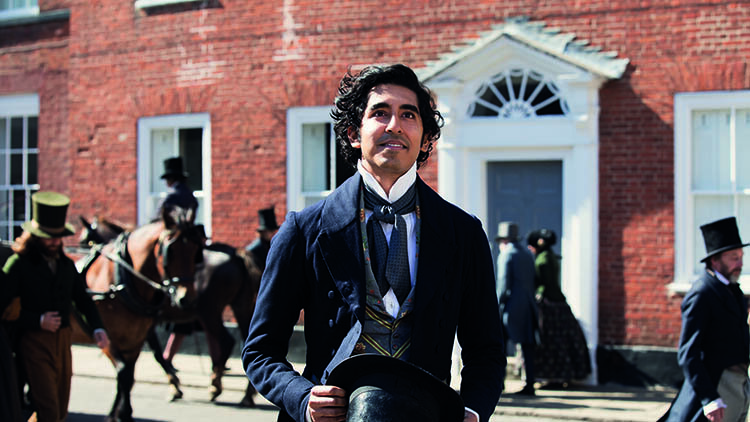 Filming the farce: The Personal History of David Copperfield
Posted on Feb 24, 2020
A location-heavy new movie from director Armando Ianucci
---
Surely, Armando Iannucci's brand of comedy couldn't live anywhere other than television. His shtick is to revel in nonsense and absurdity but couch it in scenarios so serious and vanilla that they supercharge the dialogue's babble. Apart from maybe his Alan Partridge shows, all his work is based on ensemble pieces; The Death of Stalin, In the Loop, Veep and more recently Avenue 5. You could compare the Iannucci banter with, say, Quentin Tarantino (especially in Reservoir Dogs) but where he uses babble as a precursor to violence, Armando insists on improvisation to glory in the farce. It works brilliantly.
But what is a film and what is a TV series in 2020? Those who watched Netflix's The Irishman over three and a half hours were even advised where to press pause by film fan sites taking on the managing role of the broadcaster. This avoidance of a serial was probably an edict from Scorsese who famously rallied against the idea of anyone watching his films on a. phone, but ironically could find Netflix as a backer of the movie.
Armando really likes the handheld camera. He doesn't like when cameras get too fixed
It would be interesting to know who decides which screenplays become series and which are contained in a 90-minute block of content called a movie. For instance, Ianucci's Avenue 5 is an eight-episode HBO show and his current movie, The Personal History of David Copperfield, is one two-hour film. Both are shot by BSC member rated cinematographers and filmed as cinematically as possible. In fact, Avenue 5's DOP Eben Bolter wouldn't have done the show if it didn't have that aesthetic attached to it. Where Avenue 5 was Bolter's first experience with Iannucci, BSC member Zac Nicholson has already shot The Death of Stalin, so was used to multicamera shoots and not getting in the way of the ensemble.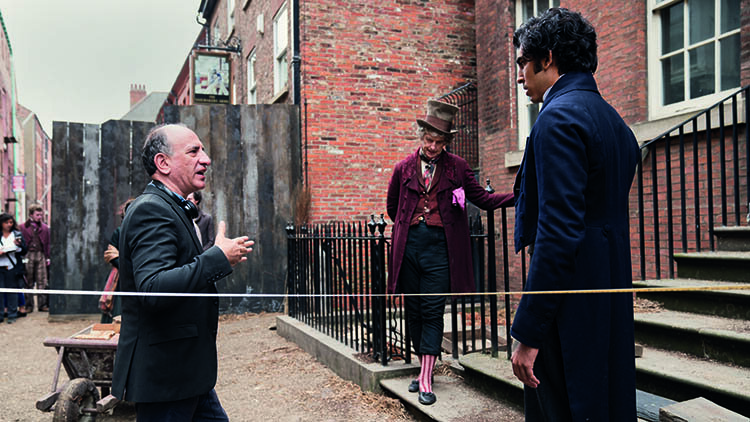 Keeping faith with Ianucci
"Armando is watching very, very closely and he's logging in his mind all the things that he needs from the scene," says Nicholson. "While you're operating you're concentrating on the framing and trying to catch the dialogue so you have to put your faith in him when he says that he's got what he wants. He's not interested in being rigorously methodical about shooting every single line on the correct eyeline for instance. He wants to 'feel it', wants the camera to have lots of energy and he's logging what he's got and what he hasn't got."
If I'm lighting and operating I find I need as good an eyepiece as I can get; and that's the Classic
Where Avenue 5 was shot on the largest stages at Warner Bros Studios Leavesden, Copperfield was mostly a location shoot with small interior builds and locations. So more than two cameras didn't really work, even though for some scenes a third was brought in. More than two cameras, both handheld, becomes a problem of keeping either of them out of shot.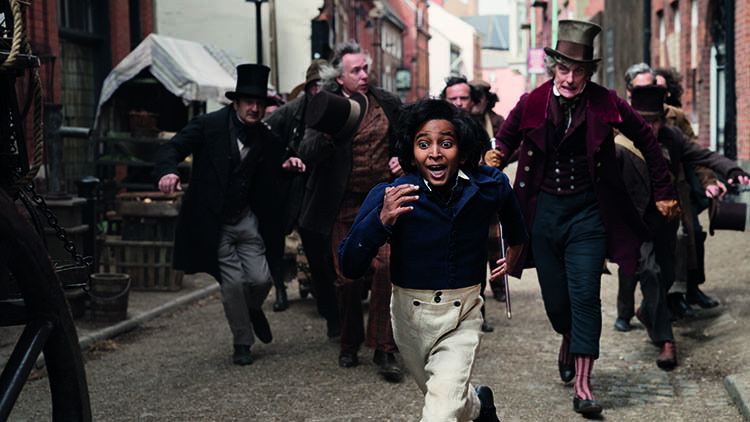 Quite often Armando would want to go down to one camera even if we had started with two. He might feel that two diluted the scene," says Nicholson. Exterior shots also used drones to emphasise the 'big sky' Norfolk landscape.
Filling the frame
If you've seen anything by Iannucci, you'll know that his signature scenes are largely full of the ensemble who are usually at loggerheads with each other in a trivial way about a serious matter. This is classic Ianucci, to fill the frame with the farce. The Death of Stalin was shot 1.85:1 and Copperfield was 2.39:1 (Avenue 5 was widescreen at 16:9). Zac shot both.
"In Copperfield there were lots of scenes with lots of people in it and I think Armando was interested in some of the big, wide landscapes, the flatness, and I think that he thought that the slightly wider aspect ratio played into that nicely. Whereas The Death of Stalin was slightly more modern architecture, with taller buildings and taller rooms. It made sense to shoot it 1.85:1 from a location and style point of view but Copperfield was much more outside with landscape to photograph. One of the visual themes was the flatness of Norfolk with that flatness referred to in the script – it plays out nicely with the wider format."
Work with who you know
As we learned from talking with Even Bolter for Avenue 5, when you're looking for a camera operator for an Armando Iannucci movie it's good to use someone you know and who has similar experiences and skillsets. Nicholson has used Iain Mackay when he shot The Death of Stalin: "When you're looking for a camera operator, there are a couple of considerations. You need someone who can think like a cinematographer or think like I do about operating. Someone who has the same sensibilities as me and who has had similar experiences. Iain is also a Steadicam operator so he brings that with him as well. He can also splinter off and shoot pick-ups or splinters.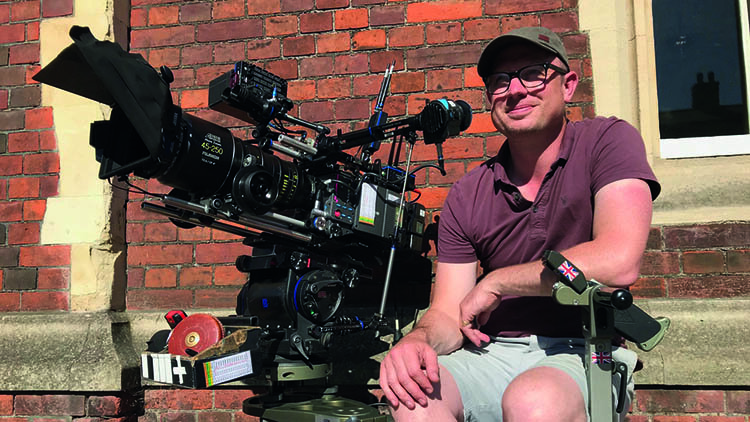 "Armando really likes the handheld camera, he also likes Steadicam. He doesn't like it when cameras get too fixed. We did have Dolly and track and did some things that were a little bit more controlled with their tracking and camera moves. But his favourite way to shoot is to be in the thick of it with the camera on the shoulder or with the Steadicam. We expanded it a bit by using the drone, not to some fancy flying shots but to be able to look down on the scene a bit like an author, or as a godlike vision."
Classic camera
You'd think that with all this desire for handheld and Steadicam movement, Nicholson might pick an Alexa Mini or smaller form factor camera; but you'd be wrong. In fact, he picked a classic, the Arri Alexa Classic which is basically the original, over ten-year old model. But why the Classic? "If I'm lighting and operating I need as good an eyepiece as I can get. For me the digital camera with the best looking eyepiece is the classic. It has a great image in terms of colour and contrast. It feels like the closest thing to the monitor I've seen.
"If you're shooting with Armando and you're shooting all the time, you're catching things all the time and a lot of those things can't be repeated. So if you're operating and lighting you need a good idea that you're happy with it in the moment."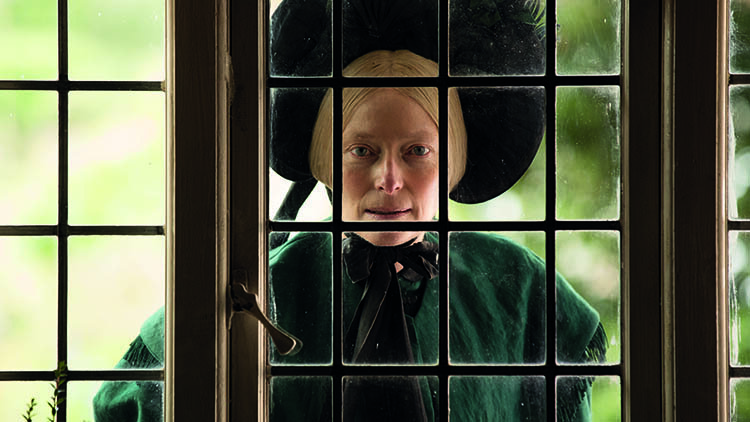 Period lighting
Period comedy movies are a little bit thin on the ground and especially Armando Iannucci comedies that steal your attention with their machine gun one-liners. That's not to say that Copperfield wasn't taking its 19th century pre-electricity status seriously. Interiors still had to evoke the semi-dark candlelit rooms as in any other period drama. The only difference would be to clear the floor for the inevitable ensemble scene, no C-stands allowed. To this end Nicholson and his gaffer Harry Wiggins decided to use window light with minimal light inside the rooms.
"Sometime we use a big ten-foot soft box with a light in it that could also flag the sun and diffuse the light. Other situations, like the bottling factory, we had three fairly hard LRX lights which are remote controlled and waterproof HMIs – you can focus them, spot them and flood them remotely. It was augmented in the room a little bit. We would do as much as we could through the window."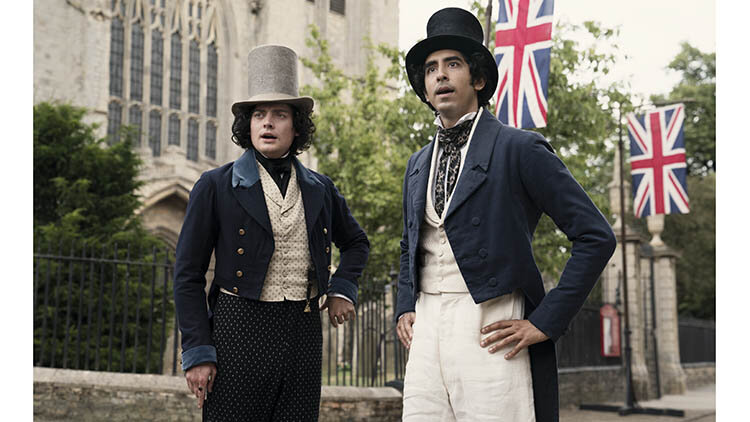 Harry Wiggins, the show's gaffer, further describes the lighting design. "The bottling factory was all LRX lights coming in the windows on the south side; this is an 18K parabolic light on a robotic stirrup. You use a little handheld joystick to control them. We also had some practicals inside as if they were gas lamps. We also shot in the office and we also had some Kino Flo Freestyle 31s, as they're called now, on the floor with some practicals."
 For daylight exteriors they were shooting either available light or maybe bouncing some 4K HMI lights to give some light push across a street or an alleyway. "So as the character waked down a darkish alley they would catch some side light."
Tommybars is a weatherproof lighting system made up of eight foot-long bicolour LED units
Pepper's ghost
Nicholson used one of the Master Primes and a couple of Arri Alura zooms (he owns a 45-250mm Alura) over the course of the movie and between the cameras.
"The master primes are quite fast so we never really ran out of light. We did some night exteriors on the beach; there was a storm on the beach with lightning for dramatic effect. We also used a new fixture, which were LED batons called Tommybars. They can be rigged as 8x4ft panels, and we had three of them. The big drama at night, especially on cliffs, is the wind and worrying about whether the gels are going to blow off. But because these LED batons are structural and the wind passes through them, that's not an issue.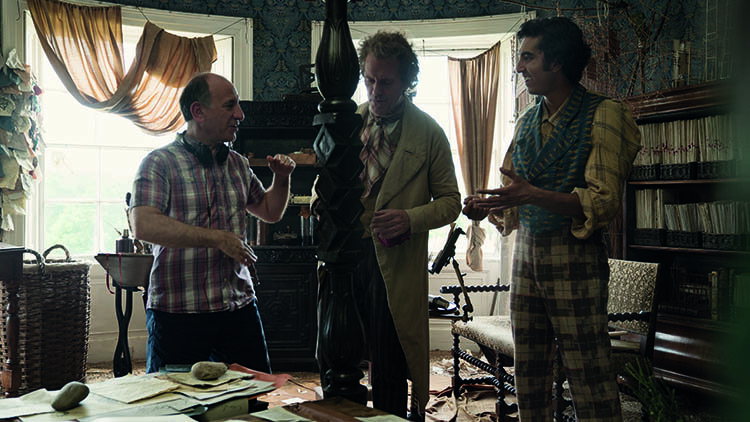 The Personal Story of David Copperfield doesn't do much for the enhancement of pro video tech – with use of the original Arri Alexa, Master Prime lenses and limited use of LED lighting, technology-wise this movie could have been shot ten years ago – but skills will always win over technology. In an Iannucci show the golden comedy moments are the most important thing and even the production can't get in the way of that. Nicholson did have some fun though, especially when he had to create a Pepper's Ghost for some of the scenes.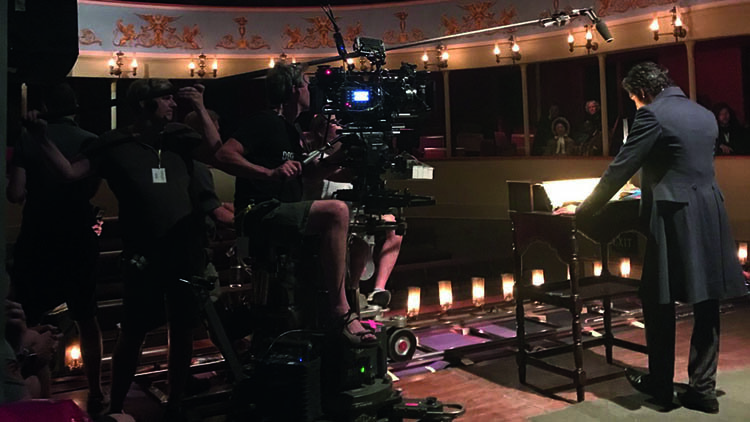 Tommybars
Tommybars is new to Zac, but the lighting system was actually designed and built by Harry Wiggins, the gaffer for David Copperfield, with a colleague. The company has only been going for about a year, renting the lights out.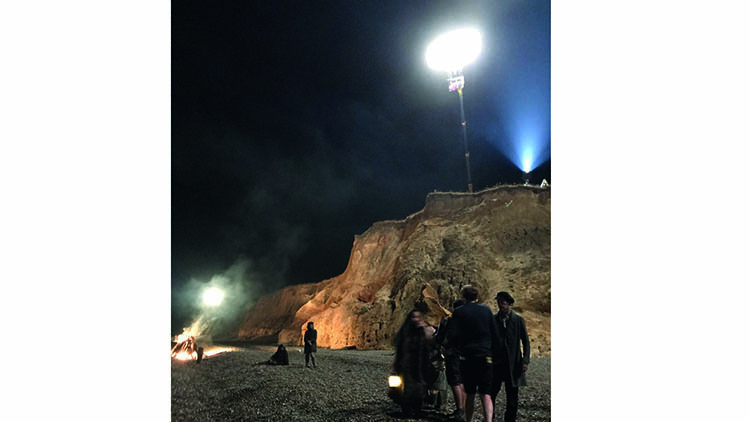 Tommybars is a weather-proof lighting system made up of eight-foot-long bicolour LED units that create a high CRI (90+) soft light without using a cloth. Rigged in single eight foot-wide banks of double 16ft-wide banks, they have been designed to be used in multiples of eight.
A 45ft boom lift will lift eight, 12 or 16 units, and a bigger cherry picket will get to maximum reach with 32 units. In bad weather and high winds, machine operators are much happier not to have the sail factor of a diffuser in high speed winds. Tommybars are very efficient and 16 of them can be run on a local 13A supply.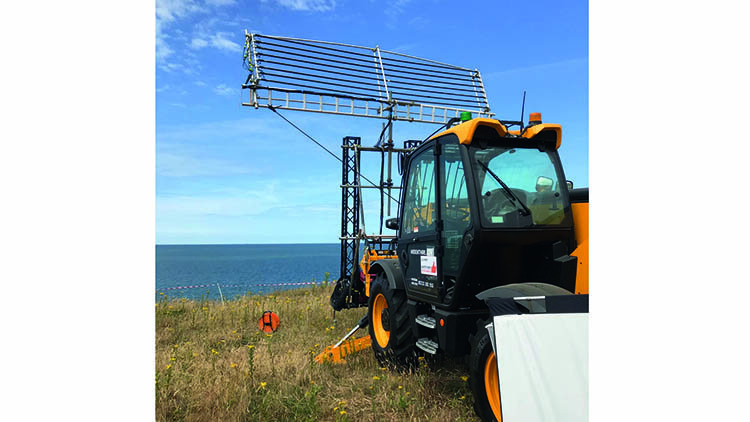 Harry Wiggins comments on their use on the movie: "On Copperfield, we used them on the north Norfolk coast because we were limited to our machine size and weight by geological factors and location access. Because Tommybars are lightweight and cloth-free, our machine operators were happy to keep them up in windspeed of up to 12m/s."
The personal history of David Copperfield is on general UK release.
Click here to visit the Tommybars website.
Click here to read our February feature on Iannucci's Avenue 5, where we spoke to DOP Eben Bolter.