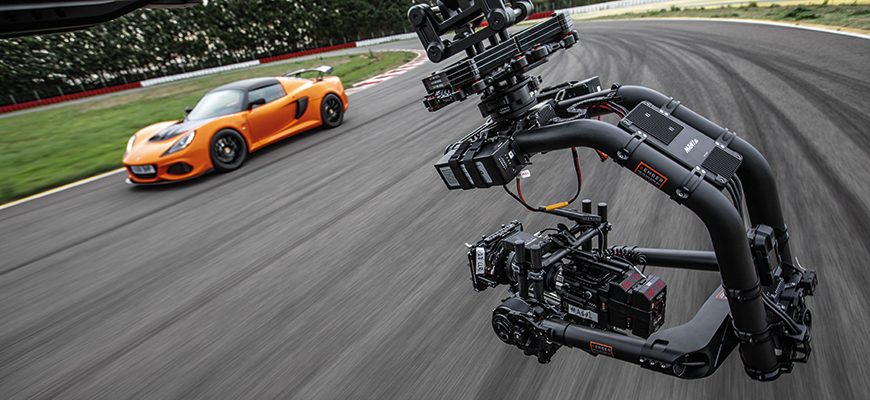 Fast downloads for fast footage
Posted on Mar 26, 2020 by Definition Magazine
The Samsung Portable SSD X5 was the perfect choice when Emmy-award winning film company Ember needed to produce some new car-based content
Advertorial content
EMBER is A fully fledged production company working internationally for major brands and broadcasters, including big names in entertainment and tech. It has recently shot a fast-moving promotional piece for one of its corporate customers that needed a chase vehicle shooting a speeding sports car on a track. The captured footage needed to be edited as soon as possible, while the car was still being tracked and shot at high speeds; if they had to stop filming they wanted it to be as short a break as possible.
With the shots you get from car tracking there are always the traditional shots you want and strive for – like a car's smoking tyres as the vehicle accelerates, or beautiful slow-motion footage of a car going sideways around a corner – but there are also the 'happy accident' shots that can help you nail the shooting day and give you something special. Ember was looking for all of these, in the highest quality possible.
Ember was shooting high frame rates at very high resolutions and needed to dump footage at regular intervals so the editor could check what they had already captured and the DIT could check for data errors. Creative director Jonathan Jones describes what the team needed to achieve and how they captured it. "Directors always want to keep high-speed vehicles filming as long as possible to get that special shot, and the relationship between the tracking vehicle and the shot car is paramount to get the coverage you need. That's fine, but with such speed you need to be able to check you're getting footage that can be cut together as you've planned for from the storyboards. Also it's good to give the drivers a rest occasionally so they can talk through some new angles.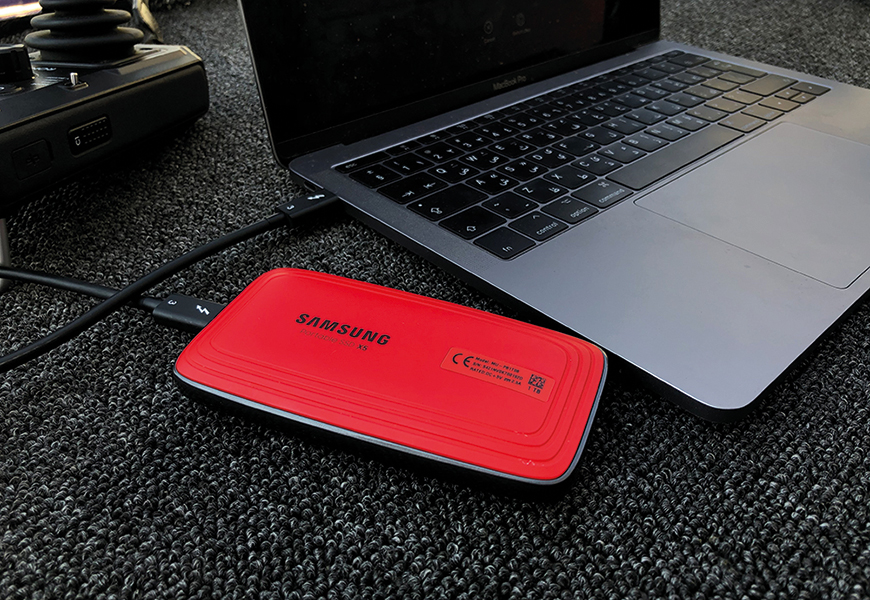 "With the Samsung Portable SSD X5 we had a plan to return our coverage to the edit room for checking as soon as possible and keep the vehicles running," Jones continues.
"Amazingly, it turned out that we could edit off the portable drive with no detriment to the production time. The Samsung Portable SSD X5 is an achingly fast drive with a near 2GB/s transfer speed, so we planned to film in 20-minute segments and then transfer the camera media on to the portable drive, which would take no time at all: seconds in fact. This would then allow us to hot-swap the card media and have the car and chase car back on the track before the brakes and tyres cool, which is a bad thing as it can affect performance and so can add inconsistency to the footage.
"The Samsung Portable SSD X5 was ideal for this kind of swap-out; it has a very easy-to-grab form factor and of course is incredibly fast when you're transferring data. It's very easy to get used to that kind of transfer speed; in a blink of an eye it's done. You start relying on that transfer speed and build it in to your plans."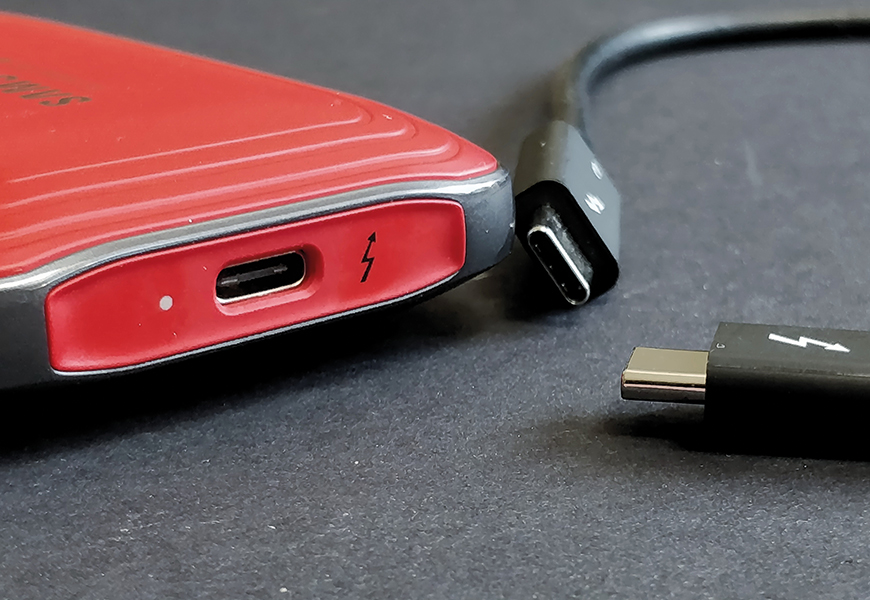 Lightning-fast speed
With technological synergies between NVMe and Thunderbolt 3 technology, the Samsung Portable SSD X5's exceptional speed offers read speeds of up to 2,800MB/s and write speeds of up to 2,300MB/s. Its read/write speeds are respectively up to 25.5x/20.9x faster than a standard external HDD. 
For this project, Ember needed devices that inspired confidence, especially when fast live transfers of media were so important. Again, the Samsung Portable SSD X5 helped the production out with its Dynamic Thermal Guard technology and a heat sink – a mechanical internal solution – safeguard the X5 from overheating, ensuring reliability while maintaining optimal operating temperatures Also with housing and an internal protection guard frame made by a durable yet light magnesium, it withstands drops of up to two metres.
Interestingly, the design of the Samsung Portable SSD X5 is actually inspired by a supercar; the portable drive emphasises its performance and elegance through its dynamic and streamlined shape. It maximises portability and optimises design, and is equipped with state-of-the-art data transfer technology.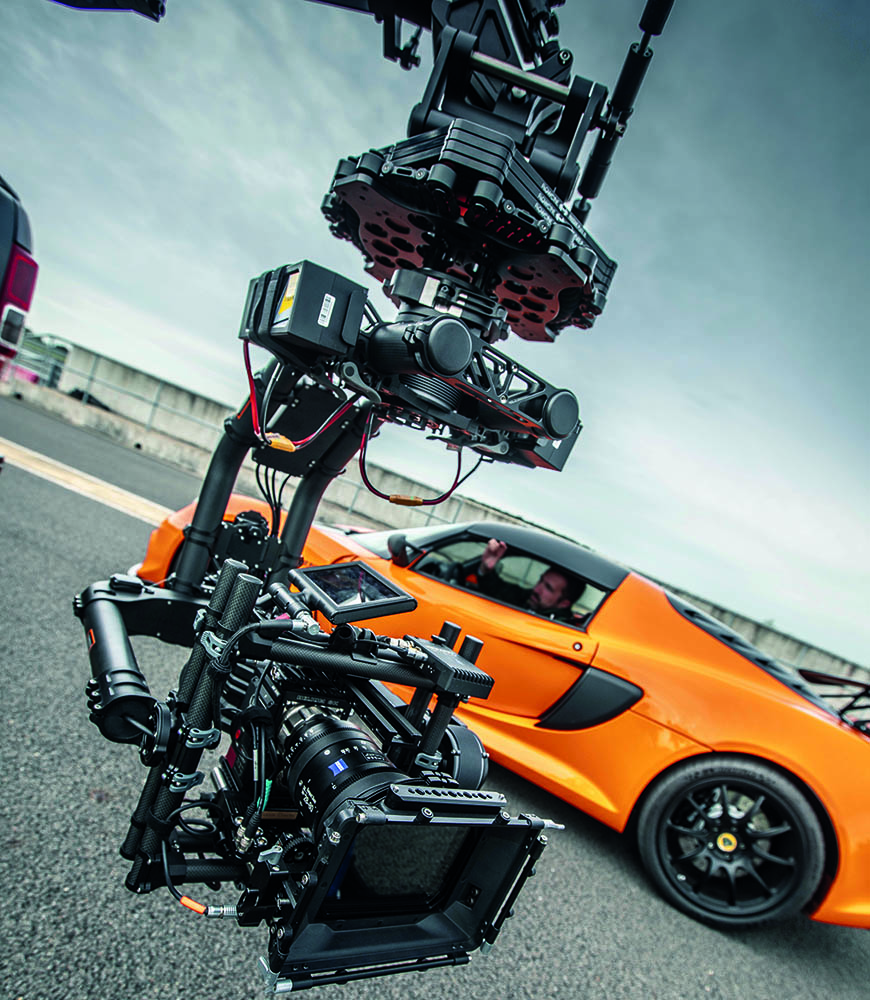 Further use
Ember's editor Donovan Jones also found the Samsung portable drive invaluable. "The Samsung Portable SSD X5 is pretty ace!" he says. "It's very fast to edit from, so you can definitely see it being useful as a portable edit drive. We do tend to deal with 8K Raw workflows daily and it's great at handling that type of data transfer. And as it's a portable SSD, it's much more rugged for on-set editing or running dailies.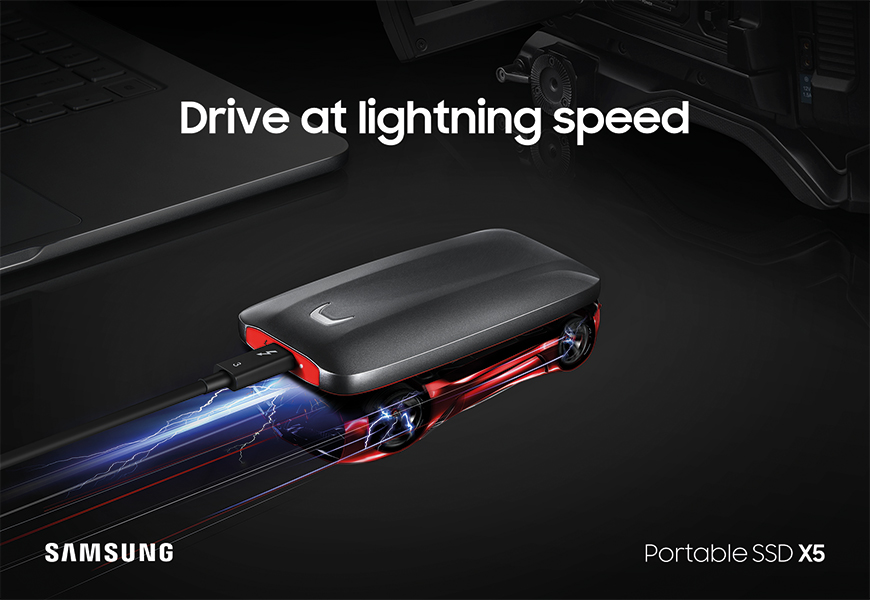 The Samsung Portable SSD X5 is an achingly fast drive with a near 2GB/s transfer speed
Such a dynamic production house as Ember, working at such high resolutions, can look to drives like the Samsung Portable SSD X5 to move its huge amounts of data around. The company's recent productions are looking to edit much further up the production chain so are looking to embed massively fast drives like the Samsung Portable SSD X5 much closer to the shoot.
For more information on the Samsung Portable SSD X5, click here.