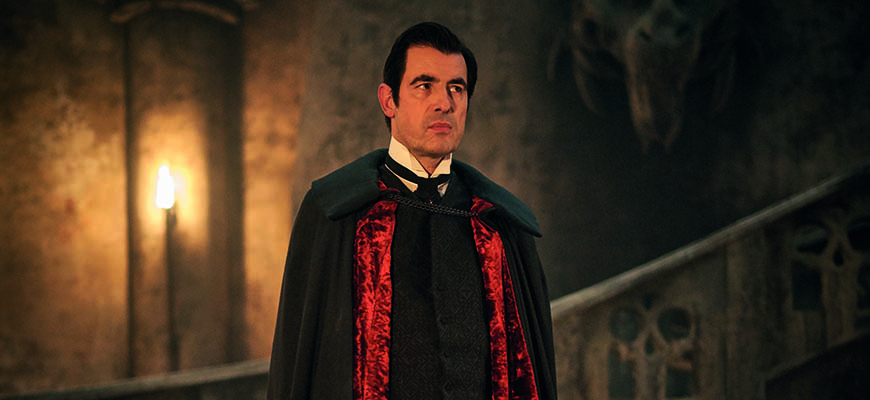 Blood work: filming Dracula
Posted on Mar 18, 2020 by Chelsea Fearnley
Lighting vampires, painted backdrops and shooting morphs. We speak to DOP Tony Slater Ling about how he filmed an old-school Dracula for a modern audience
Bram Stoker's Dracula has seen countless movie dramatisations, none of which have been a completely faithful translation of the novel. But it seems every other filmmaker is motivated to add their own flavour to it. It's an almost century-old custom that began with F W Murnau's Nosferatu (1922). In his film, it is Germany, not England, where the strange, fanged creature aspires to live, and his name is Count Orlok instead of Count Dracula. 
Surprisingly – for what is now an acknowledged silent classic – Nosferatu was a pirate production, so these cosmetic alterations weren't so much inspired as they were imposed. Nonetheless, it's what inspired the dozens of other Dracula movies that succeeded it, and, alongside the verminous and utterly malevolent Orlok, we've seen caped seducers in the manner of Christopher Lee and Bela Lugosi. As well as comedic, cringe-worthy performances of the famed vampire… but we don't need to talk about those. 
"The tradition is that you go your own way with it," says Tony Slater Ling, who was the DOP on episode 1 and 3 of the most recent adaptation, co-produced by the BBC and Netflix. "And that's what we've done."
Claes Bang plays a debonair and viciously funny version of Dracula in the new TV series. The story starts in the same was as the book, from Jonathan Harker arriving at Castle Dracula at the hands of a red-eyed coachman, to escaping and finding his way to Hungary. Episode 2 takes place on the ship Demeter and is a 90-minute expansion on Stoker's four-page account of Dracula's journey aboard the ship, so some pretty obvious changes had to happen there. But the furthest departure occurs in episode 3, when Dracula is catapulted into our present day, which clearly didn't happen in the 1897 novel. 
"That was the biggest challenge – and people really got upset about us moving the story to the present day – but we wanted to create our own version of this well-trodden tale that's been reproduced many times," explains Slater Ling.
Love letter to the classics
Still, the third episode takes place in Whitby, with the Yorkshire seaside town starring as itself in the TV series. "The writers felt strongly about using the real location as a way to stay faithful to the book, so I shot all of the exteriors in and around Whitby," says Slater Ling. 
Whitby Abbey, which is popular with fans of the macabre thanks to its inclusion in the novel, also features in several shots, as it's where the Harker Institute [a clandestine organisation that was set up by Mina Murray, Harker's fiancée, for the sole purpose of capturing Dracula is located.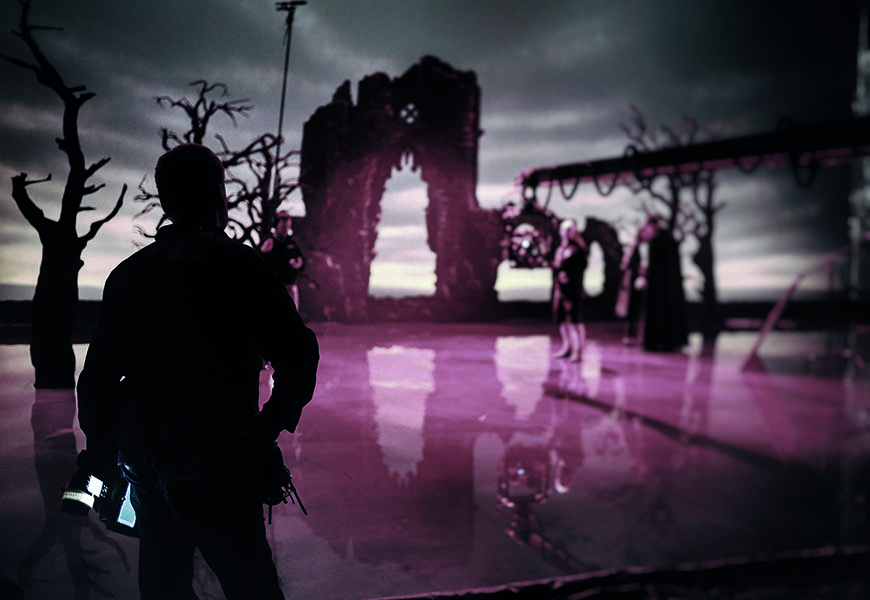 But the writers weren't just keen to gesture back to the book. Slater Ling divulges that Steven Moffat and Mark Gatiss are classic horror film fans and, throughout the TV series, there are several nods to their love of the genre. The first episode takes place at Castle Dracula, with Slovakia standing in for Transylvania, and its exterior shots use Orava Castle, which is the same castle as the one that appeared in Nosferatu.
Orava was difficult to get any light into, however, so its interiors were shot in the less-than-mysterious Bray Studios, in Berkshire, which was also not making its first appearance in the long series of Dracula adaptations, as the 1958 film that starred Christopher Lee was filmed there. 
But we wanted to create our version of this well-trodden tale
It's not obvious, but the transition from Slovakia to studio transpires as one shot. Jonathan arrives at Castle Dracula and enters through its doors. The camera continues to track him as he walks through a tunnel. He then looks towards the ceiling and begins to take off his hat. As his hat brushes past his face, the exterior disappears and the camera pans around him to reveal the maze-like staircase inside the castle.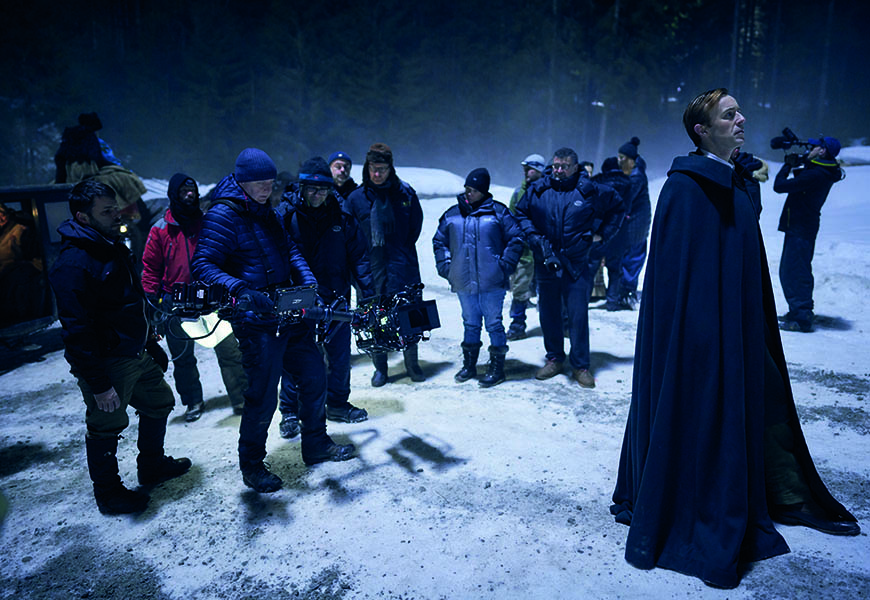 Slater Ling explains the process behind capturing the shot: "I managed to squeeze a small machine that was capable of going quite high on the arm into the entrance of Orava and my gaffer, Paul Murphy, lit the ceiling with a balloon. I was able to continue the tracking shot by lighting the tunnel with torches and candles and then Matt Wood, our VFX supervisor from Space Digital, did a clever morph that brought us back to Bray Studios.
"The tricky part was getting the lighting to match, because fire can be unpredictable. You've just got to make a lot of notes, and make sure you've jotted down the exact placement of the lighting and its distance from the actors."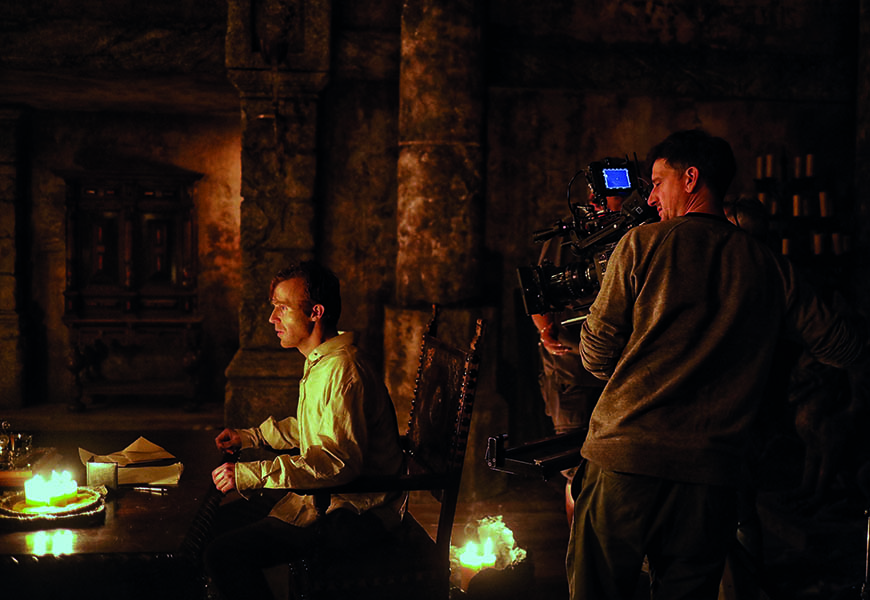 Practical magic
Episode 1 mostly takes place inside the set of Castle Dracula, built by the set designer, Arwel Jones. It is dimly lit, but not too dark – as Slater Ling chose to supplement the torches and candles in vision with lighting units off camera. Ingeniously, he stays true to his love of elementary light by using candles in reflective boxes to add light details to faces and architecture. 
He jokes: "Murphy called them Barker lights, after Ronnie Barker and the fork handles gag, because we had small boxes that could hold four candles and large boxes that could hold 12. They sat in a tray with a curved high back that was covered in soft silver reflective material and they were placed all around the castle."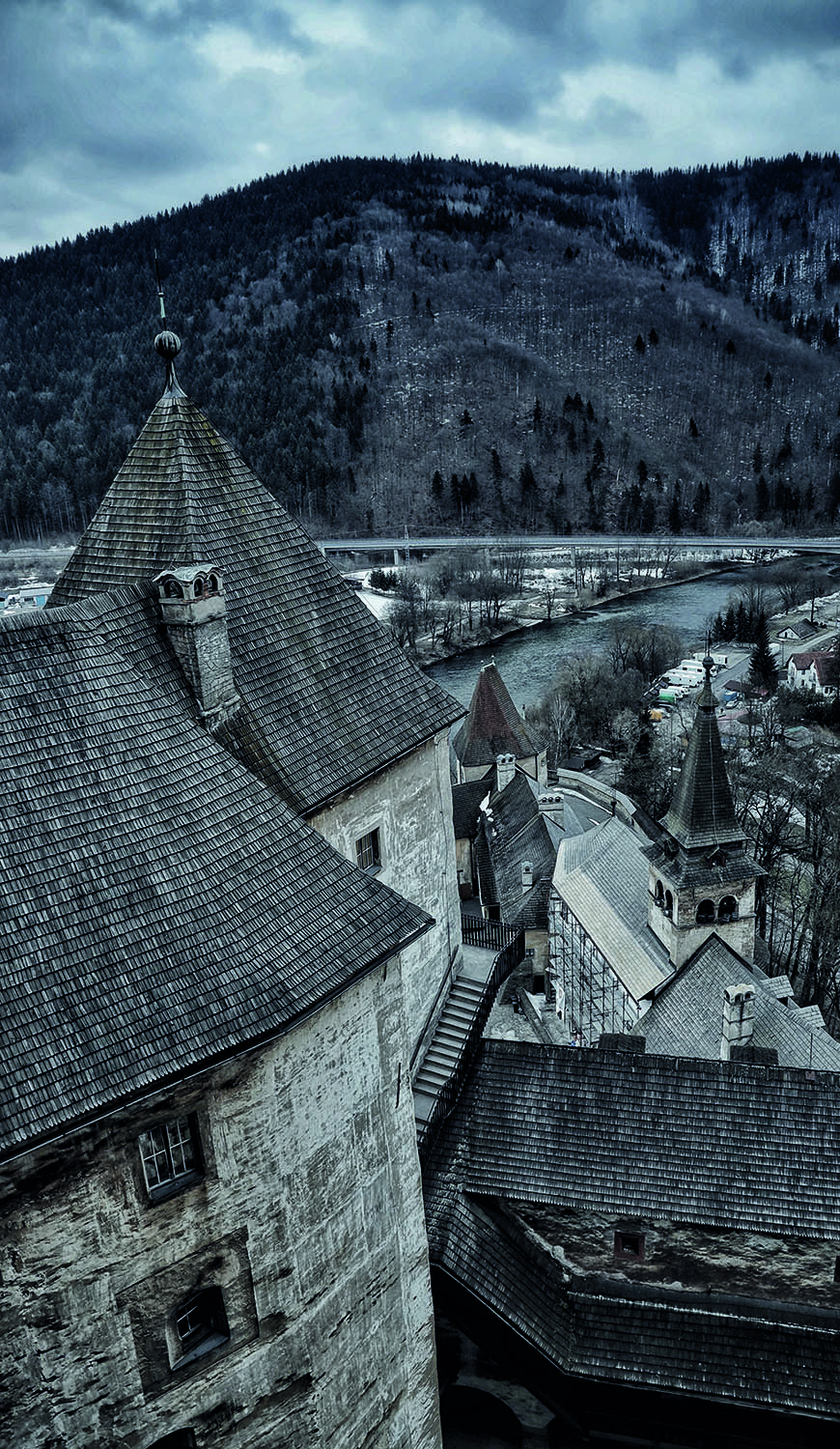 Above the staircase, Murphy fitted a 30ft by 30ft softbox with controllable Arri Skypanels inside. When Dracula was asleep during the day and Jonathan attempted to seek out the mysterious woman living in the castle, the lights evoked daylight ambience. At night, they were changed to have moonlight ambience. In the dining room, with its flagstones and dinner set for one, there were three ceiling tabs above the table that could be opened separately or as a unit so that the ceiling was never in frame. It also created a space for more softboxes, which Slater Ling used to add a cool ambience to contrast with the gold candles below.  
The shadows had a velvet, silky look. We pushed for the feel to be quite monochrome
Because normal lighting rules don't apply to vampires, Slater Ling had to create shadows or block direct sunlight for Dracula's daytime appearances. In episode 1, Dracula takes Jonathan to the castle's rooftop at sunset. He is stood in the shadow; Jonathan is laid in the light.
Slater Ling reveals: "The rooftop was a set extension, built by Arwel, and the sunset plates were made by Matt. For that scene, I used a single 24K Fresnel for the sun, with the set creating that all-important shadow line. Above and at the side of the set were softboxes with the usual Skypanels that I used to control the ambient light on Dracula."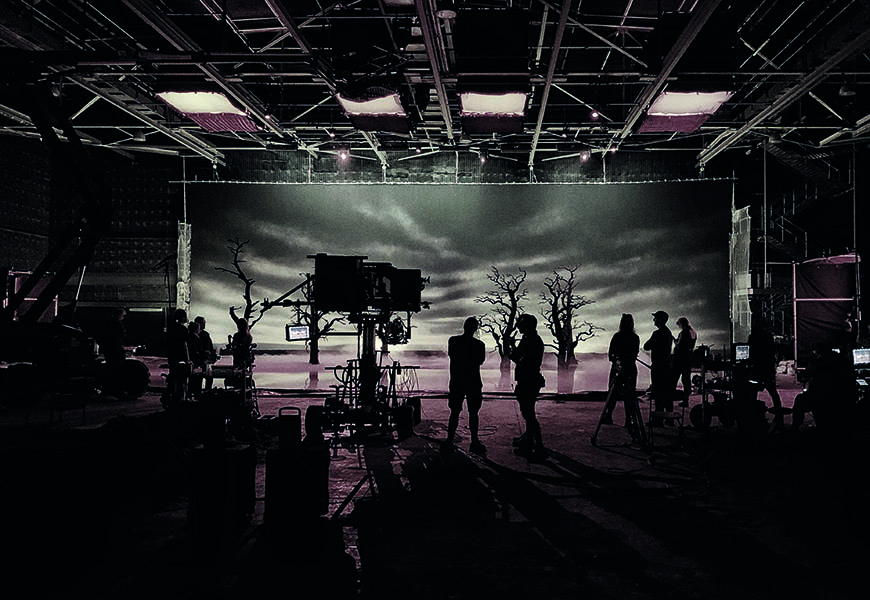 In episode 3, Dracula is invited into the home of a drunken, trusting fool. It's daytime again, but all the curtains are shut. The curtains are a mixture of pastel pink, green and orange, and are visibly weighted to soften the light that is coming in from the Mac Vipers on the outside.
"The Vipers are traditionally a theatre light," says Slater Ling. "But I like to use them, because they create a strong beam that can be controlled by colour, angle, width, brightness and density. I used a lot of LEDs in that episode, actually. I used Skypanels, Digital Sputnik DS1s and DS3s and Astera Titan Tubes, and I did that because I wanted it to feel heightened and colourful. The idea being that Dracula is seeing the new world with fresh eyes, so everything sits up."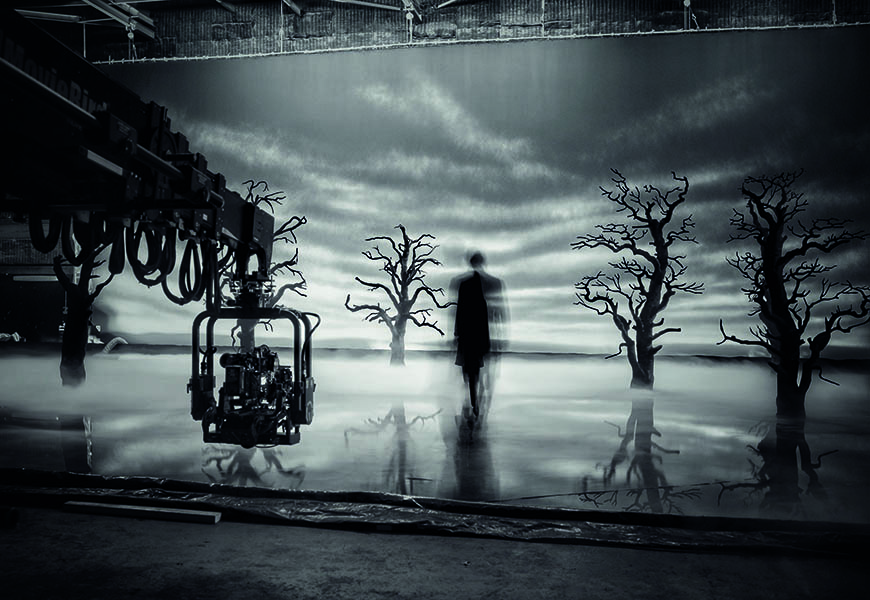 Flares are back
Along with the selection of lights, Slater Ling opted for Arri Master Primes to exaggerate all the new light information and colours of 2020. He switched between coated and uncoated depending on the shot, because although the coated lenses gave a clean image – which helped emphasise the modernity of episode 3 – they were
"almost too clean at times" and he liked a bit of flare. "The uncoated lenses have distinctive flares and create pastel colours that are a thing of beauty, but that can also feel like too much of one thing, so it's nice to have options."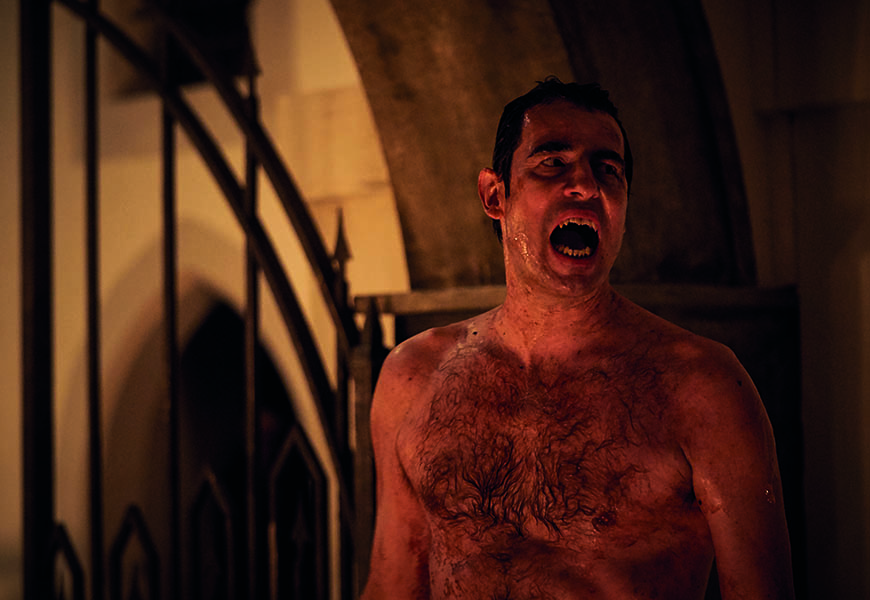 A lavish filter from Vantage called Glare Effect was used to intensify the flares. It's a resin filter containing various types and sizes of crystals and prisms, and when the light hits it, it creates long, rounded flares that dart across the frame. This was used throughout the episode, but is especially noticeable in the nightclub scenes and on the headlights of cars. 
Vintage lenses were used for episode 1, which was set in 1897. The Canon K35s aren't quite that old, but helped Slater Ling achieve a period look. He enthuses: "They're from the seventies and have a lovely fall-off about them, which worked really well against all the practicals."
The Sony Venice was Slater Ling's camera choice, which he shot at 6K for the first episode, but had to downsize to 4K for episode 3, since his favourite focal lengths on the Arri Master Primes didn't cover the full 6K sensor size. The whole project was shot at 2500 ASA to achieve speed for the practical lighting elements.
Analogue
"The directors, Paul McGuigan and Johnny Campbell, were keen to keep the visual effects in-camera as much as possible. They both love images and I loved that about working with them," says Slater Ling.  
The uncoated lenses have distinctive flares and create pastel colours that are a thing of beauty
When Dracula comes ashore in episode 3 [directed by Paul McGuigan], 123 years after his voyage on the ill-fated Demeter, he is standing on a beach that was crafted by Jones, in front of an 80ft by 30ft projection screen that was provided by Dunton Projections. The projected images are of beaches, which were shot by Stephen Lang, and turned into moving plates by Wood at Space Digital. 
Slater Ling adds: "We had three plates, so every time we changed the camera angle, we changed the projection; one was out to sea, one was to the side and the other was up the pathway from the beach. The tricky part about shooting that scene was the lighting. You can't have any light pollution on the screen, because it dilutes the image. We had to put large skirts on all our softboxes so that the light would always be directed downwards."
Also in episode 3, we enter Dracula's nightmare after he drinks Zoe's poisonous blood. In it, he and Zoe are standing in a river of blood against a painted backdrop of abbey ruins next to silhouetted trees with razor-sharp branches. 
Slater Ling explains how they created this scene: "Arwel built a huge trough that was filled with real blood [from a butcher, might we add] – about three inches of it, which was deep enough to achieve a reflection from off the trees and actors. The trees were lit with LEDs, so I could change the colours and levels in-camera, and I shot the whole scene on a Technocrane, which enabled me to get around the actors without having to stand in the blood."
He concludes: "Dracula was all artwork; it was a collaboration from the art department, camera department and makeup department."
In our next issue, we continue to look at Dracula, delving further into the series' spine-tingling visual effects, including individually crafted CGI flies, sex toys and tiny contortionists. 
Dracula is currently streaming on Netflix and BBC iPlayer.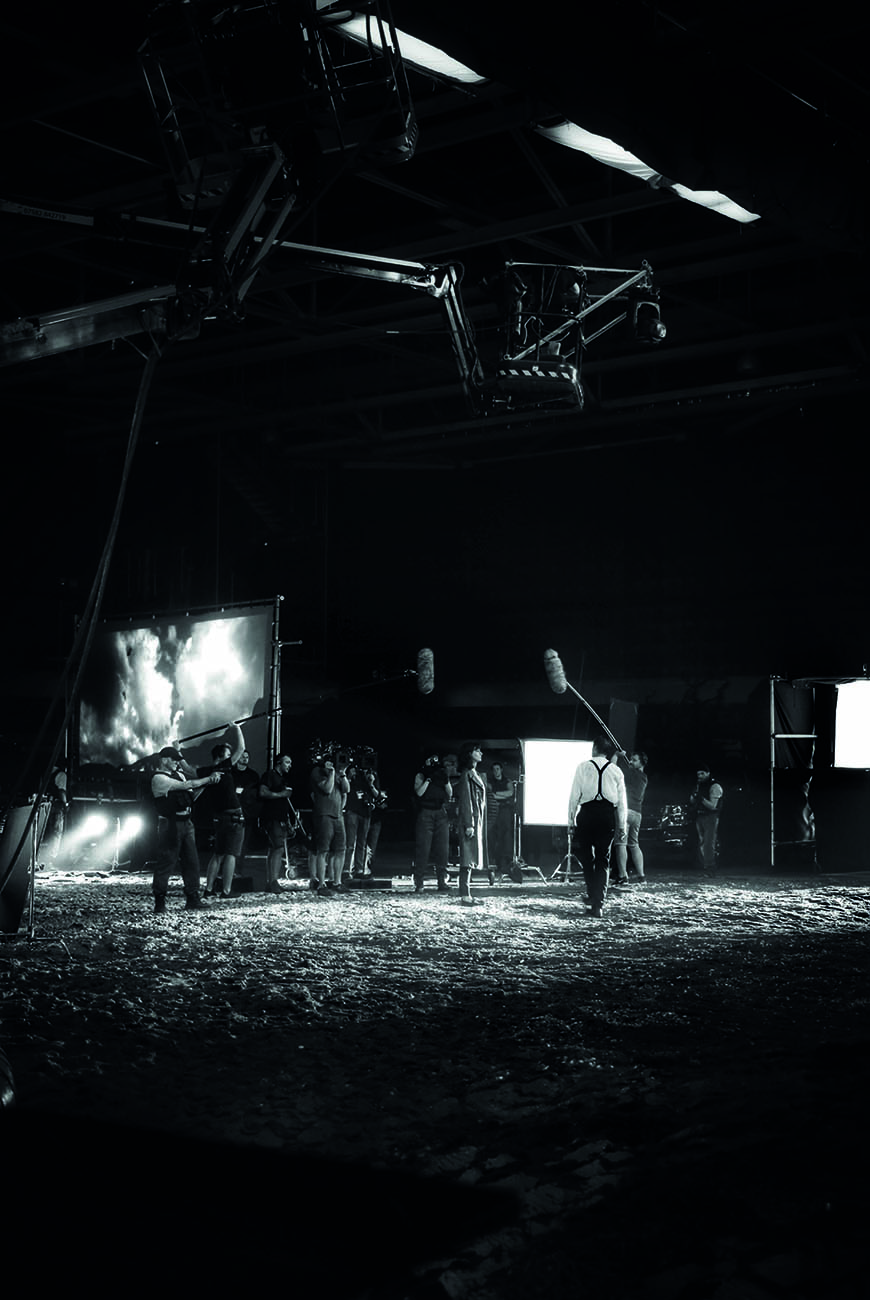 Chiaroscuro effect
Technicolor's Kevin Horsewood describes the approach he took to grading Dracula
Before production started, I went to Bray Studios to chat with Tony Slater Ling and Julian Court [DOP for episode 2]. Being on-set and seeing first-hand what they are trying to achieve with their lighting and lenses is an important part of my process.
We did some reproduction grade tests for all three episodes and Tony and I spent time looking carefully at the costume and makeup tests, finessing them in conjunction with the cinematic references he supplied. We achieved a grade with a contrast range that was developed from Tony's photography, with some tweaks in post. The shadows had a velvet, silky look. We also pushed for the feel to be quite monochrome, but for the light sources and, in particular, the candles to give off vibrant pods of colour. 
The director of episode 3, Paul McGuigan, wanted to push the magenta lighting that Tony had introduced. This was something Paul liked when we worked together on Sherlock, so it didn't come as a surprise. The pre-shoot tests gave us a LUT to work with that the DIT could use on-set and in the dailies pipeline. This was useful for the main grade as everyone in the room was on board with the strong look. 
Dracula's main delivery was HDR, which allowed me to find a greater tonal range in the colour palette. This was especially important for episode 3, where magenta was used as a stylistic choice. Having a greater range and therefore more control in the highlights made a huge difference to the show's dark scenes, where candles are the only source of light.
The approach we took for the look was brave. But, by using all the tools in the grading suite, alongside the talent of Tony and Julian, I think we succeeded in bringing the drama, tension and horror of the story vibrantly to life.