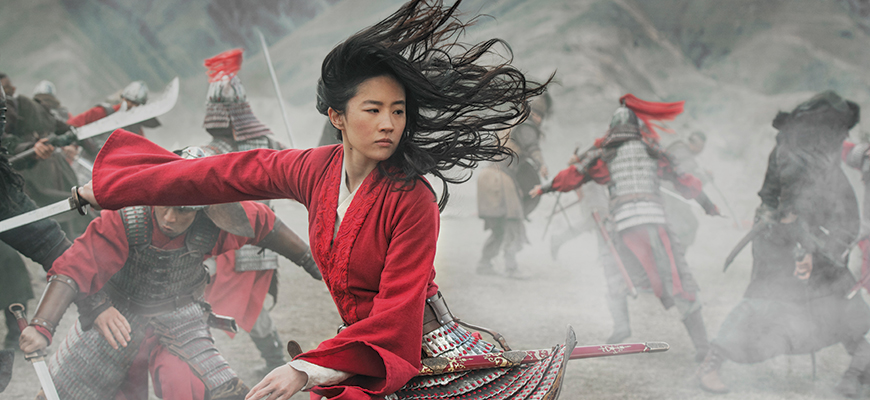 All eyes on Mulan
Posted on Apr 23, 2020 by Julian Mitchell
The latest Disney live-action remake is true to the ancient fable of the warrior Hua Mulan, which meant a PG-13 rating, a large format aesthetic and some lenses from the 1800s
Words Julian Mitchell / Pictures Disney
You could construe the PG-13 rating of Disney's live-action remake of Mulan as the media giant putting a more 'mature' slant on the much-loved (but very family-friendly) 1998 animated film. The new movie is also the first live-action remake to gain this rating, most likely because of its highly choreographed battle-scene violence. There's no room for the songs or usual Disney comedic characters like Mushu the talking dragon, voiced energetically by Eddie Murphy. You do, however, get luscious orchestrations of the big hits swelling behind pivotal scenes.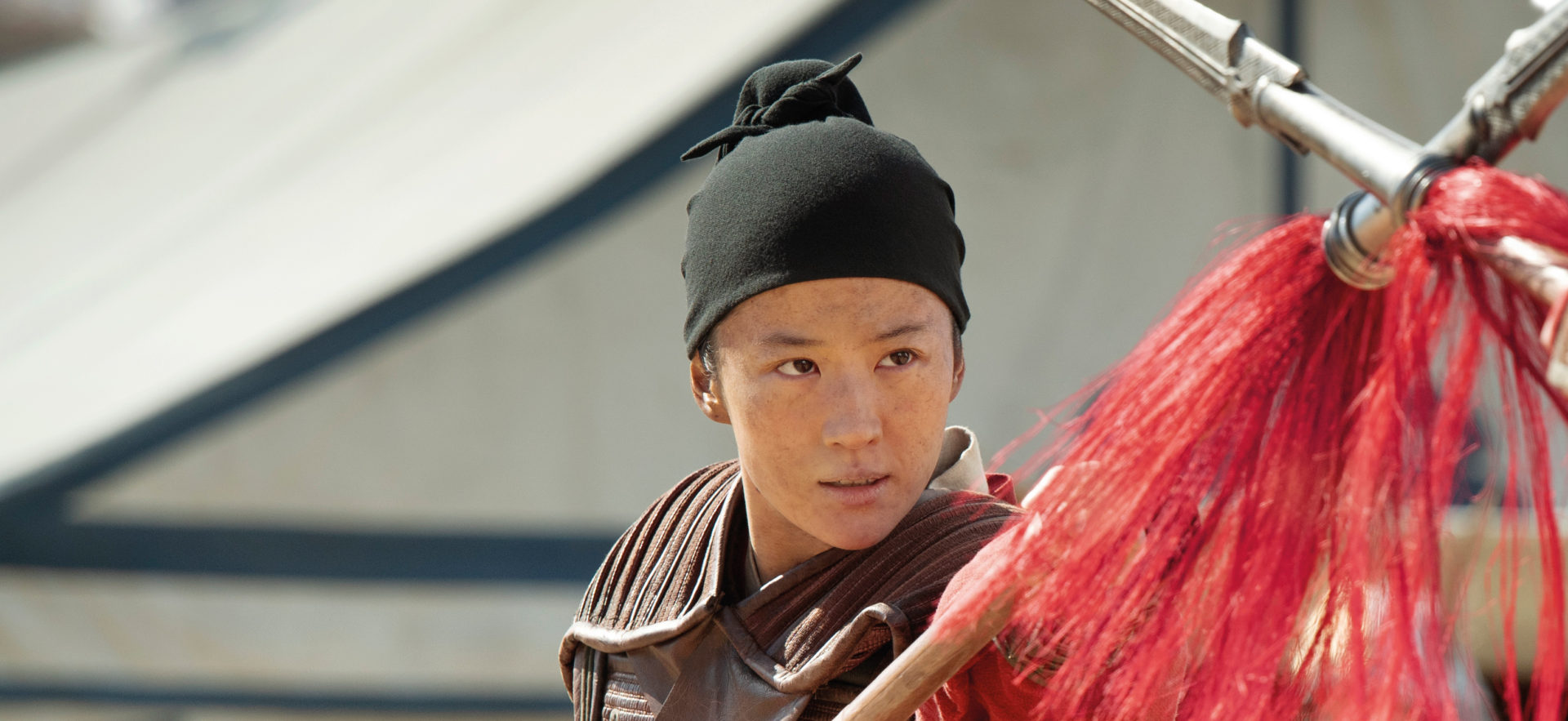 The new movie finished shooting by the end of 2018 after five months on location, with sets in New Zealand and China, but there was still a little bit of extra shooting to do last year. The main unit was in New Zealand and there was a second unit and a scenic unit in China. DOP Mandy Walker explains the reasons for the country split. "What we needed to do was quite controlled, so we ended up building a lot of sets on a backlot or on stage in Auckland. Niki [Caro, the director] wanted everything as realistic as possible, so we needed to try and shoot as much in-camera as we could. We had sets with little green screen extensions so the actors were physically in a place."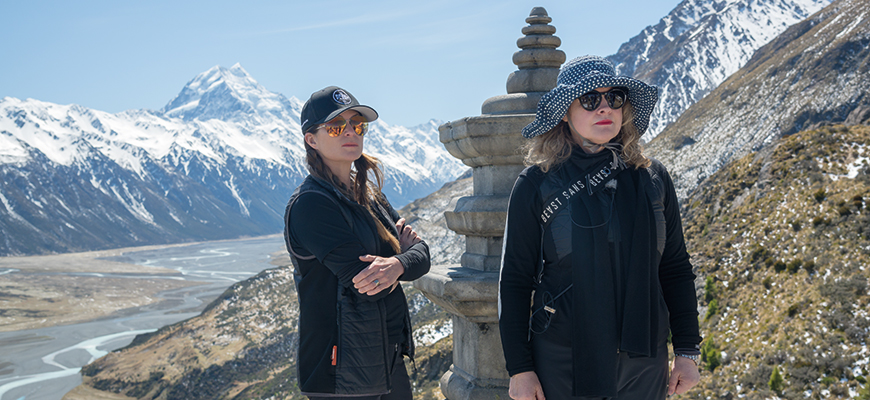 For Walker, Mulan was the job of a lifetime: "It was amazing and really exciting to be doing those big action sequences. It was the first time for me to be shooting battle scenes – also I love the story and working with Niki was great."
One was a special portrait lens based on a Petzval design from the 1800s, which focuses on the centre of the frame
Chinese cinema
Strip away the Disney songs and comedy relief-based characters and Mulan 2020 begs comparison with some classic Chinese period epics, like The Last Emperor, Crouching Tiger, Hidden Dragon and Zhang Yimou's Hero and House of Flying Daggers, especially the use of wire work for the battle scenes.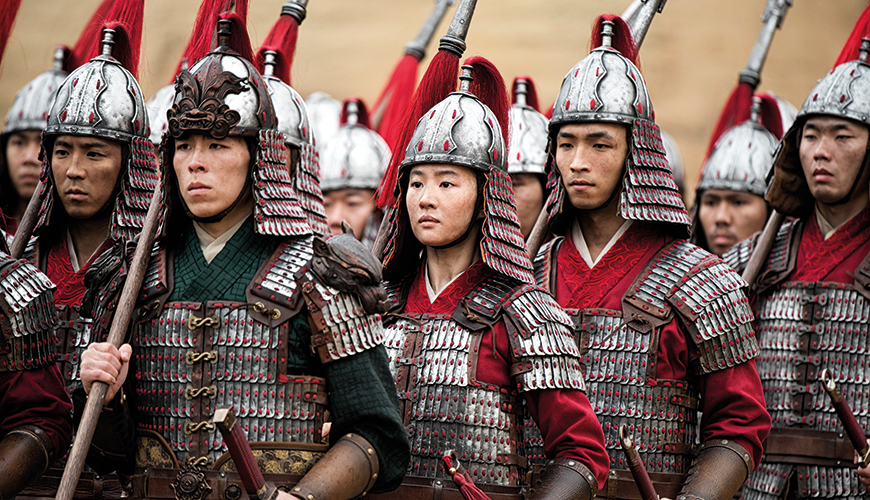 Walker explains: "We did reference those films, but one of the most important things for me was something Niki said to me very early on, which was that the film was centred on Mulan – she is the centre of this movie. I always kept that in the back of my mind. We did look at Chinese cinema – like those films from Zhang Yimou – just to see how other people had shot Chinese films with battle sequences and martial arts. We also looked towards the art of China for composition and to use as references."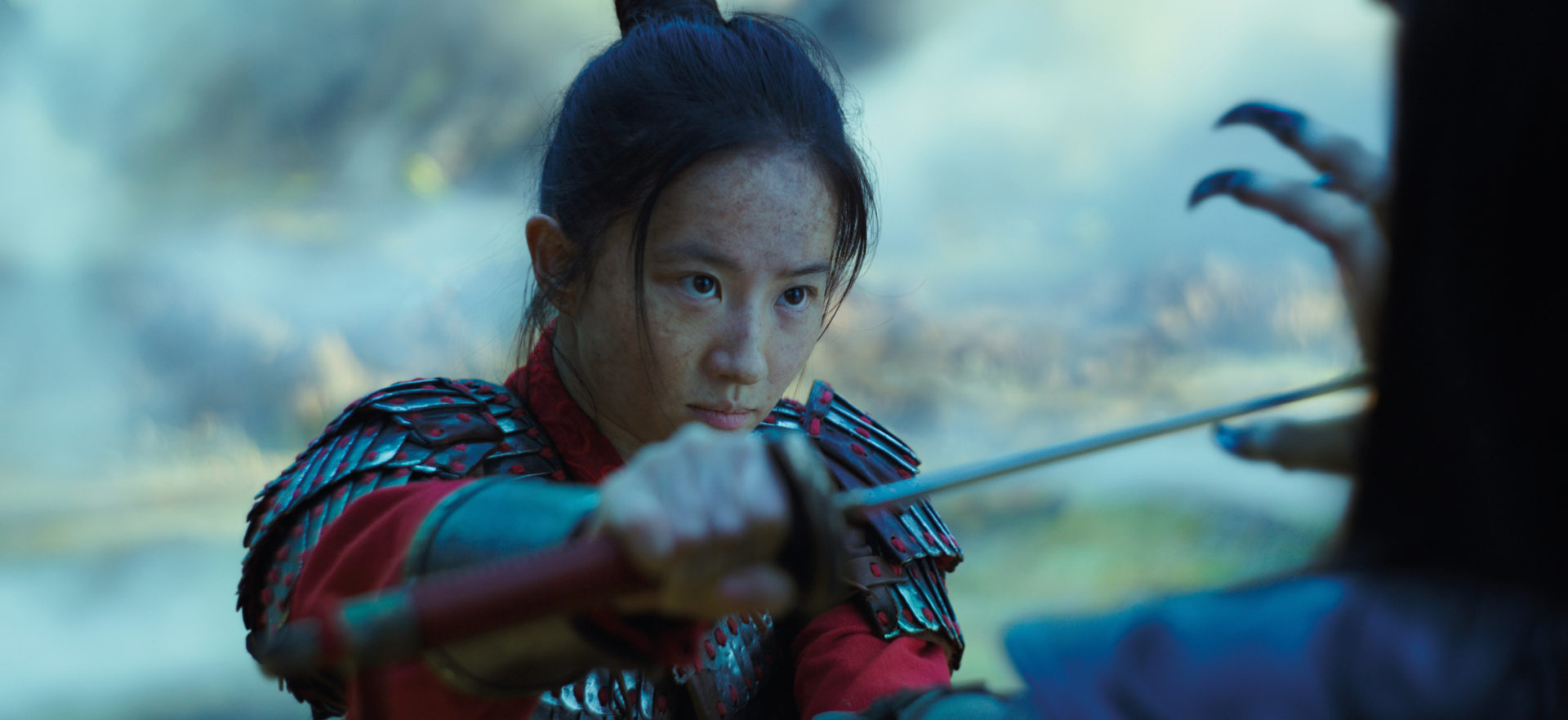 However, another source of inspiration for Walker was found when she was out scouting. "I noticed the way the architecture was set up in the Imperial City. It was very symmetrical, so helped me indirectly keep Mulan in the centre of things when we started shooting. To that end, I had some lenses designed. One was a special portrait lens based on a Petzval design from the 1800s, which focuses on the centre of the frame and then the edges drop off. So, when Mulan is in the frame, she's all you look at. We used it for pretty much all her close-ups and moments in the battle sequences. You want the audience to focus on her and not what is going on around her."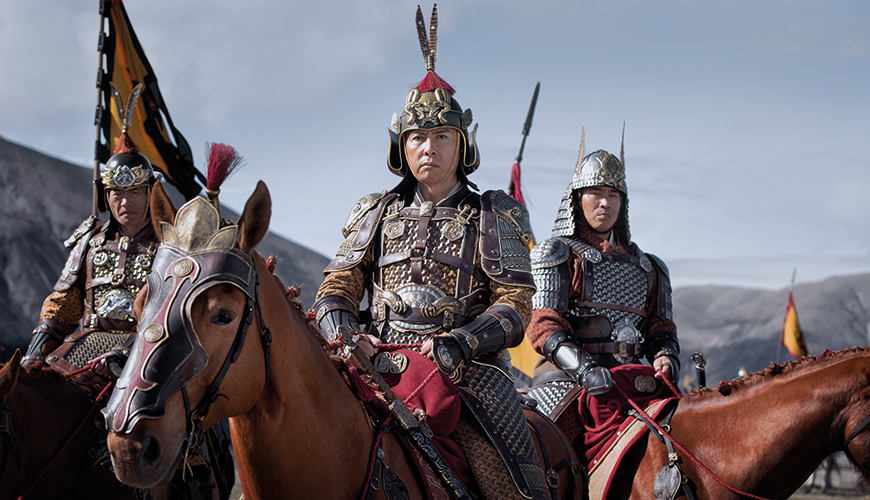 These special lenses currently come in three variants, and they are special custom-made Prime DNAs from Arri Rental. These lenses are called 'T types' and they are based on very early turn-of-the-century optical design and performance, similar to the early Voigtländer-Petzval objective lens of the late 1800s. This creates a strong centre punch area of focus and more extreme focus fall-off and focus aberration towards the edge of frame that is exaggerated on an Alexa 65 sensor, due to sensor size and lens image circle.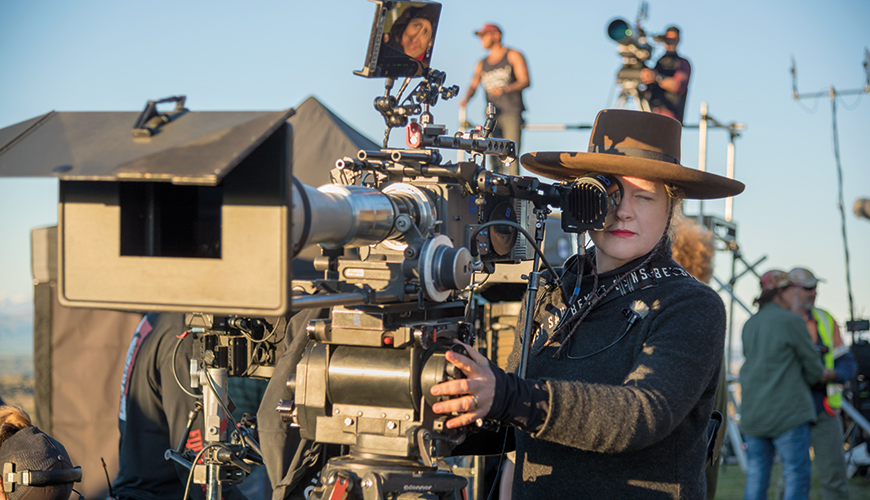 Cameras & lighting
When it came to shooting stunts with these lenses, one factor that really helped Walker was that Liu Yifei, who plays Mulan, did many of the stunts for the film herself. "So when we were shooting, it wasn't like when you have a stunt person and you have to avoid their face. Because Yifei was doing it, we could focus on her and have those lenses on her doing these amazing moves. 
"So, the aim was to centre on Yifei, but also bring an epic quality to the film with the use of the Arri Alexa 65 camera. We had these epic battle sequences and landscapes, so one of the films we looked at for reference was Lawrence of Arabia, because I think that was a film which managed that really well. They had these beautiful wide landscape shots, but intimate close-ups – I think the big sensor lends itself to that; we got those two shots out of the one camera."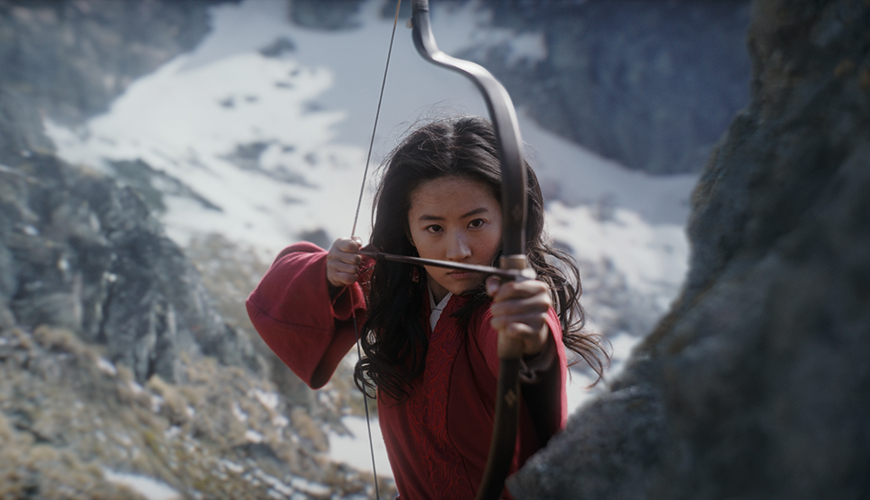 The Arri Alexa LF was also used, but only for high-speed shots as it offers 150fps where the Alexa 65 is restricted to 60fps. Walker also used the Alexa LF for a couple of drone shots over landscapes for top shots.
For the big-idea scenes, we spent the time making sure they would work
As for lighting, Disney's live-action Beauty and the Beast used roughly 700 Arri Skypanels in huge softboxes above massive sets in Shepperton, just outside of London. But for Mulan and those highly choreographed battle scenes, which way did Walker see the lighting design going? She explains: "When Mulan is in her village – which is a huge set, a three-storey high round village – the lighting has a certain style to it to create that family mood and atmosphere. We covered the set to balance the effect of the sunlight going in and out, but those scenes in the village are very intimate and lit accordingly."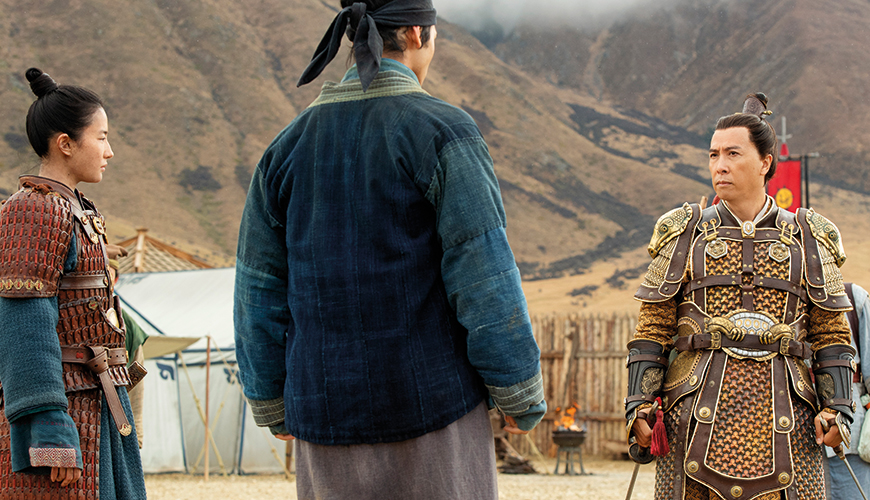 The choreography of the whole movie underpinned much of the story, with symmetry important to Walker's approach, but the battle scenes were where a multicamera design was necessary, as she explains. "In the main battle sequence, where the two armies are facing each other and then engage, we had five cameras covering the whole scene and low-contrast lighting. There were months of rehearsals for these scenes and there was a whole separate AD battle department to oversee it. The Chinese army has to be very regimented and they had to be perfectly coordinated. They also had a training camp where they learned martial arts and tai chi moves for the sequences. 
"Niki and I watched them training and then worked out the choreography of the sequences, then planned our shooting. It was also very important to Niki that we didn't just have battle sequences that were just like a melee of generic fighting. It had to be choreographed, so we followed the moves with the camera. The camera was part of it, but more elegant in its style than just crashing and bashing through guys beating each other up."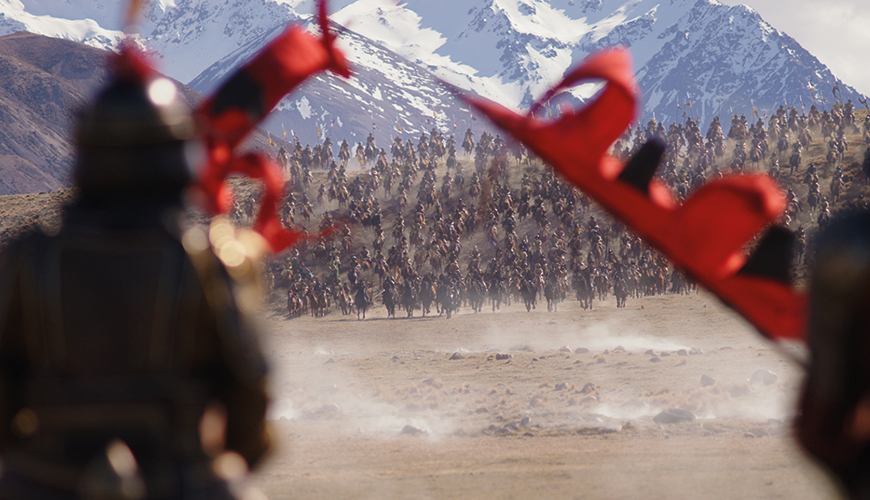 The battle scenes were the most challenging for Walker, especially with the additional complication of wire work. "We spent months working on these, including previsualising some of the scenes to see if they would cut together. Some of the wire work on the horses was especially lengthy to achieve from the design. It's quite complicated with the construction work involved and lighting construction work, plus the camera cranes. The coordination of all that was a big deal for us.
"But I feel like we were very good in our planning for this movie. For the big-idea scenes, we spent the time making sure they would work; we were very organised in getting it done."
Bring honour to us all
Previous live-action remakes of Disney cartoon classics have arguably been recreations of them without incorporating any new concepts. With the PG-13 rating awarded to Mulan 2020, and the omission of the songs and comic relief, you feel this modern production isn't going to be a slave to the original – although it wasn't far from Walker's thoughts. "We watched it, of course, but our minds were more focussed on the fact that Mulan is an ancient fable that originated from a poem hundreds of years old. Our film was a retelling of that tale, its own version of that story. The animation is another version."
She adds: "Having said that, we always had in the back of our minds that the audience loved the animated version, but we want them to love this movie, too. The themes are the same: it's about a woman discovering her inner strength and power. It's about her devotion to her family and her country and other people realising that this is a woman leading a man's army. She then becomes one of the elite warriors."
Walker concludes: "I felt that we had a responsibility, but how I always approach a film initially is through the script and the story, but try to look at it in a fresh way and glean references from other things. Be true to the story, but show it to people in a new way and bring a new audience to this story."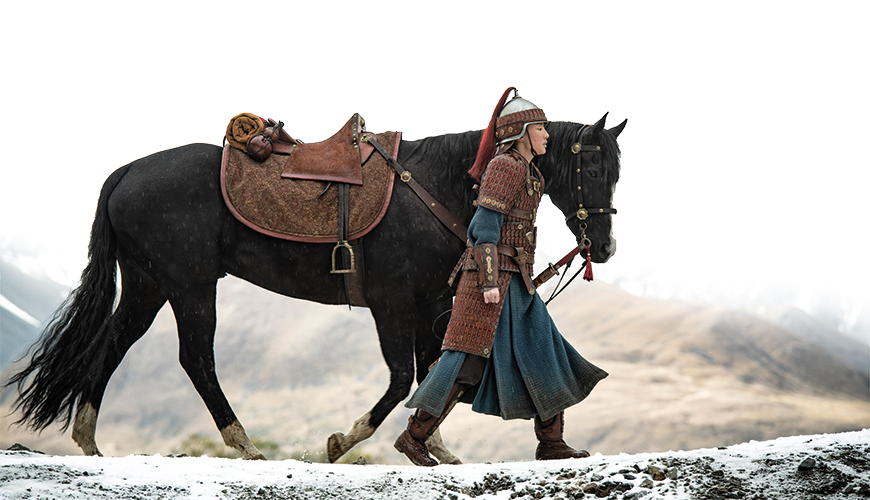 Since the writing of this feature, the cinema world has been put on hold due to the global pandemic, Covid-19. As a result, Disney's Mulan, which was due to be released globally in March, has been postponed until July.